Take note – Darya Beloglazova, or "Dasha" as she is known diminutively, is a name in women's hockey whom you will soon be hearing more of, especially over the years ahead. At the time of her interview with THW she is all of 17 years old -soon to turn 18 in Sept. 2018 – and yet she has already represented Russia at three different IIHF World Championship tournaments at the U18 level. Separate from her international play, Beloglazova is playing professional hockey too for Tornado Dmitrov in the Russian Women's Hockey League (WHL) (NOTE: WHL is anglicized from Женская хоккейная лига (ЖХЛ)).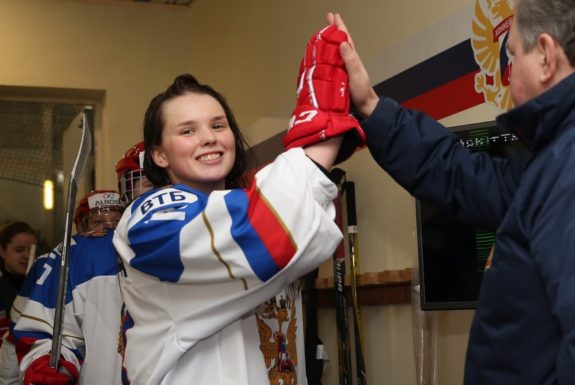 We had the chance to speak with her before the start of the upcoming 2018-19 WHL season. In the process we learned a bit more about who she is as a hockey player and as a person. We also found out what aspirations Beloglazova has in mind for herself as she moves from her teenage years into adulthood. It was interesting to hear what she had to say, and we are excited to know that this talented hockey player has many more years for us to watch her compete. In Beloglazova's case and ours, the best is yet to come as she will only get better with age.
We hope that you will be just as excited to get to know her as we were. Beloglazova was a little self-conscious about her English skills but she did quite well during her interview. Without further adieu, we introduce you to this young member of Russia's "Red Machine" of elite hockey players.
Learning the Game in Moscow
Beloglazova was born Sept. 18, 2000 in Moscow, Russia. The nation's capital and most populous city has long been a "hockey hotbed" for highly skilled players. Lyudmila Belyakova and Alexander Ovechkin are two of hockey's premier names that are also Moscow natives. Beloglazova is certainly within good company. Like most players who have gone on to become internationally recognized, she began playing the game at a very young age.
"I started playing hockey when I was about six years old," Beloglazova recalled. "I had a friend back then who played hockey. I saw it and I liked it too. I asked my parents if I could start playing – my parents were sure that girls don't play hockey. But when we came to school, the coach told me to 'come to training'."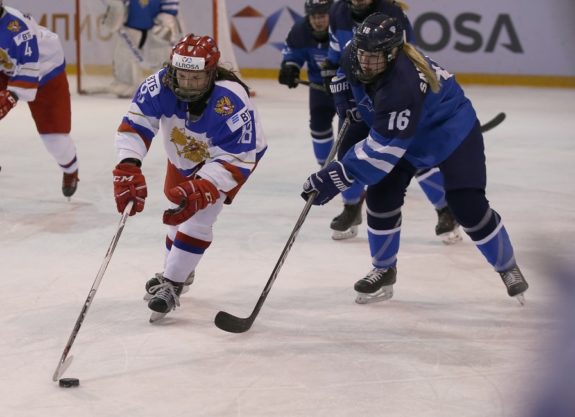 Presently there are seven teams in Russia's WHL, including Beloglazova's Tornado. The team is housed in Dmitrov which is in Moscow Oblast – a region outside of Moscow which more or less functions as a suburb to the capital. Star Russian players such as Belyakova, Anna Shokhina, Angelina Goncharenko, and Alevtina Shtarëva all are teammates of Beloglazova's with Tornado. Despite being surrounded with so much hockey talent in both her locker room and in the city where she lives, she finds it hard to pinpoint one particular player whom she admires or models her game after.
"I have a lot of hockey players that I like," Beloglazova went on to say. "I cannot single out one of them. I look at their game and how they train, and I try take something from each of them for myself."
Performance for the Russian U18 National Squad
At 5-foot-4 and close to the 130-pound mark, Beloglazova has a build that is conducive for generating a lot of quickness. She is a fast and shifty skater, although when asked about her best hockey attributes she humbly redirects to her coaches' expertise:
"They say that I have good skating and a strong shot. I do not know – coaches know better about it than me," she smiled.
Russian coaches must think highly enough of her game that three times they have selected her to represent the country. Beloglazova played for Russia at the 2016, 2017 and 2018 IIHF Women's U18 World Championships. The 2016 tournament was played in St. Catharines, ON, Canada and this THW writer was in attendance for each game of the tournament, being able to witness Beloglazova's play firsthand.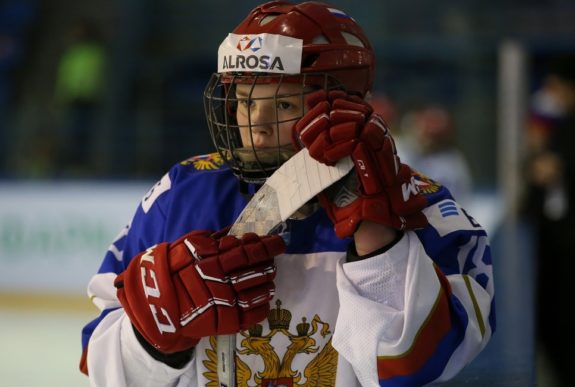 It was a tremendous first tournament for her as in the six games played she produced five points, which made her the second leading scorer for the Russians. Her three assists were the most on the team, while her pair of goals were the second most.  She also did not hold back on shooting, as her 15 shots on goal were the third most for the Russians. Despite Beloglazova's offensive production the Russians would lose in the bronze medal game 2-1 to Sweden and would return home without a medal that year. She scored the only goal for Russia in the loss to the Swedes.
"When you play for the national team this is a special, important feeling," Beloglazova said. "I love playing for Russia – it's always a great responsibility and a great honor for me. Of course, I want be useful player for our team."
Taking Home the Bronze Medal
And useful she certainly has been. It would be a different outcome for Beloglazova and Russia when the 2017 U18 tournament was played in the cities of Přerov and Zlín in the Czech Republic. This would be both a close tournament and a heated tournament, with numerous skirmishes and game misconducts taking place during Russia's quarterfinal against the host nation. Once more Beloglazova would net a pair of goals for her country through six games at the tournament. None were more important than the goal she scored in the bronze medal game of the tournament against Sweden, which ultimately returned the favor to the Swedes. In a close affair with the Russians up by only 1-0, Beloglazova netted a power play tally to seal the deal for a Russian 2-0 victory. This time she and her team would be taking a medal back to their homeland.
The third and final U18 tournament of Beloglazova's career was played in January 2018 and it was played on Russian soil – in Dmitrov no less. One of the team's true veterans at this point, she once again netted two goals in the six-game tournament as well as an assist. Beloglazova led all Russian shooters with 18 shots throughout the tournament, which also placed her in the top-10 out of players from all eight nations. One of her two tallies came during the 2-0 quarter-final win over Finland. Despite her valiant efforts throughout this last tournament, Russia would lose 2-1 to Sweden in the semis, followed by a 5-1 loss to Canada in the bronze medal game.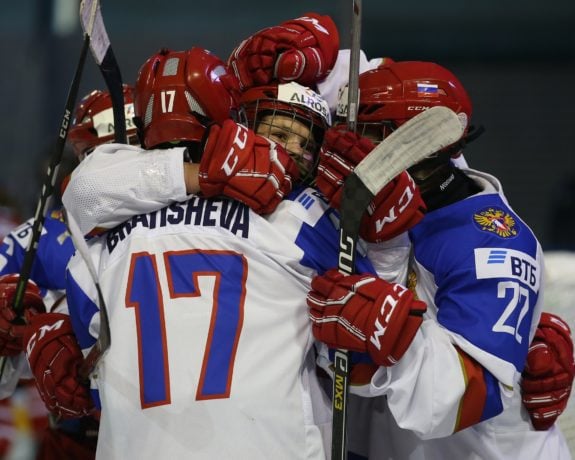 Beloglazova was so distraught by the loss on Russian ice that she issued an apology on social media to her fellow countrymen:
"I want to say thank you to everyone – everyone who has been with us throughout this time, who watched our games, worried for us and supported us. I am sorry for not being able to win… sorry to have not justified your expectations."
Seeing a young player wear the weight of the world on her shoulders like that cannot help but impress. At all of 17 years old at the time, her words came across as very touching and heartfelt.
Beloglazova's First Year of Pro Hockey
Acting as a form of bookend for Beloglazova's last U18 tournament was her first professional season. Russia's 2017-18 WHL campaign accommodated both the U18 tournament and the PyeongChang Winter Games by taking corresponding breaks in play from a season that stretched from September into late-April. Beloglazova played in 22 of the team's 24 regular season games, plus all five of their playoff games.
Unlike North America's NWHL or CWHL, it is rather commonplace for teenage players to compete in the WHL alongside grown women. Considering that she was 17 in her first year, Beloglazova certainly held her own out there against far more seasoned players. By her standards she was not particularly pleased with her first year. Instead, she is now putting her first year behind and focusing instead on the upcoming 2018-19 season.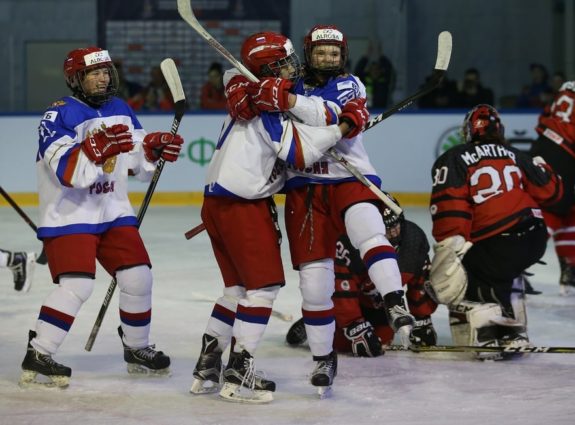 "I think my first season was unsuccessful," she stated matter-of-factly. "I'm in a summer camp with Tornado now. I will play with Tornado again for 2018-19."
Beloglazova scored two goals and picked up an assist in the 22 games that she played this past year. Her plus/minus of minus-seven was unfortunately the poorest on the team. However, she won 16 of 30 face-offs and fired 26 shots on goal. Showing Tornado's trust in their young player, Beloglazova played in each of the team's postseason games. They would come up just short in the championship game on Apr. 23, 2018 where they would lose 4-1 to HC Agidel Ufa.
As Beloglazova Looks Ahead…
Lessons have been learned and improvements are being made. Beloglazova has been training very diligently during this summer, and there are all appearances that her upcoming WHL season will have a dramatic increase in point production. She is committed to her sport and doing the most for her team. Beloglazova is also very appreciative of the life that hockey has afforded her.
"I started an independent life very early on," she told THW. "Hockey has given me a lot and I'm glad that I am here. You should do a lot of training and love the hockey in your life – only then you can achieve something. Every year hockey develops and it is necessary to train even more."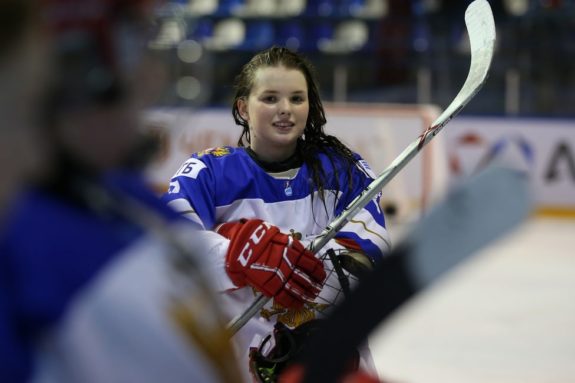 Now that you have been introduced to her, there are likely a number of North American fans who are hoping that she may someday play college hockey in either the USA or Canada, or that perhaps she will make the jump to the NWHL or CWHL. The notion is something Beloglazova has considered, but at this time she is content in her homeland.
"I had an offer to go to America, but because of studying in university and some small health problems, I decided to stay in Russia. Maybe someday I'll play in America."
We would love the opportunity to have her playing on this side of the globe at some point. For now, we will just have to be content in watching Dasha Beloglazova compete at various World Championships, and likely someday the Winter Olympics.
General Manager of the Buffalo Beauts (NWHL). Hockey history writer "The Hockey Writers". Credentialed media for the NHL Combine and 2018 IIHF World Junior Championships in Buffalo, NY, USA. Born and raised in Buffalo, NY. Lifelong hockey fan for over 40 years. Proponent of the women's game.