Picture this if you will. In less than two weeks it will be your birthday. You will be turning 21 years old. In many cultures, turning 21 is a momentous age to become. It signifies another step further into adulthood, in more ways than one.
Now imagine that you will be partaking as an athlete representing your country in the Winter Olympics. This is your first Winter Games and it is being held in a country that you have likely never been to before. In the sport that you love with all your heart, you are on its biggest stage with billions of people watching. The opening ceremonies for the Games themselves are slated to begin on guess what day? Yes, you guessed it: your 21st birthday.
This is the case for Russia's Alevtina Shtarëva. Though there are far more noteworthy things about this hockey player other than when her birthday falls. Shtarëva is part of the youth movement for Russian hockey. She is within that next swing of star players that the hockey community shall come to know through future international tournaments and events. But there is only one first Olympics and only one 21st birthday. Shtarëva has the talent and the drive that shall make both occasions unforgettable.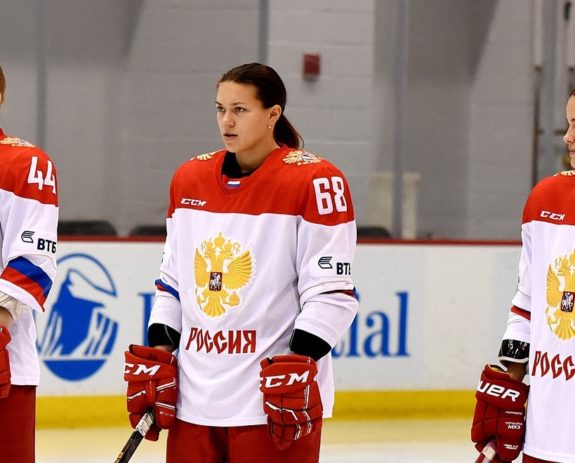 With such a short time away from the 2018 PyeongChang Winter Olympics, Shtarëva spoke to THW amidst her busy training schedule. She talked with us about life and the road to PyeongChang.
A Moscow Kid Like Any Other
Born Feb. 9, 1997, Shtarëva hails from Moscow, Russia. It is the capital and most populated city in the country with over 12 million people within the city limits. Hard to fathom that among those 12 million or so, a young girl like Shtarëva could fall in love with hockey and become proficient enough at it to be an Olympian when she was grown. Moscow, in general, has long produced a wealth of elite women's and men's hockey players, so perhaps it should be no surprise.
"I started playing hockey at seven years old," Shtarëva said. "My older brother played hockey. I saw how he played and I also wanted to try it."
One advantage of being from the Russian capital is that there was a lot of opportunity for her to play since she first began. Shtarëva went on to explain, "I played for a boys team until I was 16 years old." That particular team was Rus Moskva and is the same youth hockey club that Winnipeg Jets defenseman Dmitry Kulikov played for as well as New Jersey Devils 2016 draft pick Yegor Rykov and former WHL Vancouver Giants and Brandon Wheat Kings D-man Dmitri Osipov. All in all, it is a strong youth club that produces solid players like Shtarëva, Kulikov and the like.
Datsyuk as a Hockey Hero
Birthday gift number one for Shtarëva: upon arriving in PyeongChang and as part of the Opening Ceremonies, she gets to parade in with the other athletes, one of whom includes her personal hockey hero. It does not matter that the Russian athletes will be officially sanctioned as the "Olympic Athletes of Russia" while they compete in PyeongChang, or that they will process under colors that are not the traditional ones of their country. What matters is that they are there in unison and with equal pride for each other, their country and themselves. Shtarëva can stand shoulder to shoulder with an idol of hers. Asked who her hockey hero is, Shtarëva said:
"Pavel Datsyuk, because he has great stickhandling and he takes great penalty shots. He is a great two-way player, and he has played in the NHL."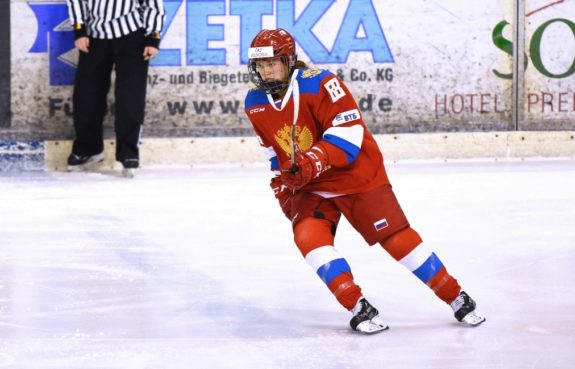 Someday when Datsyuk retires he will be in the Hockey Hall of Fame. Now at 39 years old, one of the most magical players to ever grace the ice will be participating in his fifth Winter Olympics. Datsyuk has already won an Olympic bronze and hopes to take home one more when all is said and done in PyeongChang. Through Datsyuk's NHL career he was a two-time Stanley Cup champion with the Detroit Red Wings. He also scored 314 goals and 604 assists for 918 points in 953 games.
It is a strong likelihood that Shtarëva will not be the only athlete to be in awe of sharing the same Olympic platform as Datsyuk. But even as a fan or a spectator with marginal interest, your heart has to become warmer when you consider that Shtarëva's first Olympics will be shared with the fellow hockey player she admires most. A most wonderful birthday gift indeed.
Surrounded by Tornado Teammates
Time to open birthday gift number two. Nine of Shtarëva's Tornado Dmitrov teammates will also be with her competing in PyeongChang. Tornado is the top team in the Russian Women's Hockey League (WHL) (NOTE: WHL is anglicized from Женская хоккейная лига (ЖХЛ)). Shtarëva herself is one of the top players for Tornado as well. Saying that the team has firepower is a major understatement. Tornado is the WHL's version of the 1980s Edmonton Oilers when they were fueled by the likes of Wayne Gretzky, Jari Kurri, Mark Messier, Paul Coffey and Glenn Anderson.
Shtarëva told us, "I have great partners in Tornado who I have played with for four years and the team is very friendly."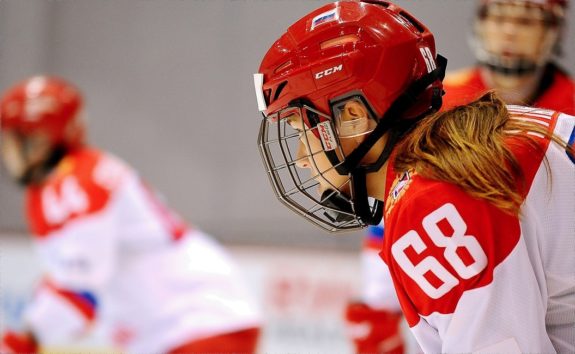 Instead of Gretzky, Kurri, etc., for Tornado, it is Shtarëva, Lyudmila Belyakova, Anna Shokhina, Angelina Goncharenko, and Nina Pirogova. During last year's 2016-17 WHL season, Tornado blew most teams out of the water with a record of 28-3-4-1 while scoring 181 goals and allowing just 67 in 36 games. They won their third straight Russian Women's Hockey League Championship. Three of the top five scorers in the league that year—Shokhina, Belyakova and Yelena Dergachyova—were all from Tornado.
They generate a ton of offense. Like the Oilers, there is very little deception to Tornado's game. You know the style of play they are going to bring, but in most cases, you just aren't good enough to beat them. Russia will have done very well to have the bulk of their Olympic roster be comprised of so many of these players.
What Shtarëva Brings to the PyeongChang Team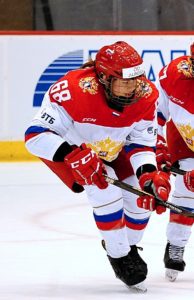 Shtarëva is a key component of the offensive juggernaut that is Tornado, and that conceivably the Russian team in PyeongChang will be too. In the 2016-17 season, she played about 10 games less than any of the other leading scorers in the WHL but still managed to finish 26th overall in league point scoring. Shtarëva's 17 goals in only 24 games placed her in 11th place for league goal scoring.
"My best attributes and characteristics are probably knowing how my partners play and passing the puck a lot," Shtarëva told THW. "Just feeling the game with my partners."
She does incredibly well at that too. In 80 WHL regular season games, Shtarëva has tallied a staggering 78 goals and 37 assists for 115 points. While she may enjoy passing the puck to her teammates, she certainly has an inclination to put the puck in the back of the net at an astonishing rate. Arguably Shtarëva's finest season in the WHL was her rookie year when she put forth 30 goals and 16 assists in just 28 games.
During the 2015 IIHF Women's U18 World Championships in Buffalo, NY, USA, Shtarëva was a main reason why the Russians came home with the bronze medal. She finished fifth in team scoring with a goal and two assists in six games. Shtarëva also tied for second-best on the team in plus/minus with a plus-six. It was her third and final time representing Russia at a U18 World Championship.
All of these abilities and achievements have been assembled into a nice 5-foot-8, 154-pound package that will be in PyeongChang. Shtarëva could easily be put on the top line at the port side. It would bring a lot of unbridled excitement for fans and the team alike, to place her with Belyakova and Shokhina and just let them wreak havoc on opposing defenses and goaltenders.
How It Will All Pan Out
The third birthday gift that Shtarëva will receive this year is a two-parter and it is one she received in advance. The first part is being selected for PyeongChang in and of itself. Despite any wavering over what the Russian delegation for PyeongChang would end up being like or if they were even going in the first place, there is a large talent pool of women's hockey players in Russia who could have been selected. While there are no guarantees in life, Shtarëva was one of the few who was chosen, and it is extremely well-deserved at that. That is the first part.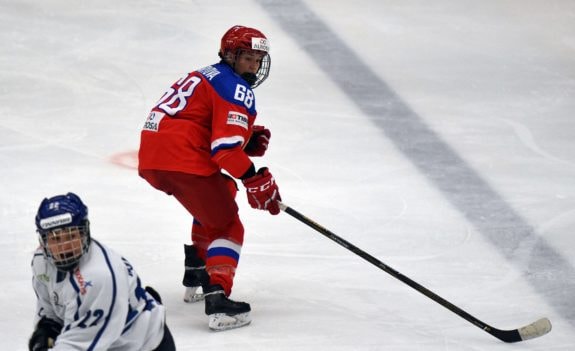 "I am most excited for being picked to be on the team," she told THW enthusiastically. "And that I am going!"
Here is the second part of the gift. This part is almost like the savings bond that your grandparents gave you when you were born, and now it has matured and can be cashed in now that you are an adult. There is a portion of Shtarëva's selection for PyeongChang that speaks to who she is as person. There are moments in life that have come full circle. Shtarëva loves hockey – she truly loves it. In return, it has built her character and given her the heart of an Olympian. That is why she is here. This second part to her birthday gift is not one that can be purchased with cash or a credit card.
She told THW, "The most important thing I gained for my life from hockey is probably the characteristics that I built up from playing hockey—a strong-willed person."
That she is, and that is why she is on this particular hockey team.
The Final Birthday Gift for Shtarëva
The Russians have covered all of their bases here. Their offense is relentless, their defense dependable. Their three goaltenders for PyeongChang—Nadezhda Morozova, Valeria Tarakanova, and Tornado's own Nadezhda Alexandrova—are a collection of some of the finest goalies in women's hockey today. Russia has all of the components needed to win, and to win big.
Вот и состав женской сборной России для участия в Олимпийских играх-2018. Федерация хоккея России отстояла участие в Играх форварда Людмилы Беляковой, которая ранее не получила приглашения от Международного олимпийского комитета:https://t.co/UebzxLj02i pic.twitter.com/vMCcqPxm2J

— Хоккей России (@russiahockey) January 25, 2018
And now, the final birthday gift for Shtarëva: it lies within the grasp of she and her teammates. When we asked her what her hockey dream is, she eagerly shouted out, "Of course it is to win medals at the Olympics!"
It is waiting for you and your teammates to take, Alevtina. There seems to be a likelihood that it will happen. Only you can determine what color it is. Желаю удачи!—Zhelayu udachi!—I wish you good luck!
General Manager of the Buffalo Beauts (NWHL). Hockey history writer "The Hockey Writers". Credentialed media for the NHL Combine and 2018 IIHF World Junior Championships in Buffalo, NY, USA. Born and raised in Buffalo, NY. Lifelong hockey fan for over 40 years. Proponent of the women's game.