Since he joined the Edmonton Oilers in 2015-16, Connor McDavid has accumulated many milestones and accolades.
McDavid added to his list of achievements on Tuesday when he scored his 100th career NHL goal in a 4-3 overtime win over the San Jose Sharks. The 21-year-old phenom reached the century mark in just 230 NHL games. Only Wayne Gretzky (145 games), Glenn Anderson (183 games) and Jari Kurri (214 games) reached 100 goals faster in Oilers history.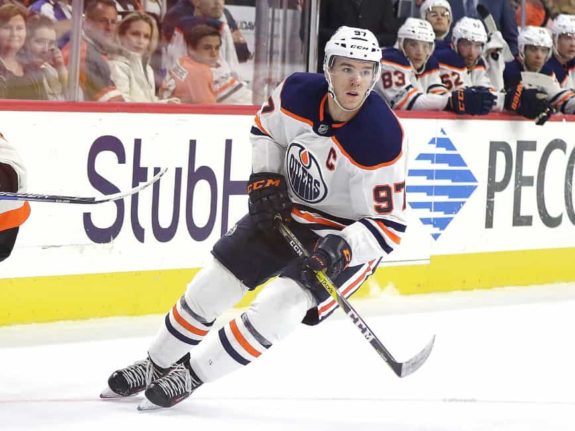 Related: Oilers' McDavid Not Getting Fair Shake From Referees
Although he's known more for his great passing skills, McDavid has put up an incredible 39 goals in his last 54 games dating back to the 2017-18 season, and he's currently on pace for 51-goals this year. McDavid looks primed to become the first Oiler to score 50 goals in a single season since Craig Simpson in 1987-88.
"I've always said I want to score more," McDavid told nhl.com on Aug. 27 at BioSteel Camp. "That's what I want to do, find ways to score. I think I'm a good passer and can make plays, but there's definitely a knack to putting the puck in the net. I seemed to find it a little bit later in the year last year and hope to carry it into this year."
Here's a look back at McDavid's three most memorable NHL goals.
Speed to Burn
If there was ever any question that McDavid is the fastest player the NHL has ever seen, his second goal of the night in the 2017-18 Oilers home-opener left no doubt. With the Oilers leading 1-0 in the third period against the rival Calgary Flames, McDavid stole the puck from Micheal Ferland near the bottom right circle in his own zone and rocketed up ice before putting the puck over the shoulder of Mike Smith to give Edmonton a two-goal advantage.
Despite being chased down by an excellent skater in TJ Brodie, McDavid accelerated past him and created a dazzling end-to-end goal. McDavid later scored an empty-net goal to complete his first of four hat tricks last season.
Snipe Show
One thing we have learned about McDavid in his parts of four NHL seasons is that he elevates his game against other superstars. So, when Nikita Kucherov and the Tampa Bay Lightning rolled into Rogers Place on Feb. 5, 2018, McDavid was ready to put on a show for the home crowd. After tallying a goal and an assist in the first period, McDavid received a touch pass from Leon Draisaitl at the opposing blue line, faked to the middle, then went back to the outside and walked around Matthews Peca before roofing the puck over Andrei Vasilevskiy from a near impossible angle on the goal line.
Related: Oilers' McDavid & Draisaitl Unstoppable in OT
No. 97 went on to score an additional two goals that night for his first four-goal game in the league in a 6-2 win over the Lightning. McDavid became the fifth-youngest player in NHL history to score four goals in a game (21 years, 23 days), and the first Oiler to achieve the feat since Sam Gagner on Feb. 2, 2012, in an 8-4 victory over the Chicago Blackhawks.
Magical Return
After missing 37 games of his rookie campaign with a broken clavicle, McDavid returned to action on Feb. 2, 2016. It was another miserable season for Oilers fans with the team well out of playoff contention by the All-Star break, but there was a playoff-like buzz in Oil Country for McDavid's return against the Columbus Blue Jackets. And he didn't disappoint.
Midway through the second frame, Jordan Eberle picked up the puck in his own zone and pushed the puck ahead to Benoit Pouliot who left if for McDavid to work his magic. Then, McDavid skated in with a full head of steam on a one-on-two rush and dangled defenders Justin Falk and Jack Johnson and goalie Joonas Korpisalo to score a goal for the ages.
He also added two assists as the Oilers held on for a 5-1 victory, but McDavid's brilliant end-to-end goal is what the fans remember about that night at Rexall Place nearly three years ago.
Eric Friesen is a freelance sports broadcaster and journalist in Saskatoon, Saskatchewan. Eric has diplomas in Broadcasting from Mount Royal University in Calgary and Sports Journalism from Centennial College in Toronto. A lifelong hockey fan, Eric has followed the Edmonton Oilers for more than 20 years. He cheers for the Oilers because of his hockey hero Wayne Gretzky, who played his more productive seasons in Oil Country.