With the 2018 NHL Draft around the corner, the Edmonton Oilers are rumored to be shopping the 10th overall pick. General manager Peter Chiarelli has his work cut out for him in trying to get this team back into the playoffs for the 2018-19 season.
The Oilers have several needs but most notably must find a top-six scoring winger and a top-four puck-moving defenseman. There are plenty of names rumored to be available, but which ones are within the realm of possibility is another story.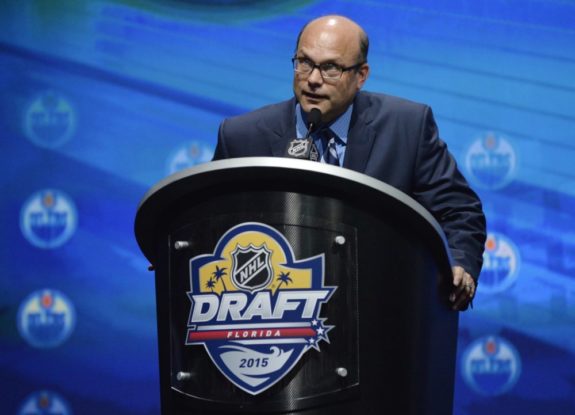 If Chiarelli and his management group end up keeping the 10th overall pick, there's going to be a handful of defenseman available in that spot. Noah Dobson, Evan Bouchard, Adam Boqvist could all be up for grabs when Edmonton gets to the podium.
Related: Edmonton Oilers – What Is the Peter Chiarelli Plan?
The problem is those guys are all anywhere from one to three years away from making an impact on Edmonton's defense. If you believe the time is now, and that the Oilers can't waste any more of Connor McDavid's prime years, you'll likely want the team to trade the pick for a blueliner.
Projecting Oilers Defense Depth for 2018-19

Left Defense

Right Defense

Oscar Klefbom

Adam Larsson

Darnell Nurse

Kris Russell
Andrej Sekera

Matt Benning

Ethan Bear
On the flip side, with the maturation of draft assets already taking place. Most of the Oilers young prospects (Kailer Yamamoto, Tyler Benson, Ostap Safin, Kirill Maksimov, Ethan Bear, and Caleb Jones) are a year to three years away from making a real impact.
Related: Do New Coaches For Oilers Mean Better Playoff Prospects?
So it's a question of what's best for the franchise. Trade for immediate help to turn this thing around and get back into the playoffs, or hold onto the pick to continue building something? Remember, it's highly unlikely the 10th pick alone nets Edmonton most of the defensemen on this list.
The Oilers would likely need to throw another asset to swing a deal, but the 10th would be a great starting point for trade conversations. If you're a subscriber to the "trade for a d-man" side, here are five puck-movers worth trading the pick for.
Brandon Montour – Anaheim Ducks
The 24-year-old is a restricted free agent (RFA) with arbitration rights this summer. The Anaheim Ducks are known to be a team that has internal cap restraints. They also already have Cam Fowler ($6.5 million), Hampus Lindholm ($5.2 million), and Josh Manson ($4.1 million) signed to big-ticket, long-term deals.
Jacob Larsson and Marcus Pettersson are signed to cap-friendly entry-level contracts (ELCs), so with those five, it's possible the Ducks could move Montour. Anaheim also needs help up front. With the 10th overall pick, they'd be looking to add a guy like Joe Veleno, or possibly Oliver Wahlstrom (if he were to slide that far).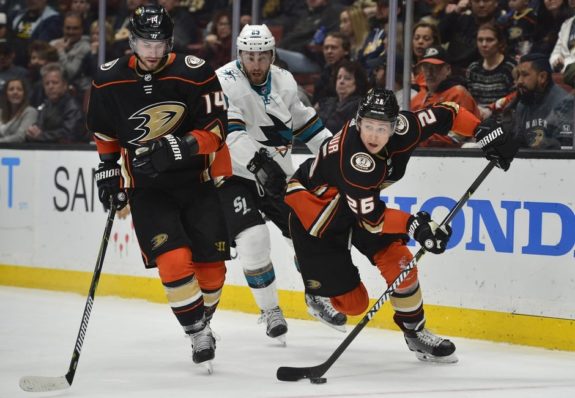 Montour could end up getting a $4 million per season, multi-year deal this summer. He'd slide right into the Oilers top-four and could play second-pairing minutes next season. Montour put up nine goals and 32 points in 80 games in 2017-18.
Related: Recent History of 10th Overall NHL Draft Picks
He also averaged 20:28 in ice-time during the regular season, but saw a drastic jump to 25:52 in the playoffs. Montour's also got a cannon of a point shot and could become Edmonton's best offensive weapon from the back end.
Justin Faulk – Carolina Hurricanes
There are a lot of question marks about Justin Faulk's defensive game, but no one doubts his offensive abilities. The 26-year-old has two years left on his deal paying him $4.8 million per season. In his past four seasons, he's totaled 49, 37, 37, and 31 points.
Faulk's a bonafide first power play (PP) quarterback coming off a bad year. The Hurricanes have also come out and said essentially everyone on their roster is available. With an emerging core of Jaccob Slavin, Brett Pesce, and Noah Hanifin, Carolina could move Faulk for scoring help.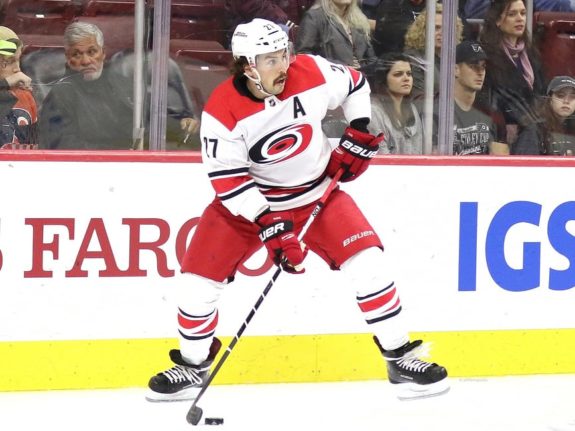 The Hurricanes are already picking second overall and will likely land Andrei Svechnikov with that pick. If they got another pick in the top ten, they'd be able to land another piece for their future. Doing that could fast-forward Carolina's turnaround.
Related: Oilers Defense Options For 10th Overall Pick
Acquiring a guy like Faulk might cost the Oilers more than just their 10th overall pick. Edmonton might have to throw in Jesse Puljujarvi and ask for a lesser piece in return to balance out the deal. Faulk would become the Oilers No. 2 highest-paid defender behind Andrej Sekera ($5.5 million).
Ryan Ellis – Nashville Predators
This is a pipe dream at best, and likely isn't going to come to fruition. Like most teams on this list, the Nashville Predators might want more than just the 10th overall pick for their defenseman. Ryan Ellis is entering the final year of his contract and will be an unrestricted free agent (UFA) next summer.
The 27-year-old carries an expiring $2.5 million cap hit and will command a hefty raise on his next deal. If the Oilers were able to swing a trade with the guarantee Ellis would make a long-term commitment in Edmonton, it would be worth moving an asset or two to acquire him.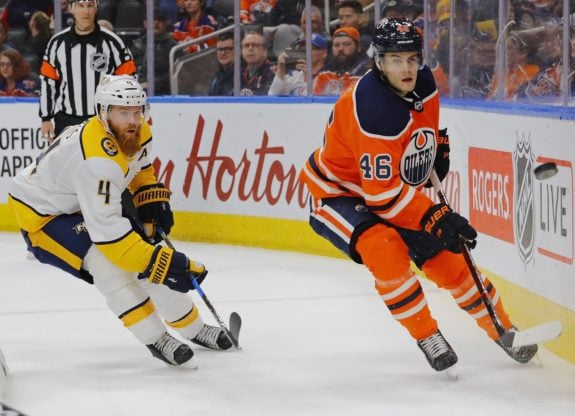 Ellis was logging 23:21 in ice-time during the regular season and played a shade under 25 minutes a night in the playoffs. During an injury-riddled season, Ellis still put up 32 points in 44 games. That would've translated to 17 goals and 60 points in a full season to lead all Oilers defensemen by a country mile in 2017-18.
Related: Oilers Forward Options For 10th Overall Pick
This might be a deal where you'd have to throw in the 10th pick and possibly Puljujarvi or Matt Benning to get the conversation started on a trade. Ellis could command $6 million on his next deal, and Edmonton would have to move out a significant portion of salary for 2019-20 to make that deal work.
Travis Sanheim – Philadelphia Flyers
This might be a little out there for some Oiler fans, but there's logic to moving this year's pick for a developing prospect like Travis Sanheim. The 22-year-old was a 17th overall pick back in 2014, and would likely be further along in his development than some of the options Edmonton might have when they get to the podium.
Sanheim's production in the 2017-18 season (10 points in 49 games) is on par with Darnell Nurse's output (11 points in 44 games) during the 2016-17 season. He's a year younger than Nurse and also pegged to develop into a top-four offensive defenseman.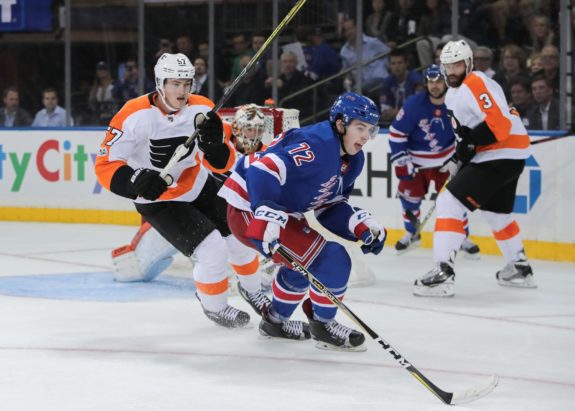 He's also got the size that Chiarelli likes in his defenders. He's a left shot blue liner who generally plays the right side. Why might he be available? The Flyers would be dealing from a position of strength. Philadelphia has Ivan Provorov, Shayne Gostisbehere, Robert Hagg, and Samuel Morin highlighting their system.
They can afford to trade Sanheim, a prolific scorer in his WHL days, to help address an offensive need. Philadelphia already has two first-round picks (14th and 19th). Adding a third (10th) would give them a prime opportunity to move into the top ten or five of the draft.
Colton Parayko – St. Louis Blues
Like acquiring Ellis, this would be another pipe dream for the Oilers and their fan base. The caveat is that the Blues moved their first-round pick to the Philadelphia Flyers in the Brayden Schenn deal. That pick ended up being the 14th pick. Luckily, they acquired the 29th pick from the Winnipeg Jets for Paul Stastny.
After missing the playoffs in 2017-18, the Blues will be looking to get younger and faster up front. They also need to improve their 24th-ranked offense. Adding a drafted prospect on a team-friendly ELC could provide dividends. So could adding a pick for the future, and a more NHL ready option like Puljujarvi.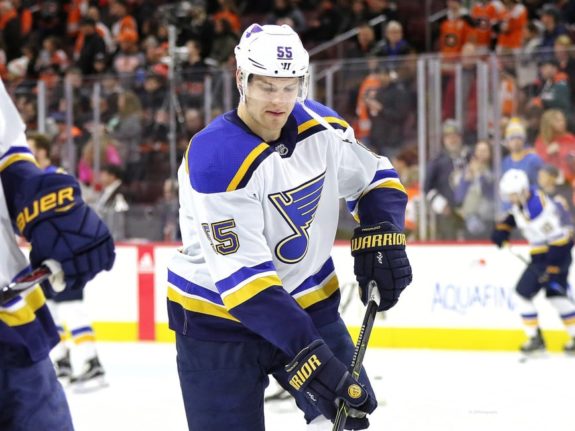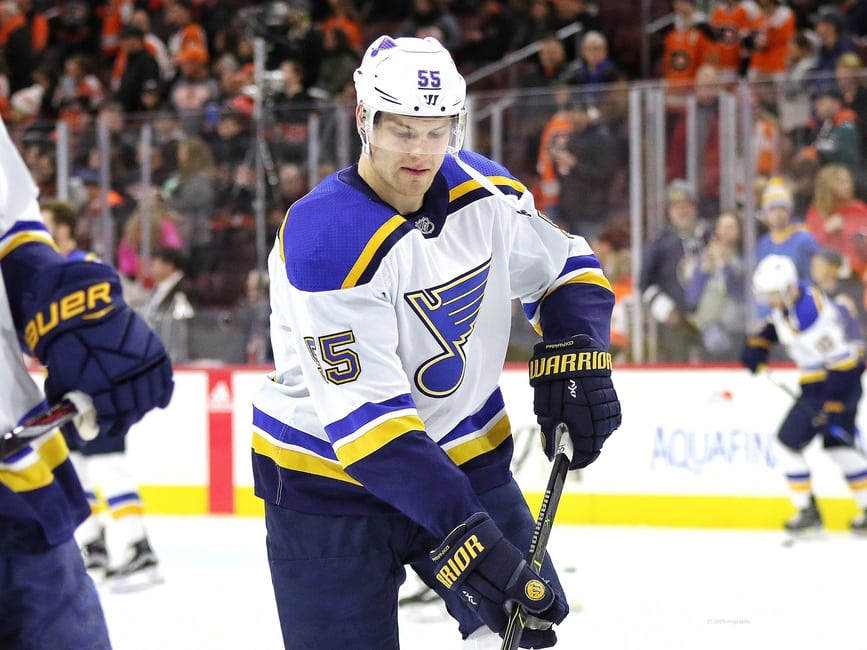 In exchange, they could dangle Colton Parayko. If it's true they'd want Leon Draisaitl, then things get dicey. St. Louis has decent depth on the back end with Alex Pietrangelo, Jay Bouwmeester, Carl Gunnarsson, Joel Edmundson, and Jordan Schmaltz. They've also got several free agents that need re-signing, which could make things tight under the Blues salary cap.
The 25-year-old has put up 33, 35, and 35 points in three consecutive seasons and logged 22:36 last year. That adds up to 103 points over the previous three years which are more than any Oilers defense has recorded since the 2015-16 including leader Andrej Sekera's 73 points.