It's the offseason and changes are going to take place before training camp starts in the fall. Teams will sign free agents, newly drafted prospects will replace veterans, and teams will move some high-profile players. These include players who deserve to be traded and will be and those who don't deserve to be dealt but will be. There are also the players who won't be traded this summer but should be. Let's look at five of those players.
*Note: All salary cap figures are based on the projected range of $78-82 million for the 2018-19 season.
Alexander Wennberg
The Columbus Blue Jackets could be in a salary cap conundrum for the next two seasons. They have $18.3 million in cap space in 2018-19 and $39.3 million the following season. Although it's a lot of space, they will have to extend or re-sign Artemi Panarin, Boone Jenner, Zach Werenski, Sergei Bobrovsky, and Joonas Korpisalo, among others, before the 2019-20 season.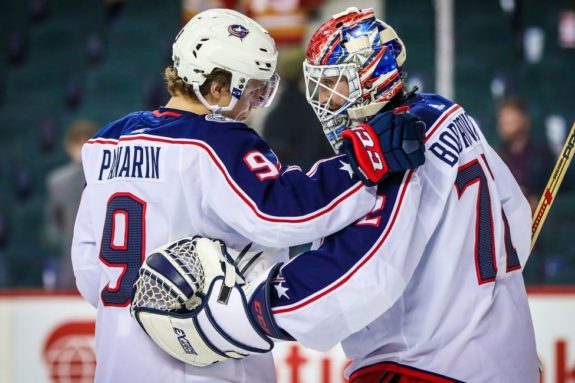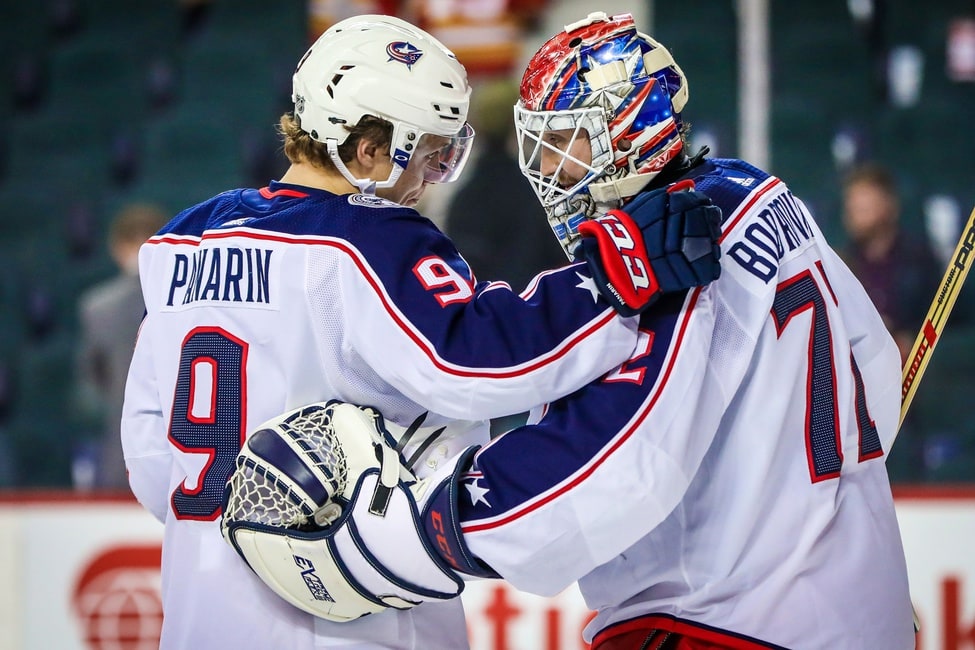 Even with conservative estimates, and not including their other free agents, Columbus will barely have enough space to re-sign everyone. Besides banking on another increase in the salary cap in 2019-20, the Blue Jackets will be left with few options.
Trading one of or both Brandon Dubinsky and Nick Foligno, each with a cap hit of at least $5.5 million, would be ideal but both have No-Movement Clauses (NMC's) in their contracts. That means neither are tradeable without consent. However, one valuable Blue Jacket who doesn't have trade protection is center Alexander Wennberg.
Why Trade the 23-year-old Wennberg?
Signed through his age-28 season, Wennberg recently finished year one of a six-year deal that has a $4.9 million cap hit. After posting career highs of 13 goals and 59 points in 2016-17, he regressed to just eight goals and 35 points in 66 games in 2017-18. Both his goals and points-per-game (P/GP) rates were the lowest since his rookie season in 2014-15.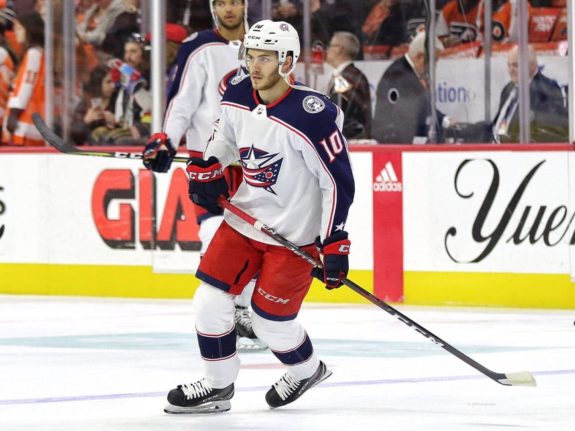 He averaged over 18 minutes of ice time per game (similar to 2016-17), his shooting percentage dropped slightly from 2016-17 but was still higher than his career average, and his five-on-five metrics were stellar. His 53.9 percent Corsi was third among Columbus forwards with at least 500 five-on-five minutes. The team also controlled 64.4 percent of five-on-five goals with Wennberg on the ice, sixth-highest in the league among forwards with 800 minutes.
The biggest reason to move Wennberg is his cap hit, which is higher than Sean Couturier, Rickard Rakell, and Viktor Arvidsson, who are all on long-term contracts and were more productive in 2017-18 than Wennberg.
Why it Won't Happen
The Blue Jackets should be able to count on a bounce-back season from Wennberg. A midseason back injury kept him out from Dec. 21 to Jan. 11. A full offseason to get healthy should help him back to his 2016-17 production levels and allow him to be a key part of Columbus' future.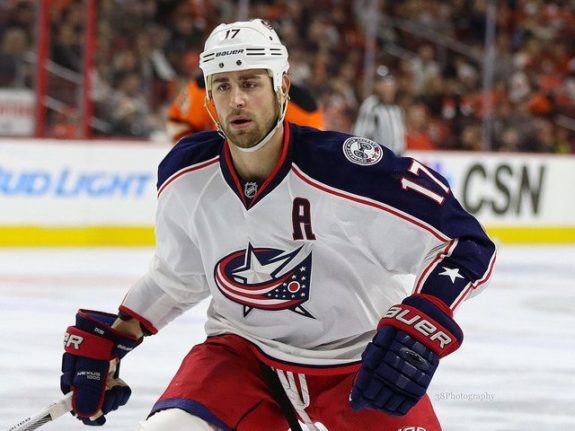 Additionally, trading Wennberg would be giving up on a young player at a low point in his career. With only five forwards under 25 when the 2018-19 season begins, losing one with Wennberg's upside could have a long-term negative impact. Finding a way to part with Dubinsky or Foligno's contracts, even via buyout, is the more logical option.
Anders Lee
New York Islanders forward Anders Lee is in a different contract situation than Wennberg because Lee will be in the final season of a four-year deal in 2018-19. His $3.75 million cap hit is a bargain given his 40 goals and 62 points in 2017-18. He ranked 7th in the league in goals scored and will have leverage in his next contract as a 28-year-old.
The Islanders are in an interesting position this summer with John Tavares testing free agency. If he departs, the Islanders could struggle next season but if he returns, they are a playoff contender if their goaltending issues are addressed.
Reasons to Part With Lee
Entering the final year of a deal that underpaid him or the past two seasons and at 29-years-old when the next deal starts, Lee will be looking to capitalize on his only long-term contract. In the three seasons of his current deal, he had 89 goals and 150 points and increased his goal and point output each season.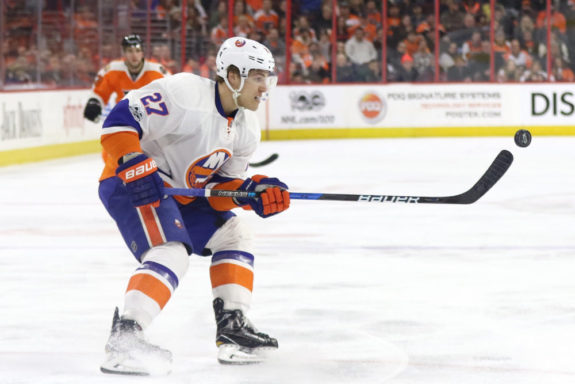 As a player at or near the end of his prime when the new contract kicks in, maintaining his production levels could be tough — he had shooting percentages of 17.8 in 2016-17 and 19.2 in 2017-18. Can he be expected to maintain that level as he ages? It's tough to count on.
The Islanders would be smart to use his value to address their needs. Although they had the second-highest scoring offense in 2017-18, they allowed the most goals with a minus-32 goal differential. What they need to do is shore up their defense and address their goaltending. Dealing Lee could yield them a top-four defenseman or a serviceable goaltender. With the emergence of Mathew Barzal and Anthony Beauvillier, and with Kieffer Bellows in the farm system, the Islanders have plenty of scoring talent.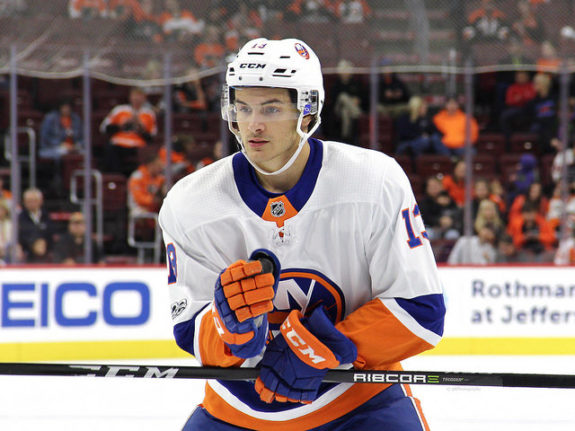 Taking advantage of Lee's career year and using his value to address their weaknesses is smart. Losing him for nothing in free agency next summer doesn't make sense. Extending him to a long-term contract at his age when they have talented prospects makes even less sense.
Why They Won't Trade Him
Not many teams are willing to part with a franchise favorite a year before free agency unless the general manager is David Poile. Most would rather maintain the status quo and keep the roster intact. Lee has great chemistry with Tavares and Josh Bailey on their first line and if Tavares does return, the team won't want to split that line up.
Jakub Voracek
Czech winger Jakub Voracek has five seasons left on his deal that has an $8.25 million cap hit. Voracek had a great season in 2017-18 with 20 goals and a career-high 85 points, ranked 2nd on the Philadelphia Flyers. It was only his second time surpassing the 80-point mark and the first as a point-per-game player.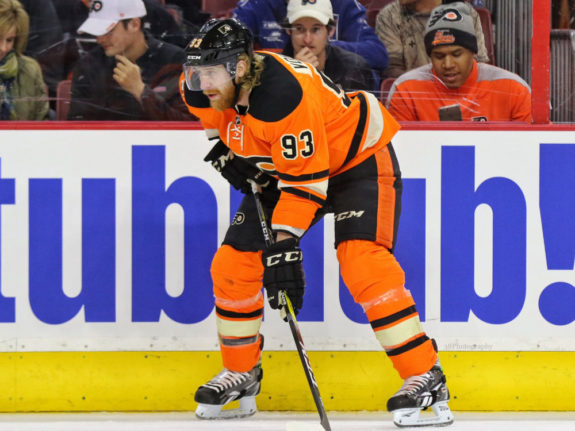 The Flyers don't need to part with Voracek's cap hit for salary cap purposes with $22.2 million in cap space in 2018-19. They have no key players to re-sign this offseason but they do need to address their goaltending issues for, what feels like, the fifth consecutive season. Even without having to re-sign top players, there are reasons to move Voracek.
In Defense of a Voracek Trade
In Voracek's seven seasons in Philadelphia, he averaged 19 goals and 62 points per season. He has consistently been in the 50 to 60 point range since his first season in 2011-12. In 2017-18, not only did he set a career-high in points but he also had the most power-play assists of his career with 30 and his 19 minutes and 27 seconds of ice time were his highest.
Voracek is a talented and consistent producer but setting career-highs at age 28 means it's unlikely he'll maintain that production as he ages. His contract runs through his age-34 season so he is likely to regress a bit until the deal expires. Dealing him now, after a career year and while he's still in his prime, means Voracek has never had more trade value.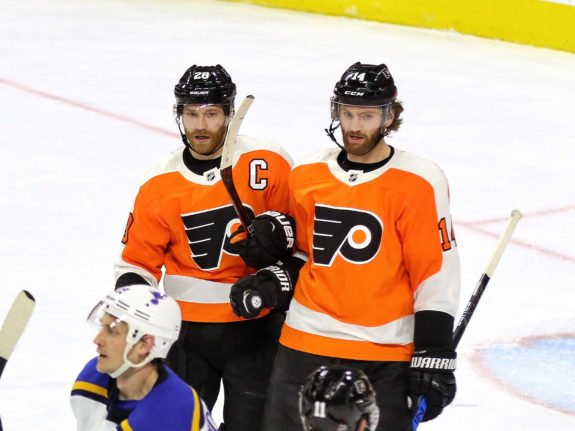 The Flyers should trade Voracek because he is one year removed from a 61-point season and two away from an 11-goal, 55-point campaign. He could just as easily regress to those levels as maintain his output in 2017-18. Another reason to take pause with him is that 41 percent of his points occurred with the man advantage in 2017-18. Of the top three point-producers this season, Connor McDavid, teammate Claude Giroux, and Nikita Kucherov, all scored less than 40 percent of their points on the man advantage.
Reasons to Keep Voracek
Down the stretch, Voracek often played with Patrick and Oskar Lindblom, and he put in over 231 five-on-five minutes for the season. Together, they were dominant with a 55.0 percent Corsi and controlled 57.8 percent of shots, 58.8 percent of goals, and 53.0 percent of scoring chances. With how well the Flyers' top line of Giroux, Couturier, and Travis Konecny gelled, keeping Voracek's line intact makes sense.
Kris Letang
The Pittsburgh Penguins could use the relief of trading away Kris Letang's $7.25 million cap hit. They could have $9.7 million in cap space next season but need to re-sign six players this summer including Tom Kuhnhackl, Bryan Rust, Riley Sheahan, and Jamie Oleksiak. All but Sheahan are due for raises which will absorb some of that cap space and then there are team's other needs that have to be addressed.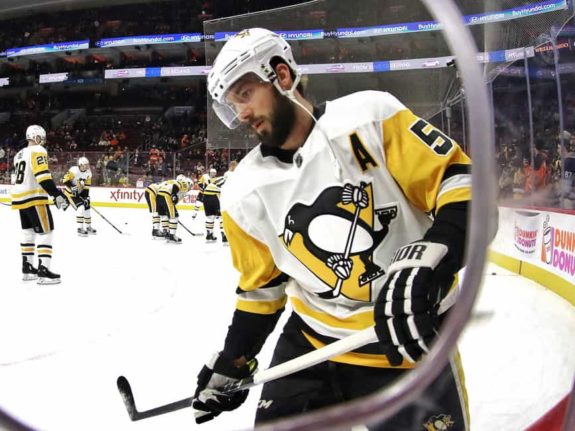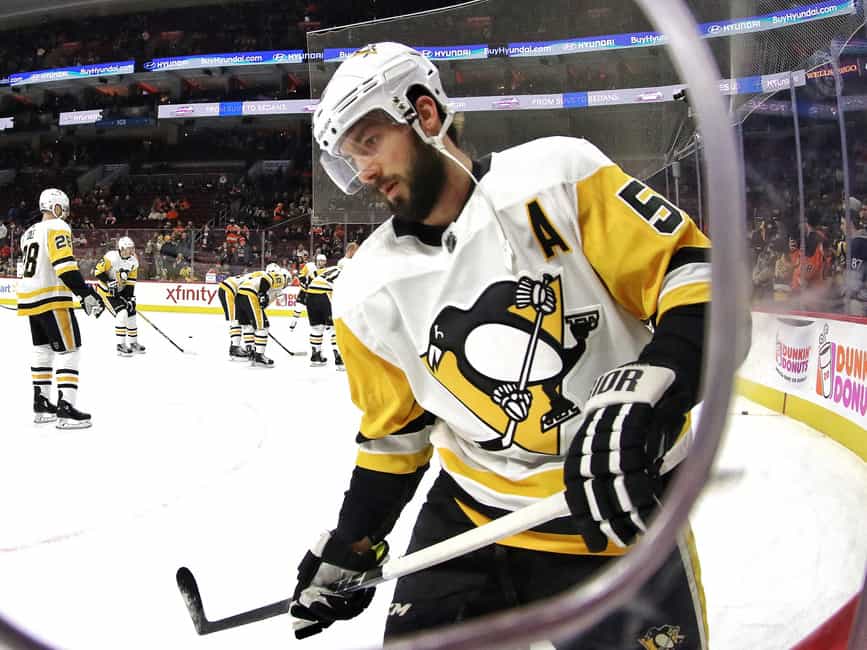 Letang had a strong 2017-18 season. He played the second-most games of his career and posted the third-most points with 51. He accomplished that while playing 25 minutes and 20 seconds per game, his fewest since the 2013-14 season. But already 31 and under contract until he is 34, and because of his lengthy injury history, now is the time to move Letang.
Capitalize on His Great Season
On the surface, Letang had one of his best seasons. Yet underneath it, he struggled. His .11 goals-per-game was his lowest since 2010-11 and his .65 P/GP was his lowest since 2013-14. His minus-19 turnover margin during five-on-five play was a career-worst as was his minus-9. And it gets worse.
While Letang was a possession monster in 2017-18 with a 55.1 percent Corsi at five-on-five and generally has been, the Penguins couldn't prevent goals while he was on the ice. With a minus-22 goal differential at five-on-five, the team controlled 41.7 percent of goals with Letang deployed. Among defensemen with at least 1,000 five-on-five minutes, that rate is the lowest on the team and seventh-worst in the league.
The same holds true while he was paired with Brian Dumoulin. Together the team controlled 43.9 percent of five-on-five goals, third-lowest among pairs with 800 or more shared minutes. They managed that low rate while having the fifth-highest Corsi (54.7 percent) and starting in the offensive zone 55.3 percent of the time, second-highest.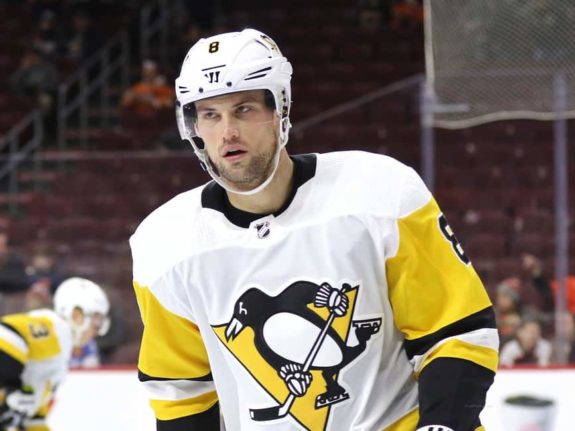 Letang was a reason for the pair's difficulty to prevent goals. When separate, the team controlled 50.0 percent of goals with Dumoulin deployed and just 32.3 percent when Letang was with a different partner. Dumoulin's emergence in 2017-18 allows the Penguins to part with Letang and not experience a sizable drop-off.
The Penguins should trade Letang because he rebuilt his value this season. They should also deal him because he had a healthy season in 2017-18 and counting on him to be healthy moving forward is futile. He missed at least 10 games every season between 2011-12 and 2016-17 and will likely miss more in the future.
Why Pittsburgh Should Keep their Franchise Defenseman
Trading away Letang would not be a popular move. He is a lifelong Penguin, helped the team win three Stanley Cups, and is three points and 12 goals away from being the franchise's top defensemen in those categories. He is also their top defenseman and plays big minutes. Without an internal option to replace his production, dealing someone away with his talent level is not an easy decision.
Ryan Ellis
Recently, I wrote an article discussing P.K. Subban trade rumors. I mentioned that if the Nashville Predators need to trade a defenseman, Ryan Ellis is the answer. I stand by those remarks.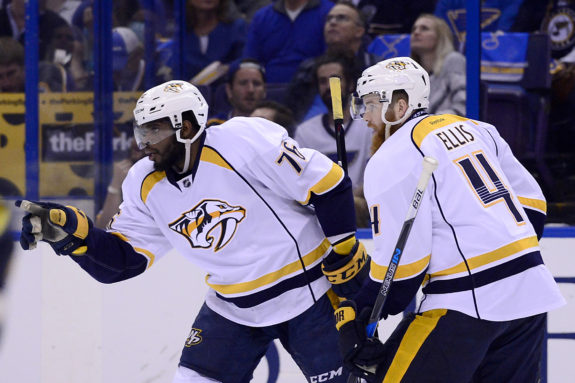 The Predators won't have salary cap issues in 2018-19 or the following season. They have $12.5 million in cap space next season and $25.3 million in 2019-20. But Ellis needs a new contract after next season and is due for a raise from his $2.5 million cap hit. Factor in that he will be 28 when his deal expires and he becomes a candidate to be overpaid in the latter years of his career, which is the main reason Nashville should trade him. And with no trade protection, the team doesn't need his approval.
Addition Through Subtraction on the Blue Line
Ellis is a member of Nashville's top-ranked defense and is known for his offensive skill set. After returning to the lineup from offseason knee surgery, he appeared in 44 games this season and scored nine goals and 32 points. His .73 P/GP was the highest of his career and he added five points in 13 postseason games.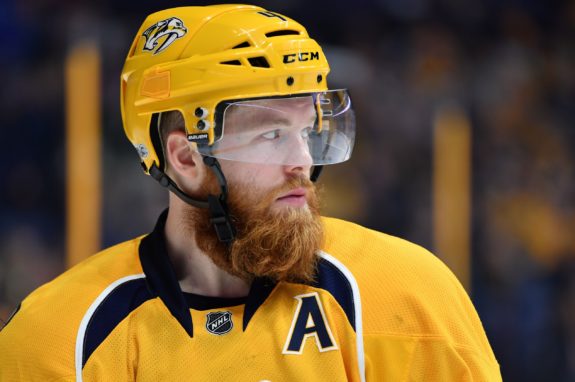 He was a solid possession player in 2017-18 with a 55.6 percent Corsi at five-on-five, highest among Predators defensemen with more than 700 five-on-five minutes. Nashville controlled 64.3 percent of goals with Ellis on the ice. Fast-forward to the playoffs and it was a different story with a 47.8 percent share of goals. That occurred while his pairing with Roman Josi started in the offensive zone more than any other Nashville defense pair.
The Predators should trade him because, as usual, they have internal options to replace him, including Dante Fabbro, who will likely be in the NHL in 2019-20. With talented defensemen in their system who can be productive immediately, Ellis is expendable.
Like Letang, Ellis has been injury prone throughout his career and has never played a full season. In 2016-17, he missed 11 games and he missed 38 in 2017-18. Using Ellis to either address their need for forward depth or to add draft picks or prospects is smarter asset management than letting him depart in free agency for nothing next summer or, even worse, offering him an extension.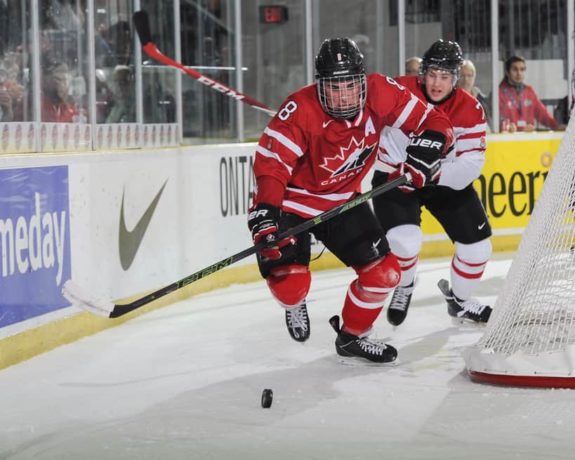 Why Nashville Should Keep its Defense Together
Despite how dominant the Predators' defense was during the regular season, they struggled in the playoffs. Only three of their defensemen scored in the postseason and both Ellis and Josi went without goals. Yet, in spite of their struggles, Nashville's defense remains the league's best.
Bringing the group back in 2018-19 with added depth, and potentially splitting up the top two pairs is what will give Nashville the best shot at the 2019 Stanley Cup.
*All stats came from Hockey-Reference, Corsica, HockeyViz, and Natural Stat Trick