From a boxcar statistics standpoint, it is next to impossible to have been disappointed with what Milan Lucic delivered during his first season with the Edmonton Oilers. While his lack of success at even strength was essentially canceled out by his surprising production on the power play, expecting much more than 23 goals and 50 points from the veteran winger would seem to be both disingenuous and rather unrealistic.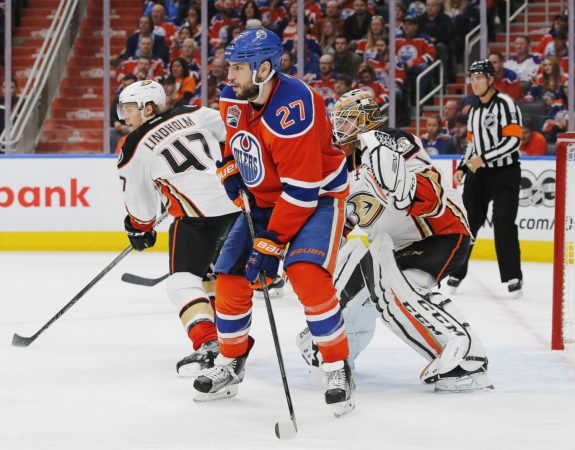 Let's not forget, the best season of his career came in 2010-11 with the Boston Bruins in which he scored 30 times and chipped in with 32 helpers. In other words, Lucic was within ten points of being on a similar pace in 2016-17 and considering how inconsistent his year was, it's hard to imagine him not producing points at a similar level during the upcoming 2017-18 campaign.
Lucic Delivered on Power Play
However, when it comes to a player with the kind of toolbox Lucic has at his disposal, measuring him solely on his point totals would seem rather unfair. The 29-year old has been known to alter how opposing teams approach games because of the physical element he can bring to the table on a nightly basis. Problem being, that player doesn't surface anymore near as often as he once did over the course of 82-game NHL regular season schedule.
We still see flashes but that dominant force is no longer something which can be counted on night in and night out basis. With nearly 850 combined regular season and playoff appearances already under his belt, the toll of playing said role has started to slow the big man down. Unfortunately, that slip in play was evident to anyone who watched Edmonton with any kind of regularity a season ago.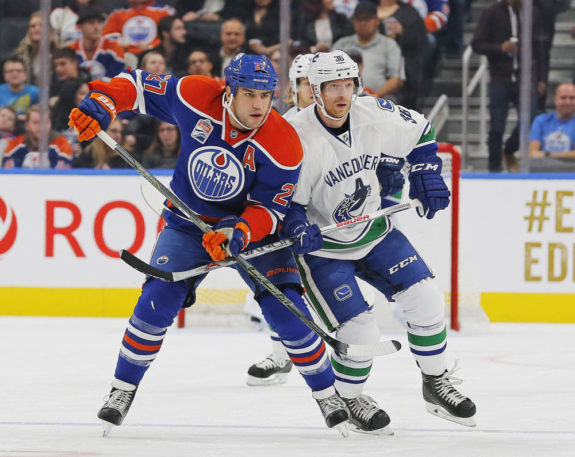 On far too many nights, Lucic was among the Oilers most ineffective forwards at even strength and the question now becomes, why was that case? Was it simply a matter of adjusting to his new surroundings and finding where he best fits into the equation or was this the first step towards an inevitable decline? In all honesty, it was likely a bit of both.
The days of Lucic being the force he was during his early years with the Bruins are a thing of the past but his body of work suggests he will be a far better even strength player during his second season in Orange and Blue. Unfortunately, the continual force-feeding of minutes with Connor McDavid for stretches of 2016-17 did him no favours and it showed in his game. Frustration started to set in and, at times, it wasn't pretty.
Oilers Did Lucic No Favours in 2016-17
However, it appears as though the Oilers plan on giving Leon Draisaitl a shot at driving his own line with some regularity over the coming season and there is no player who would benefit more from the move than No. 27. Lucic was at his best when teamed with the talented German as his centre and going with the aforementioned set-up would give Todd McLellan three tandems to work inside his top nine for the first time in his tenure.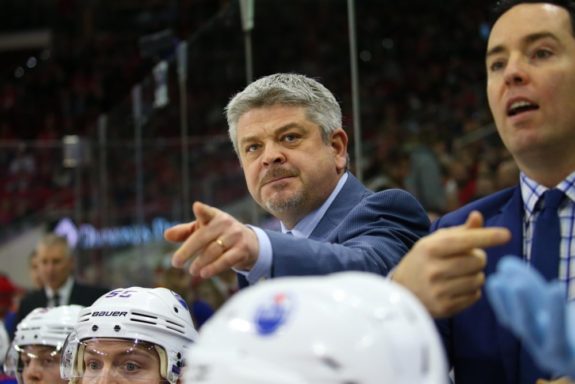 The McDavid – Patrick Maroon pairing is as close to lock as the Oilers currently have on this roster and one would think using Jesse Puljujarvi on a line with Ryan Nugent-Hopkins would be a no-brainer to start the season. Add the Draisaitl – Lucic combination into the equation and suddenly the head coach has three legitimate options at this disposal from a matchup standpoint. On paper, it looks good but as we know, the game is not played on paper.
In a perfect world, it would be nice to have Anton Slepyshev healthy and ready to go against the Calgary Flames in the season opener and slot him back onto a line with Draisaitl and Lucic. Problem being, the chances of the youngster being up to speed by October 4 is iffy at best and the club also wants to see if Drake Caggiula is capable/ready of taking on a similar role.
The Draisaitl Effect
In my mind, the talented Russian is the better fit but who knows, one of the two could ultimately end up replacing Ryan Strome on the top line if the former New York Islander doesn't click with McDavid. Regardless of how each of those scenarios plays out, if Lucic is given the opportunity to see regular duty with Draisaitl as his pivot in 2017-18, the chances of him being a more impactful player goes up substantially.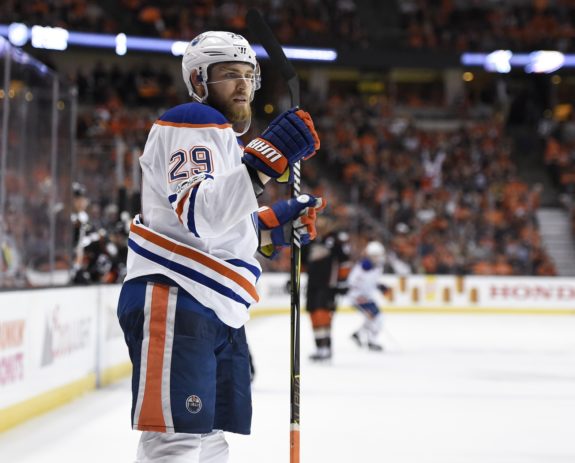 Playing a hard-nosed cycle game is a must for the 2006 second-round pick to be effective. In order for that to occur in the setting he currently finds himself in, Lucic needs talented linemates who can elevate his game by playing a similar style. Draisaitl does exactly that and has already shown the ability and willingness to play whatever style necessary to be effective. In other words, he is the perfect compliment for the Vancouver native.
In the end, the only thing that matters when it comes to Milan Lucic is if he can make this team better in the short-term. The chance of his cap hit wreaking havoc on this organization down the road is not only a real possibility but likely. There is no questioning the intangibles that he brings to a club but in order for this group of Edmonton Oilers to go where it wants to go, No. 27 is going to have to do more from here on in.
Also available from Rob Soria: 
Connor McDavid: Hockey's Next Great One
Rob Soria is the Author of Connor McDavid: Hockey's Next Great One. He has chronicled the Orange and Blue since creating his Oil Drop blog in 2011 and has also had his writings featured over at HometownHockey.ca and Vavel USA, where he has covered the NHL, MLB and ATP Tour. Rob was born, raised and still resides in Edmonton, Alberta and can be reached via twitter @Oil_Drop.