For an organization that has traditionally struggled to close the deal when it comes to signing premium free agents, this summer signaled a turning point of sorts for the Edmonton Oilers. While the presence of Connor McDavid and a $42 million offer played a huge role in convincing Milan Lucic to ink a seven-year deal to come out West, the fact that a player of his stature actually signed on the dotted line is something that cannot be overlooked.
Oilers' Milan Lucic says 'close to 10 teams' wanted to sign him in free agency. https://t.co/F0NtYWQbCV pic.twitter.com/REK16CEQkj

— theScore (@theScore) August 24, 2016
For a second consecutive offseason, the Oilers were able to use the combination of a generational talent and the ability to flex their financial muscle to go big-game hunting in free agency. Both factors played a role in landing defenceman Andrej Sekera in the summer of 2015 but grabbing Lucic took free agent signings to a new level, despite not being as imperative a piece of the puzzle as the former Buffalo Sabres rearguard. Just like anything in life, name recognition plays a part in how brands are perceived and that is exactly what the long-time Boston Bruin brings to the table…on top of being a darn good hockey player.
Realistic Expectations
Unfortunately, Lucic's name played a large part in determining fans' and the media's expectations for him in 2016-17. While the idea of Lucic coming to Edmonton and being a consistent point producer, one who would make life miserable for any opponent, was all well and good but the hulking winger hasn't been that guy for some time and will likely never be again. With nearly 700 regular season games under his belt, expecting him to be the same player he was during much of his time in Beantown is not only foolish but unrealistic.
@OilersNow Why do Oiler fans want to crap on Lucic all the time? If your expectations are unrealistic it's not Milan's fault!

— AlbertaCrude (@schloaner) November 30, 2016
As much as fans would love to see the 28-year-old go out and kick the snot out of opposing players, that is not how the game is played in today's NHL and certainly not a style of game that should be expected from Lucic. Confused? Well, you really shouldn't be. At 6'3" and 235 lbs, the Vancouver-native is capable of taking care of himself and his linemates in every situation imaginable, but asking him to engage just for the sake of it, while skating alongside the league's leading scorer, is a little much.
As we have already seen, playing with McDavid is a different animal. The kid plays and processes the game at a different speed and, despite his best efforts, Lucic has had a difficult time trying to keep up with the boy wonder. With all due respect to the plethora of guys Lucic played with in Boston and Los Angeles, the two-time 60-point man has never been asked to log regular minutes with anyone close to the same skill set during his 10-year NHL career.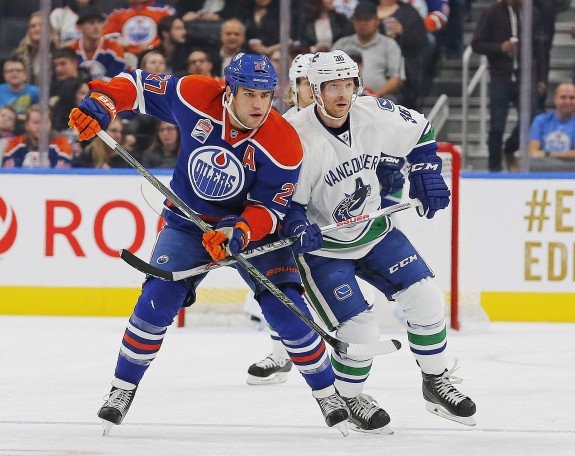 Milan Lucic Is No Enforcer
Also, to typecast the former second round pick as a goon only muddies the waters.  While some fans continue to go on at great length about how Lucic is to McDavid what Dave Semenko was to Wayne Gretzky after signing with the Oilers, nothing could be further from the truth. Outside of being large human beings that could both intimidate and hold their own in a fight, there is absolutely nothing that the two men have in common.
Time for Lucic to take the gutless coward Kadri for a ride in the canoe as Semenko used to say.#NHL

— michael ball (@ballsy72) November 30, 2016
If people honestly believe Lucic was brought to Edmonton so he could wreak havoc on each shift, they will be disappointed. Yes, his size and abilities were a welcome addition to an Oilers lineup that was lacking in both areas but there is a reason why he has only fought twice and taken a grand total of 18 minutes in penalties this season. His job is to stay on the ice and contribute offensively…not to take a regular seat in the penalty box.
"Why would the Oilers sign a goon like Lucic to play with Connor?"
Yeah okay, let's see your goon play like this: pic.twitter.com/qxTbfAOmSM

— Oilersnation.com (@OilersNation) October 21, 2016
With that said, his play has been uneven at best. On some nights he has been the dominant force hockey fans have seen on countless occasions over the past decade, while on others he has been a complete non-factor; but there was always going to be a learning curve coming into an unfamiliar organization. Outside of general manager Peter Chiarelli, everything was new…teammates, coaching staff, city…and a big new contract to live up to.
https://twitter.com/NHLbyMatty/status/811310675956035584
On top of that, he was dealing with a life-threating situation suffered by one of his best friends, Craig Cunningham, who collapsed on the ice before the start of an AHL game between the Tucson Roadrunners and Manitoba Moose on November 19, 2016. Add all that together and it's understandable why the transition hasn't been as seamless as everyone hoped. Struggles aside, the veteran winger has still managed to make an impact on the ice.
Power Play Points Count
Though he has yet to click with McDavid at even strength, No. 27 has played a key role in helping the Oilers put together one of the league's most potent power plays (22.3%). While the red-hot Leon Draisaitl currently leads the way with 14 points on the man advantage, Lucic and McDavid are next with 12 apiece. Funny thing is, prior to this season his career high was 14 back in 2010-11 but head coach Todd McLellan decided to use him as a central figure on the power play and the numbers speak for themselves.
Lucic is scoring at a 3rd line rate with McDavid (1.39pts/60)
Lucic & McDavid 5v5 GF ON/60 = 2.95
McDavid w/o 27 5v5 GF ON/60 = 3.40

— Woodguy (@Woodguy55) December 20, 2016
Difficulties at full strength aside, Lucic remains on pace for 23 goals and 56 points which falls right in line with the best seasons of his career.  Not too shabby for a guy who is still trying to get comfortable in his new surroundings. Be it next to McDavid or on a line with someone else, it is just a matter a time until he finds his spot and once he does the points will start to come at 5v5, and for the time being that is all anyone should be concerning about.
In order for this club to get back to the postseason, the Oilers are going to need Lucic to continue producing points at his current pace. If he manages to do that, my guess is we will see the player many thought Chiarelli was acquiring via free agency last summer and that should be more than enough for the fans. After all, that style of play tends to be more effective come playoff time and that is exactly where this group appears to be headed for the first time since 2006.