Back in the summer of 2015, the Edmonton Oilers turned more than a few heads by jumping into the unrestricted free agent market and landing one of its biggest prizes, defenceman Andrej Sekera. After agreeing to a six-year/$33 million pact, a large chunk of the Oilers fanbase was under the impression Peter Chiarelli had finally secured the No. 1 rearguard his club desperately needed. Unfortunately, in the real world, that was never the expectation, nor should it have been.
The @EdmontonOilers sign Andrej Sekera & Mark Letestu. Details: http://t.co/bLwvLrMEp5 #NHLFreeAgency pic.twitter.com/fzblxDlgz2

— NHL (@NHL) July 1, 2015
While Sekera had strung together eight rather effective campaigns during his time with the Buffalo Sabres, Carolina Hurricanes, and Los Angeles Kings, he never showed the capability of carrying a blueline. The fact that he was about to earn $6.5 million  his first season in Edmonton, wasn't going to change that. Despite what some might think, the 30-year-old has held up his end of the bargain and is proving to be worth every penny this organization spent on him.
Sekera Wasn't the Problem in 2015-16
It's no secret the 2015-16 season did not go as Edmonton had hoped and, not surprisingly, Sekera had his fair share of detractors. After signing the deal, too many expected that the Oilers were getting more than a 30-point defenceman who doesn't play an overly physical or noticeable game. Whereas in reality, Sekera did nothing but deliver his usual consistent game. Yes, it took him a bit of time to adjust to his new surroundings but it was smooth sailing from there.
Oilers: Sekera Leaves Fans Wanting More https://t.co/si0ILL3REW #THW

— The Hockey Writers (@TheHockeyWriter) November 10, 2015
With that said, the lack of depth along the Oilers' blueline was simply too much for last year's squad to overcome and actually win the odd hockey game.  That no longer appears to be the case in 2016-17, as the additions of Adam Larsson, Kris Russell, and a healthy Oscar Klefbom have given the club four legitimate NHL defensemen. In my mind, Edmonton still doesn't have a true "top pairing" but they do have the necessary pieces to put together a couple of solid "second pairing" tandems and the guy wearing No. 2 is the key to making this work.
After years of force-feeding a variety of players minutes and situations they were destined to struggle in, the Oilers finally have bodies in place that can at least try to hold their own. Is it an ideal set-up? No, but Sekera gives the coaching staff a bonafide defender who proved long ago to be capable of logging 20+ minutes a night and that alone is worth the price of gold. On his own, he is not enough but with a little help, the tide can turn quickly.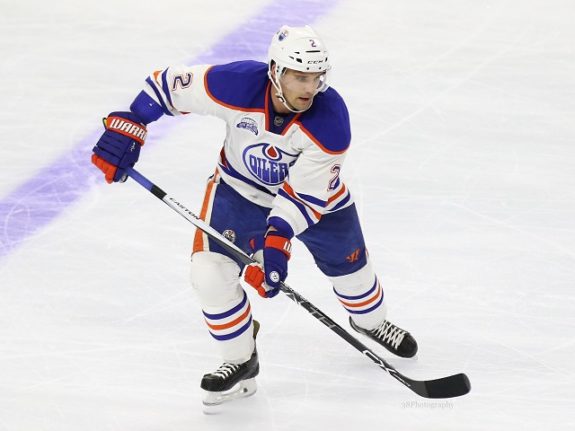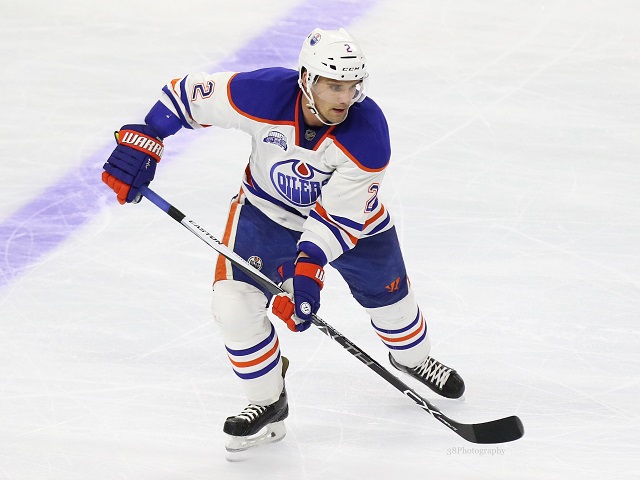 Sekera Gives McLellan a Sure Thing
Heading into training camp, Todd McLellan made it abundantly clear the duo of Klefbom and Larsson would be his go-to pairing. After signing Russell to a one-year deal mere days before kicking off their 2016-17 campaign, the hope was that the Alberta-native and Sekera would click to form an actual NHL-calibre second pairing. Again, we are still in October but to this point the two have managed to do exactly that and the Oilers are far better because of it.
As anyone who follows this team knows, there are those out there who were rather critical of the Russell signing but, if used in the right situation he has the potential to be the perfect short-term solution. Enter Sekera. With a quality player now in the mix, the talented Slovak has been slotted in a spot that best suits his skill-set and his cerebral game has been the perfect fit for Russell.  While neither one is a point producer, both move the puck extremely well and have been good in their own end of the rink.
Sekera looks like a stud Dman this year.

— RAYdical Left (@pullmygoalies) October 27, 2016
Oddly enough, those who were jumping all over Sekera for his apparent lack of impact a season ago, are the same ones singing his praises in the here and now. Funny thing is, what we have seen from the 2004 third-round pick is eerily similar to what he delivered in 2015-16 and throughout his now 10-year NHL career.  The Edmonton Oilers were banking on the fact they would be getting that player when they inked him to that kind of deal and it was clearly a risk worth taking.