On a team already solid defensively thanks in large part to the work of reigning Norris Trophy winner Drew Doughty and two-time 40-point scorer Jake Muzzin, it's easy to overlook a 29-year old defenseman out of Rochester Hills, Michigan, who is quietly having a fantastic season for the Kings. How good has he been? Read on.
Martinez Helped Balance a Mixed 2007 Draft
As a fourth round selection back in 2007, nobody would have been surprised had he never made it to the NHL. Half of the players from that year/round never did.
The Kings' 2007 draft was headlined by the selection of Thomas Hickey with the fourth overall pick, followed by Oscar Moller (52), Wayne Simmonds (61), Bryan Cameron (82), Martinez, Dwight King (109), Linden Rowat, Joshua Turnbull, Josh Kidd and Matt Fillier. Plenty of names, but Hickey's and Simmonds' production ended up being for other teams (granted, Simmonds helped land Mike Richards) and other than Martinez and King, the rest flamed out.
King has been a consistent, workmanlike bottom-six forward for Los Angeles, registering 103 points in 318 regular season games. Martinez, on the other hand, has the potential to become a star.
Martinez Stood Tall in the 2014 Playoffs
Although he was up for a four-game cup of coffee during the 2009-10 campaign, Martinez became a regular contributor the next season, scoring five goals and 16 points in 60 games. During the Kings' first run to the Cup in 2012, he scored 12 points in 51 regular season games, and another three points during the playoffs.
It was two years later, however, that the spotlight really shined brightly on him. For starters, he reached double digits in goals scored (11) for the first time in his career. More importantly, he netted the game winner against the New York Rangers in double-overtime of Game 5 to secure the franchise's second Stanley Cup. Since you can't possibly be tired of seeing it, here is that goal again:
His Stock Continues to Rise
Not only has Martinez maintained his play at a high level since then, he's increased his production, accumulating 31 points last year. If he were to keep up this year's pace for the remainder of the season, he would end up with 15 goals and 30 assists. Those numbers are starting to get close to Norris Trophy territory.
It's not just about the offense, either. His CF% is 54.8 and FF% 57.0, equal to or better than the more-heralded Doughty. He is also 18th among league defensemen in hits and 22nd in blocked shots.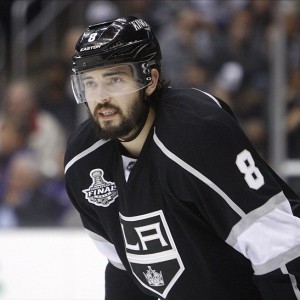 Just in case you think this season is a fluke, think again: Martinez' career possession numbers are 55.5 and 55.7, respectively, and he has led the team's defensemen in blocked shots since 2014-15.
Martinez Signed a Six-Year Extension in 2014
Although Mike Richards and Dustin Brown are exhibits A and B as to the potential negative impacts of long-term contracts for Los Angeles, Martinez' six-year, $24 million deal inked in 2014 has turned out to be a very good signing by general manager Dean Lombardi. Jason Demers, a lesser defensemen with similar pedigree, signed a five-year, $22.5 million deal just last summer.
Under contract through the 2020-21 season, Martinez is certain to be a mainstay for the Kings for a long time to come.
Can He Win a Norris?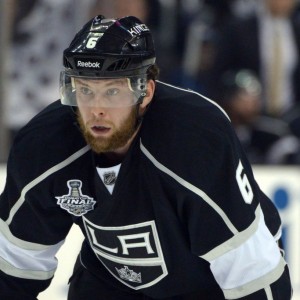 The short answer is who the heck knows, but it's an intriguing question, especially considering the fact that he doesn't receive a fraction of the press that Doughty does. And yet, Martinez is averaging a career-high 22:33 minutes of ice time per game and ranks among the league leaders in blocks, hits and possession. He's not near the top in points — always a factor in the equation — but at 17th overall, it's not like he's sitting in the parking lot. Overall, there's a lot to like about his resume.
L.A.'s defense-first mentality mandates a strong blue line, and the Kings have that in spades. He may not get the publicity of Doughty or even Muzzin, but if he continues this pace, don't be surprised if there aren't at least a few people whispering about Alec Martinez' prospects of winning some hardware before it's all said and done.
Walter McLaughlin is a Los Angeles Kings correspondent for The Hockey Writers. He is an avid sports fan, having followed the Kings since living in L.A. in the mid-1970's, as well as suffering through Seattle sports teams' general futility. He has a Bachelor's degree in Finance and has worked in community banking for over 25 years, specializing in SBA loans. He is married and has two daughters.