In an Edmonton Oilers news and rumors update, there is talk about prospects and how they are playing overseas, including late-round pick Carter Savoie. Philip Broberg is headed to Edmonton for the World Juniors but what are the Oilers plans for him after that? Leon Draisaitl is back in town, Tyson Barrie is engaged and has switched agents and Connor McDavid was given the "honor" of most valued trade asset in the NHL.
McDavid the Most Valuable Trade Asset in the NHL?
Jonas Siegel of The Athletic recently took a look at the most valuable assets in the NHL and underwent the exercise of determining who would have the most value in the league is every NHL player was available for trade.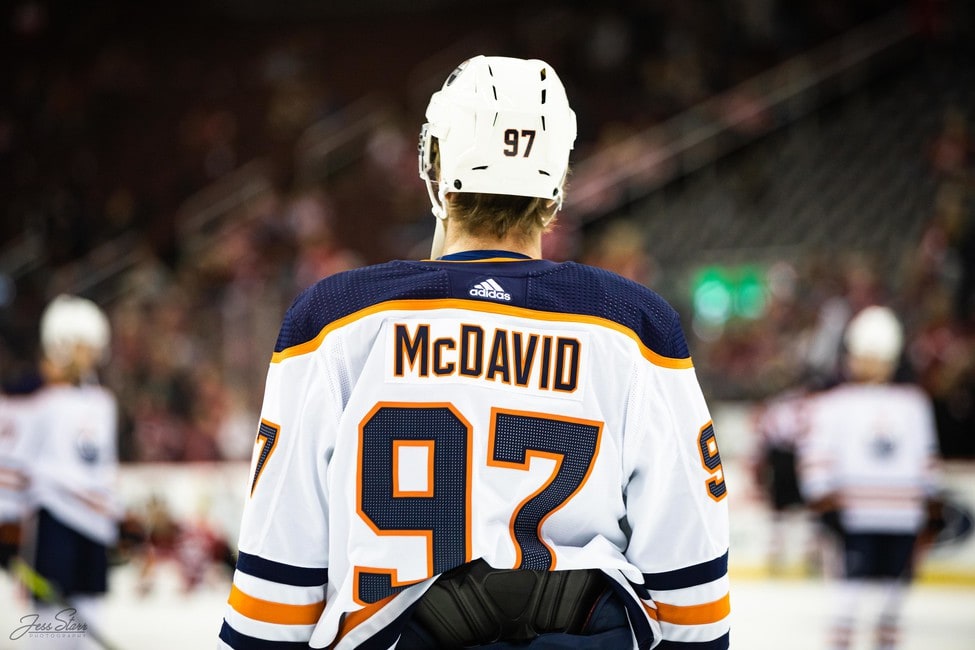 Siegel awarded that distinction to Connor McDavid. Saying there's no more of a "sure thing" in the NHL than McDavid, even at his high-priced salary, every team would line up to trade for him. Siegel writes:
Has McDavid even entered his prime yet? What happens when he unlocks another gear defensively, when he rounds out with experience in the same way that Crosby eventually did?

source – 'NHL trade value rankings: The 50 most valuable assets in hockey' – Jonas Siegel – The Athletic – 11/30/2020
Tyson Barrie Changes Agencies
According to hockey insider John Shannon, newly-signed Oilers' defenseman Tyson Barrie has changed agents. Shannon writes, "He has left Newport Sports…CAA Hockey announces that Tyson Barrie is joining the fold. He will be repped by Pat Brisson and Bayne Pettinger."
What this means as far as his future with the Oilers is concerned is not completely clear. Obviously, he'll play out this season after signing a one-year deal with Edmonton for $3.75, but did Barrie change agents because he was unhappy with the way this past offseason went? Or, is this more about gearing up for what might be another trying offseason next summer?
Obviously, Barrie joined the Oilers to up his numbers on the power play and with a highly-skilled offensive team. This season will be his shot at a long-term deal and he'll want to be comfortable with the agency representing him during those negotiations.
Barrie also recently announced that he's engaged. He and his fiancé Emma, along with their dog Ralph, were featured recently on the Oilers social media page celebrating their announcement.
Related: Edmonton Oilers' Top-20 Goal Scorers All-Time
Draisaitl Back in Edmonton
Leon Draisaitl is one of a half-dozen Oilers players now back and skating informally in Edmonton. He recently joined the group and Kurt Leavins of the Edmonton Journal believes the floodgates may open for players coming back and hopping on the ice.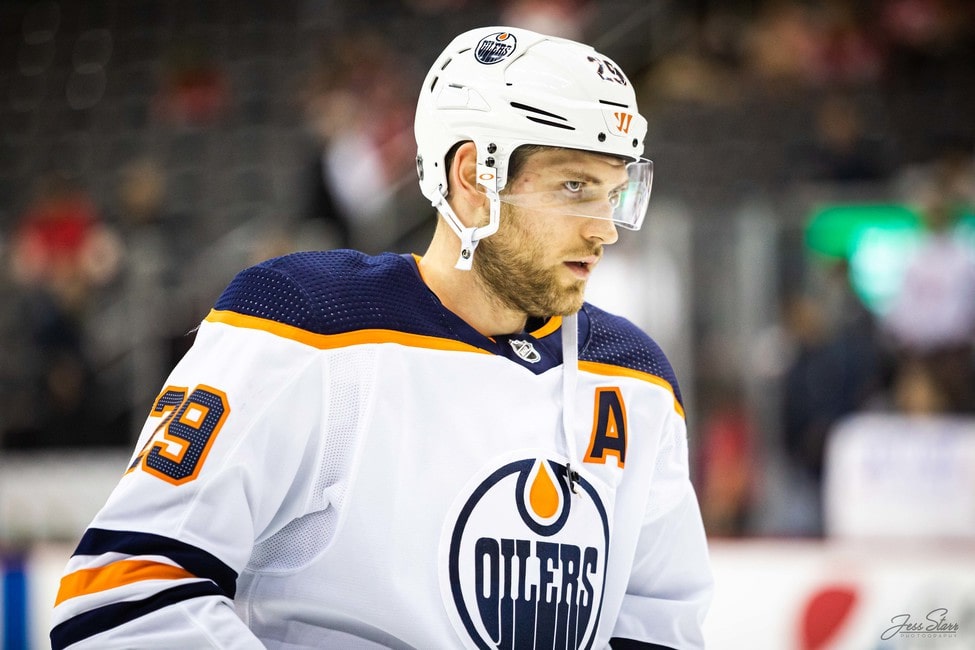 Leavins writes:
I expect that number will at least double in short order. With the potential of training camp starting in just over 3 weeks from now players can't just assume that date will get pushed back.

source – 'A transformative post COVID-19 NHL could bring the Edmonton Oilers a franchise-changing opportunity: 9 Things' – Kurt Leavins – Edmonton Journal – 12/06/2020
Carter Savoie Playing Well in NCAA
While his early success may not last or mean he's a diamond in the rough, late-round pick in the 2020 NHL draft, Carter Savoie is giving the Oilers reason to believe they've plucked a good prospect as the No. 100 overall pick. Savoie has four goals in three games to start his freshman season for the University of Denver.
The play-by-play announcers for the game on Friday noted, "This Savoie kid is the real deal." He added, "We've called his name a lot."
His second goal in his third game was especially skilled as he fired in a wicked shot after taking a pass off his skate, putting it to his stick and deceptively fooling the goalie by changing his shot angle ever-so slightly. It was a goal-scorers goal and demonstrated all the tools he was said to have prior to being drafted.
Savoie took a nasty knee-on-knee hit in his last game but returned and did not seem worse for wear. In fact, he was flying around and looked strong.
Broberg Headed Back to Sweden
In the event you didn't check out the daily news and rumors post, it was mentioned that the Oilers are bringing Broberg back to Edmonton to join Team Sweden at the World Juniors Tournament. That said, it doesn't appear he's destined for Edmonton long-term.
Leavins writes that he's under the impression the Oilers will send Broberg back to Sweden immediately after the tournament ends to get him playing as much as possible. The uncertainly around the AHL this season means options for Broberg are limited and it's best simply to have him in an uninterrupted situation where he can continue to develop.
Related: Oilers Need to Move on From Jujhar Khaira
Most Likely Oilers to Have a Breakout Season
Every season, fans watch for a player to take a huge step forward. Last season, both Ethan Bear and Kailer Yamamoto were in that group and both are expected to play big roles for the Oilers this season. Who might take that step for Edmonton in 2020-21?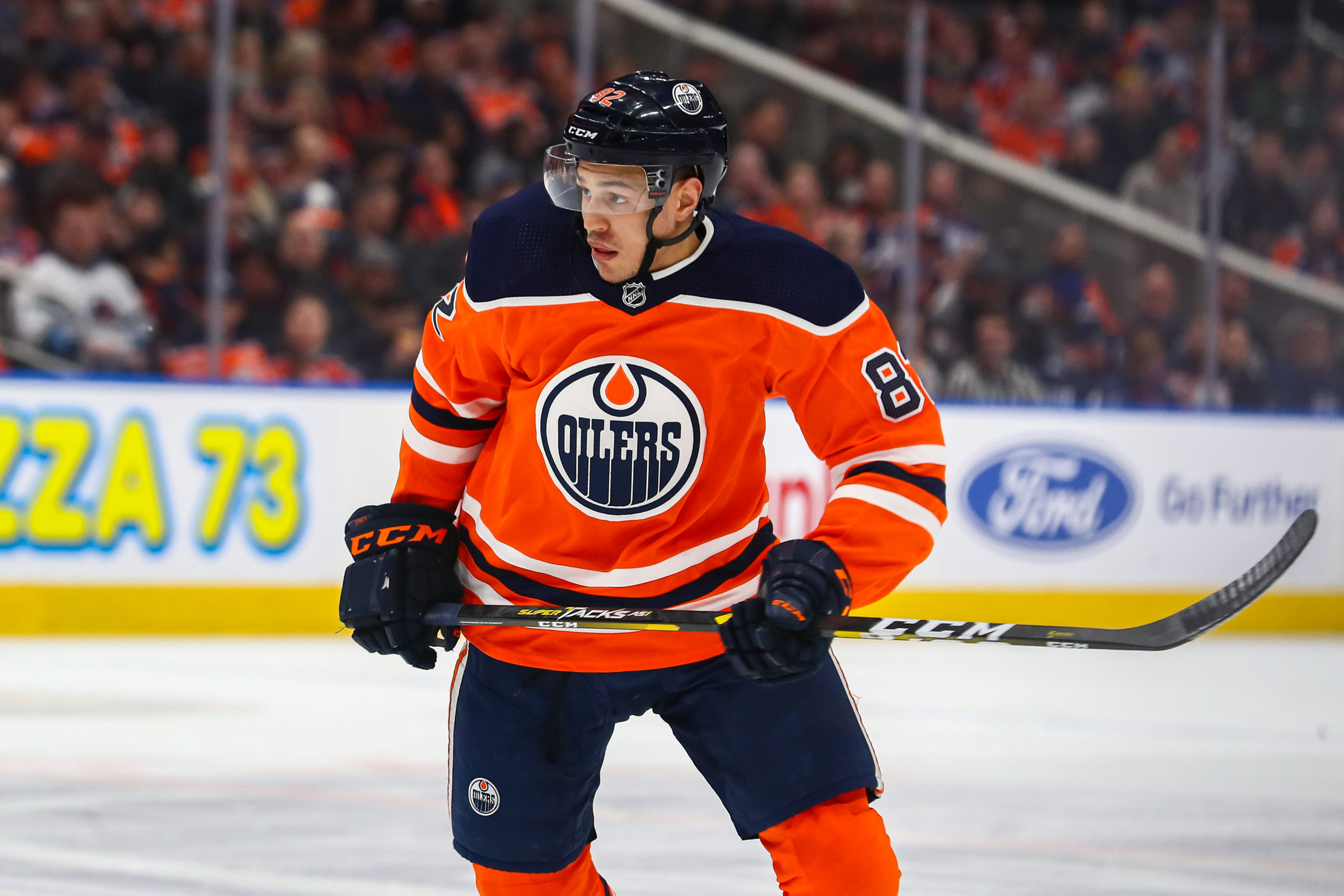 The leading candidates would seem to be Caleb Jones who the Oilers believe has all the tools to be a steady top-four defenseman and has a golden opportunity with Oscar Klefbom out for the season.
Both Jesse Puljujarvi and Dominik Kahun are being counted on to have strong campaigns but the pressure isn't as high and players like Kyle Turris and Tyson Barrie aren't on this list simply because they've already proven to be effective NHL players. They are more looking to rebound from poorer seasons than they are break out.
Next: NHL Rumors: Maple Leafs, Oilers, Golden Knights, Iginla, More
---
---