In an Edmonton Oilers news and rumors update, Tyson Barrie talks about playing with Connor McDavid and Leon Draisaitl and specifically discusses the drop pass on Connor's second goal. There is news on Mike Smith and how long he might be out of the lineup. A couple of injured players are getting back on the ice and Jesse Puljujarvi is coming on strong, even if he's not yet popped up on the score sheet.
Tyson Barrie Talks Almost Messing Up
Barrie spoke with the media on Friday after the Oilers win Thursday night and the press was having some fun with the rumors that he had no idea the drop pass from Draisaitl was not for him. Barrie admits he thought he'd messed up the play, not realizing McDavid was on the other side.
When he went to talk with Draisaitl about it, Leon said, "No, I don't mess up sauce passes." Barrie simply responded, "Fair enough."
Barrie says it will take a little time getting used to playing with these guys who already have so much chemistry, but it's coming together quickly. He knows he'll get his shots and it's just about waiting for the opportunities and trying to contribute.
When it came to the one play, he said, "I'm glad I missed (the puck)… I was heading for a breakout when Connor put it in the net." He then teased that perhaps this is a play they should add to the team playbook.
Related: NHL Rumors: Canadiens, Blackhawks, Bruins, Oilers, Panthers, More
Forsberg Claimed By the Jets, Smith Still "Unfit to Play"
There was some speculation on Friday that perhaps the Oilers might try to reclaim Anton Forsberg from the waiver wire after the goaltender got waived for the second time in a week. Unfortunately, the Winnipeg Jets got the player first.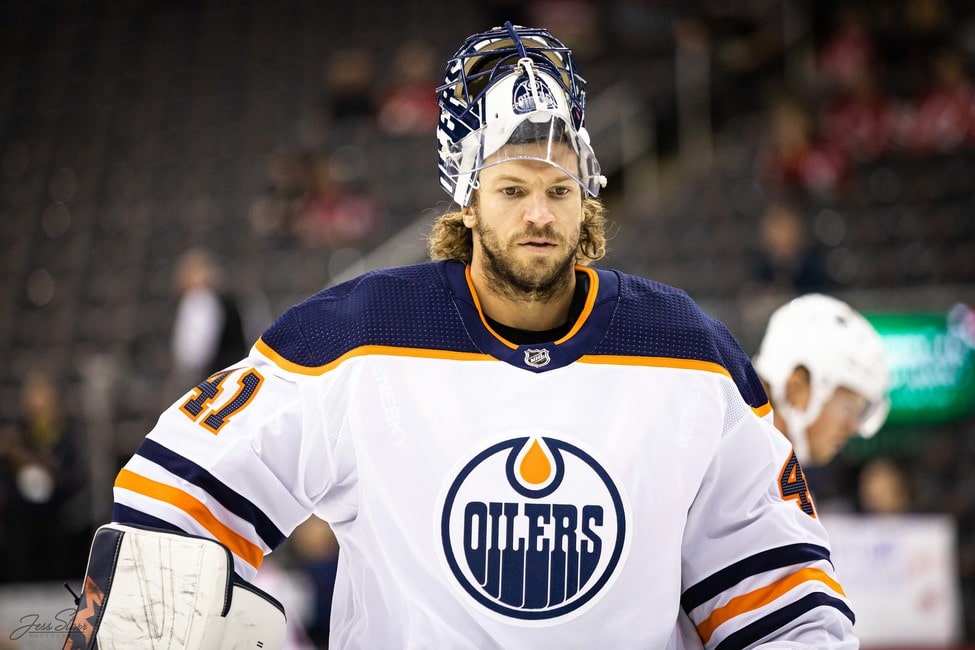 Now there is some concern in Edmonton about what the Oilers will do in goal because Smith was ruled unfit to play on Thursday and was out of practice again on Friday. There's some concern he might be out a while and Patrick Johnson of The Province reports Smith could be out "multiple weeks."
With Smith out and Stuart Skinner potentially not ready to take on the backup role on a regular basis, it's back to the drawing board for GM Ken Holland but there aren't a ton of options available. Head coach Dave Tippett said there's still conversations going on as to how the Oilers will proceed going forward.
Puljujarvi Starting to Get It
Tippett added that Puljujarvi is starting to do things in the structure the Oilers are looking for but is also using his unique skills much better. Saying he's growing into his game, he's got length and strength and "he's buying into what we're trying to do and I like the direction it's going."
Puljujarvi has yet to score but he was all over the ice Thursday night and got a little time on the power play with McDavid's group. Puljujarvi is getting a lot of praise so far from media and insiders who remember his last stint with the team. Tippett said he's not the same guy who was here last time.
Competition to Play Will Be Fierce
The media pointed out that both Gaetan Haas and James Neal were on the ice today for the skate and Tippet said neither was ready to come back into the lineup. It was Haas' first day back and Neal missed closed to a month so "he's just trying to get up to speed."
Tippett added it will also be an interesting juggling act when it comes to getting guys from the taxi squad who want to play and returning players who want to play into the lineup. The Oilers will pay attention to fitness levels and practices, which is a challenge in itself because there are so many players on the ice and practices are more infrequent in such a condensed season.
McDavid Scores a Hat Trick
Of course, we can't ignore the fact that McDavid scored three goals and had one assist on Thursday night for a hat trick. The incredible performance comes one day after an opening night loss with no points. Draisaitl had four assists and that duo looked deadly on the power play.
Next: Oilers' Nugent-Hopkins Joins Team's Decade Club as Free Agency Looms
---
---