With the 2013-14 season coming up, it's a good time to look at what the Edmonton Oilers have in the pipeline.
A lot of things change over the offseason and the list of top prospects is no different. Many of the names on the list are the same that were there when last season ended, however there are a few new names as well, most notably at the top. There are also players that had disappointing 2012-13 seasons, be it due to injury or poor play and have fallen off the list.
Predicting junior and pro prospect development is a risky venture at best. There are few rankings that can change without a game even being played but a prospect list is certainly one.
The NHL regular season schedule was released on Friday. Check out our partners at TiqIQ for the best deals on
Edmonton Oilers tickets for all 2013-14 games.
Going into the new season here's a fall pre-season look at the Edmonton Oilers top prospects.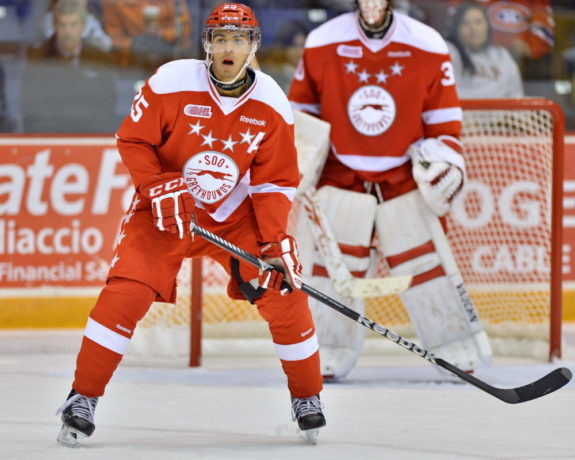 1. Darnell Nurse, D, 18, Sault Ste. Marie Greyhounds (OHL)
The No. 7 pick in the 2013 draft, Nurse edges out Klefbom for the top spot on the list. Nurse is a big, strong, athletic defenseman who plays with a mean streak. He's also an exceptional skater with a long fluid stride. Tabbed as a defensive defenseman with future shutdown defender written all over him, he's also shown an emerging offensive side last season in the Soo.
Will likely be returned to the OHL for more seasoning in 2013-14.
2. Oscar Klefbom, D, 20, Farjestads (Elitserien)
Could be the year that he makes his Oilers debut. There has been talk of him making the team out of camp, although it's more likely he starts the year in OKC. While the Oilers lack top pairing defensemen, they don't lack depth this season and Kelfbom will be competing with as many as five other players for the final two spots.
Narrowly losing his top spot to Nurse, Klefbom is out to prove he has no lingering effects from a shoulder injury that sidelined him most of last season. He has all the tools to be a top four defenseman, he can skate, move the puck and certainly doesn't shy away from the physical side.
Will likely make his Oilers debut in 2013-14, but should start the year in the AHL.
3. Martin Marincin, D, 21, Oklahoma City Barons (AHL)
Another defenseman trying to crack the Oilers roster, Marincin has made a good impression in his short pro career. He was the Barons best defenseman last season, for most of the year, save for a few months of Justin Schultz in OKC.
He has great size and wingspan at 6'5″ and is an excellent skater, smoother than his size would indicate. He is an offensive defenseman by trade, contrary to what his size would indicate. Still needs to learn to use his body more effectively in his own zone and improve his consistency. If he does that he'll be an Oiler before long.
Will start the year in OKC but could be one of the first names called up when needed.
4. Marc-Olivier Roy, C, 18, Blainville-Boisbriand Armada (QMJHL)
Taken in the second round by the Oilers in 2013, Roy is a player that is constantly in motion. He is an excellent skater with good hands, but more than that he gets under opponents skin and has a very high compete level. Profiles as a third line energy forward with some grit that also contribute offensively.
Will be back with the Armada in the QMJHL for 2013-14.
5. David Musil, D, 20, Edmonton Oil Kings (WHL)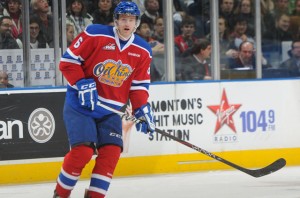 Profiles as a steady, defensive defenseman with shutdown potential. He is a consistent, low maintenance defender who takes care of his own end first. Won't light up the scoreboard but makes a good first pass out of the zone.
Main concern is around his skating and if he'll be a step behind at the pro level.
Will be another junior graduate looking to make the Barons this season.
6. Martin Gernat, D, 20, Edmonton Oil Kings (WHL)
One of the more offensively talented blueliners in the Oilers system, and at a lanky 6'5″ he has room to grow still. He has all the tools to be an impact player in the professional ranks, however the concern so far is that it may be one dimensional. Offensively he skates well, moves the puck efficiently and shows a high hocey IQ. Defensively he is still a work in progress and needs to improve his positioning and consistency in his own end.
He has put up 68 points in 83 regulation season games in his two seasons in the WHL and another 30 in 42 playoff games, so if he improves his overall game he could be a steal for the Oilers after being drafted in the 5th round in 2011.
7. Jujhar Khaira, LW, 19, Michigan Tech (NCAA)
The Oilers 3rd round pick in 2012, Khaira had a successful first season in the NCAA with 25 points in 37 games. He has good size at 6'3″ 195, and uses it well. He isn't afraid to go to the dirty areas and plays an aggressive in your face style of game. He also has soft hands and a nose for the net. Still raw and a work in progress in many areas, however has the combination of size and skill that few other Oiler forward prospects do.
Will return to Michigan Tech and look to take another step forward in his development.
8. Anton Slepyshev, LW, 19, Ufa Salavat Yulayev (KHL)
No one really knows when or even if Slepyshev will come to North America. He was passed over in his first NHL draft because he made it quite clear he wasn't going to leave Russia. Rumours persist that he wants to make the jump in 2014-15 after his KHL contract expires, but that remains to be seen.
He is an intriguing talent and has the ability to be a productive NHLer. Like so many of his compatriots, and other young players for that matter, consistency is the issue. He has the combination of size and skill to be an impact player. Time will tell whether he even comes to North America, let alone put his tools together.
9. Olivier Roy, G, 22, Oklahoma City Barons (AHL)/Stockton Thunder (ECHL)
Consistency, Consistency, Consistency.
That is what the Oilers need to see from Roy. At times he has been spectacular and unbeatable, and others he allows soft goals. He's incredibly quick and athletic and moves laterally very well.
He was impressive for Stockton last season and better in Oklahoma City than the year before. He will need to continue to take a step forward in 2013-14.
Should partner with newly acquired Richard Backman in OKC this season.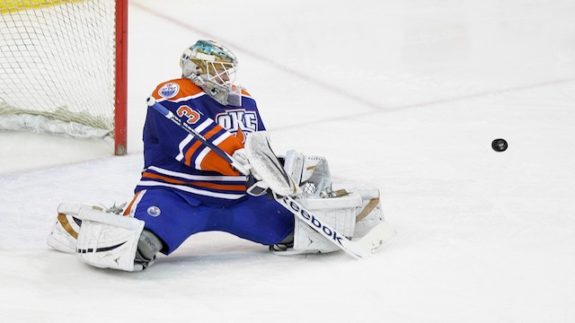 10. Tyler Pitlick, RW, 22, Oklahoma City Barons (AHL)
Falling to #10 on the list, Pitlick has not lived up to expectations since turning pro. Some of it due to to injury, and some to poor play and inconsistency. Pitlick has the potential to be a solid third line forward for the Oilers. He has good size, he skates well and he has an NHL calibre shot. He also protects the puck well and doesn't shy away physically.
Like many on this list, consistency is his biggest downfall. Every time he takes a step forward it's seems to be followed by one backward.
He will be in OKC again this year and look to have a better year and become one of the top forwards there. 
HONOURABLE MENTION: Curtis Hamilton, Oklahoma City Barons (AHL), Daniil Zharkov, Nizhny Novgorod Torpedo (KHL), Andrew Miller, Oklahoma City Barons (AHL), Mitchell Moroz, Edmonton Oil Kings (WHL), Dillon Simpson, University of North Dakota (NCAA).
_________________________________________________________________________
Follow Carl on twitter @maloney3383 and Google+ for more articles.  
Carl covers the Edmonton Oilers for THW as well as providing additional prospect coverage. Follow him on twitter @carlTHW, connect on Facebook or contact at carl.maloney@hotmail.com for questions, comments or if you're interested in him writing for you.