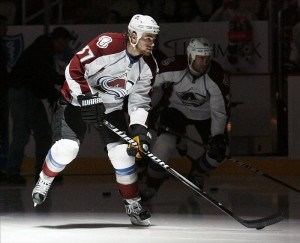 With Patrick Roy and Joe Sakic returned to Colorado to steer the Avalanche into the future, memories of their past successes are often recalled.  One other connection between the Avs of then and now is perhaps less apparent yet equally compelling.
In reading Jason Farris' all-encompassing book on NHL general managers, Behind The Moves, former Avalanche manager Pierre Lacroix offers a glimpse in to how he reconciled having three star centreman on his then Quebec Nordiques roster.  The trio were Sakic, Peter Forsberg, and Mats Sundin.  Sundin was later dealt to the Toronto Maple Leafs.
Lacroix:
"We could use Sundin to gain character we felt we didn't have…If you have three centres that think they're going to play 30 minutes you're in trouble.  You might say 'Yes, you could've put one of them on right wing' but that was not the way to go.  Guys like Sundin need their space and he had a great career in Toronto because he had his space".
Colorado now deals with three very strong centreman in Matt Duchene, Ryan O'Reilly, and the number one draft pick in Nathan MacKinnon.  Not to mention Paul Stastny, the subject of trade rumours for some time now.  As it stands, O'Reilly has been slated to play left wing by coach Roy.
O'Reilly is clearly the odd man out, should the Avalanche feel the need to move a player in that position.  With his much-publicized contract dispute to start the 2013 season, his placement on the wing despite his obvious defensive prowess, and a rumoured dispute with some teammates, namely Duchene who took less money to stay long-term in Colorado, the writing is certainly on the wall.
O'Reilly clearly felt that manager Greg Sherman undervalued him and indeed it took an offer sheet from the Calgary Flames to settle the disagreement.  He now has one year remaining on the contract with a cap-hit of $5 million.  Due to the offer sheet, he is not eligible for a trade until February 28 2014.  The trade rumours will likely surround him until this year's trade deadline or until he agrees to stay in Colorado.
Early reports from training camp from beat writer Adrian Dater and The Hockey Writers' own Kevin Goff indicate that in fact Duchene and O'Reilly are blossoming as a tandem, whether it be alongside P.A. Parenteau or agitator Steve Downie.  But one has to wonder if O'Reilly  fancies himself having a larger role on a team and on one that has a place for him at centre ice.
Mats Sundin's time in Quebec is remembered now as merely a blip on the radar while his impression on Maple Leafs' lore is undeniable.  He was traded for Wendel Clark in 1994 when Lacroix felt the team needed a different element on the ice.  Clark was dealt the next year in a package that brought Conn Smythe winner Claude Lemieux to Colorado.  The Avs are certainly not comparable in pedigree to the Nordiques of the early 90's and even more so could use an improvement on defence, goaltending, and ultimately in team balance as the current squad is top heavy in the forward group.
More echoes from Lacroix's time in Colorado and Quebec resonate in Farris' book.  In Quebec, the organization had fired their coach and it was upon Lacroix to replace him.  he set to find "the best upcoming young coach" in Marc Crawford.  "You've got to have somebody that thinks like a young person; this was a young team" said Lacroix.  Colorado has done just that in hiring Patrick Roy out of the CHL.  Roy should be able to connect with this young team but his relationship with O'Reilly will be something to watch.  But if the decision has to made to move O'Reilly, it may not be the worst situation for the Avalanche.  They might just find that missing piece that changes the complexion of a team with a few similarities to the Avalanche of old.