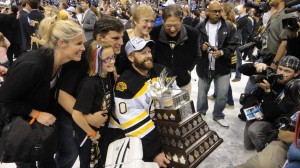 The Florida Panthers agreed to a tryout contract with former two-time Vezina Trophy winner, Tim Thomas on Monday. Thomas is just a little over two years removed from a Conn Smythe worthy performance and Stanley Cup victory in 2011 with the Boston Bruins.
Following an early exit from the 2012 NHL Playoffs in a season where Thomas posted a 35-19-1 record with a 2.36 GAA, Thomas decided to take a year off from the game. It came as a shock to many and certainly left some question marks on whether or not the USA native was going to play again in the NHL.
One team that certainly hopes Thomas can come back into the league as if he never left is the Florida Panthers. There is no team in the NHL that is struggling for help in the crease than the Cats. Goaltending duties over the past few seasons have been split amongst former Hart Trophy winner Jose Theodore, veteran Scott Clemmensen, and unproven 23-year old Jacob Markstrom.
Theodore and Clemmensen helped lead the Panthers to their first playoff appearance in over a decade back in the 2011-12 season, but followed it up the next year as the worst team in the Eastern Conference. The result wasn't a coincidence, as the Panthers were dead last in the NHL in total goals allowed (170) and goals against average (3.54).
Poor goaltending leads to problems for your whole team. If you have no confidence in your goalie, your offensive efforts will lack as well. We saw that with the Panthers as they were also last in the NHL with just 109 goals all last season. Granted it was a shortened season, but it was far below the league average.
Enter Thomas.
While Timmy is 39 years old, he is a sure upgrade to any other option the Panthers have right now. His 196-121-45 record over eight NHL seasons is beyond impressive. His 2.46 GAA in his career is far better than anyone that's stood between the pipes in a Panthers uniform in the last decade. Four of his eight seasons resulted in 30 or more wins. It's a necessity the Panthers need right now if they want to have a chance at competing this year.
"He really wants to play and he really wants to lead and he really wants to be the starter and he wants to win and he wants to win now," Panthers GM Dale Tallon said Monday. "I was very impressed with him. His attitude is terrific. I liked everything that he had to say and I liked his approach. We try to strive to get better every day and I think a good Tim Thomas makes us a better team."
In the long-run, Thomas won't be the answer because of his age. But having a veteran presence in net to mentor the potential goaltender of their future, Markstrom, could pay huge dividends.
Markstrom is this year's projected starter, but the Swede went 8-14-1 with a 3.22 goals-against average last season. Markstrom's GAA sadly enough was the best the Panthers had, but just 44th in the NHL among regular goalies.
"We need somebody to help us get to where we need to go. Right now, it's Tim Thomas. … The more competition you have for spots internally, the better off your team will be. It's a wide-open competition. Let the best man win," Tallon added.
Quotes from the article courtesy of USA Today.
Matt Schreiber is THW's Lead Writer for the Florida Panthers. Follow him on Twitter, below.
Matt Schreiber is the Florida Panthers Lead Writer for The Hockey Writers. He grew up just outside of Washington, DC before moving to Boca Raton, FL, where he currently resides. He also covers the NHL for Bleacher Report.