Detroit Red Wings goal scored by number 11, Daniel Alfredsson!
If any Wings' fans didn't know that Alfredsson was one of the newly added Wings, come out from under your rock more often. What they may not know however, is that Daniel Cleary will not be wearing 11 on the back of his jersey this season. Even though Alfredsson offered to pick a new number when Cleary re-signed, the Carbonear, NL. native will have to add a horizontal line to his jersey this season. The NHL stepped in and did not allow Cleary to reclaim his number of eight years because they already have committed over $150,000 to Winter Classic merchandise with Alfredsson wearing 11, according to Bill Roose of detroitredwings.com. Four players will be wearing their new numbers on a Wings' jersey for the first time this season, excluding any prospects who may surprise by earning themselves a spot on the opening day roster.
Let's take a look at who will be sporting the different Detroit Red Wings numbers.
#11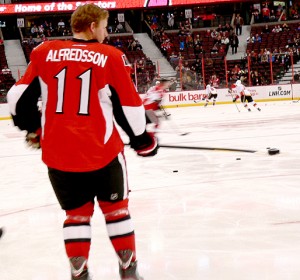 He has a new team, but Daniel Alfredsson will still be wearing a red jersey with #11 on the back. As previously mentioned, he offered to switch to #24, which he wore in Sweden, when Cleary resigned in Detroit. He is the next member of a long list of Red Wings to wear the double ones after Cleary and Mathieu Dandenault before him. The number was also worn by the recently hired associate coach of the Tampa Bay Lightning Rick Bowness and the legendary former head coach of the Wings Scotty Bowman. Alfie is expected to start the season on the Wings second line alongside newcomer Stephen Weiss and longtime Red Wing Johan Franzen. Alfredsson is only three points shy from hitting 1111 for his career totals.
"11 is Danny (Cleary)'s number in Detroit, so I'll pick another number" – Daniel Alfredsson

— Detroit Red Wings (@DetroitRedWings) September 12, 2013
#18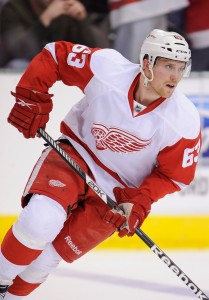 Mike Babcock stated last week that  the only guaranteed spots on the roster are the top six forwards and the centres, according to Roose. Andersson fits under the second category and will not be appearing in #63 for the Wings this season. With the departure of journeyman defenceman Ian White, Andersson snagged Al Arbour's former #18. It is another number that has an enormous list of former Wings who wore it on their jersey. Wings fans of the past decade will most likely associate the number with four time Stanley Cup champion and prolific checking forward Kirk Maltby. Andersson will have big shoes to fill in a checking role with Maltby's former number on his back. With Darren Helm potentially sidelined for the beginning of the season, Andersson is expected to start in the middle of the third or fourth line.
#15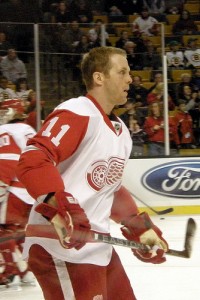 Hockey is a business. Cleary learned that first hand this past week when the league refused to allow him to resume wearing his former number. Apparently tenure doesn't mean a lot in the NHL when there is, according to the Red Wings' website, over $150,000 of merchandise on the line. After eight seasons with the Winged Wheel on his chest, Cleary will switch to #15. He started the presason wearing #71, but has since switched again and will be wearing #15. He will not become the third Wing to wear #71 in a regular season game, but joins a long list of players to wear Pat Verbeek's former #15. Cleary is not guaranteed a roster spot, but will challenge for a third line and penalty killing role.
#90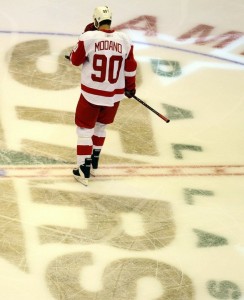 Joining the Red Wings means an automatic number change for anyone who is used to wearing #9. That number has been retired since March 9, 1972 in honour of Mr. Hockey, Gordie Howe. Some players may opt to wear #19, but that is also retired in Detroit. Like Mike Modano did three seasons ago, Stephen Weiss chose to take #90 for Detroit. Weiss will look to become the first player to wear that number for an entire season, Modano only played 40 games due to injury, and put his wrist injury behind him. Babcock has slotted Weiss on the team's second line between Alfie and the Mule.
The NHL regular season schedule was released on Friday. Check out our partners at TiqIQ for the best deals on Detroit Red Wings tickets for all 2013-14 games.