The statement itself sounds absurd.
The idea that any player could score 100 goals in a single season is outlandish considering the only man to get close just so happened to be the greatest hockey player to ever live. Wayne Gretzky set the NHL record in the 1981-82 season with 92 goals and after setting that mark some 36 years ago, the only other person to come anywhere close in the last decade was Alex Ovechkin with a 65-goal season in 2007.
100 goals seem next to impossible. Yet, as crazy as the idea sounds, one of the greatest players in NHL history believes it's possible.
One of the Best Watching Arguably the Best
The Edmonton Oilers played the Calgary Flames to open their season on Wednesday and in that game, Connor McDavid, Edmonton's superstar captain scored the only three goals of the contest as the Oilers shut out the Flames. McDavid was dangerous all evening and if it weren't for a stellar performance by new Flames' netminder Mike Smith, McDavid could have had one, even two more tallies.
One of the players looking on in astonishment was newly acquired Flames' forward Jaromir Jagr.
https://youtu.be/WhCoIIrE9Z4
Not signed in time to be game-ready, travel and make the opening night roster for the Flames, Jagr watched on as McDavid put on a show. When asked about the phenom, Jagr could only smile and had a hard time describing what watching him felt like:
"What to say? McDavid is just too good. He's a great player. If he would learn how to score on breakaways a little more, I think he'd score 150 in a season. To score 100 for him … it's possible. I've never seen anything like that in my life, to dominate like that with his speed.|
Is 100 Even Possible?
Jagr went on to detail the difference between the NHL of the past and the NHL of now. Long gone are the days of clutching and grabbing that was so prevalent in the years Gretzky set all sorts of records. Back then, it was like Gretzky was hauling a busload of school kids and rarely got a call. In the current NHL landscape, players with speed and skill are nearly unstoppable without taking a penalty.
This season, in particular, the NHL has made slashing and other minor infractions something that will be called regularly and McDavid is one of the NHL's best at drawing those types of penalties. He'll see more power play time in 2017-18 than ever before and he'll get even more opportunity to score.
But, C'Mon, 100 Goals?
It's only been one game and the rule of thumb is to never get over-excited after one victory. There are still 81 more games to go and to assume McDavid will score a hat trick in all of them is foolish. But, the way he played opening night, it's nearly impossible not to think about what he could do in those 81 remaining matchups.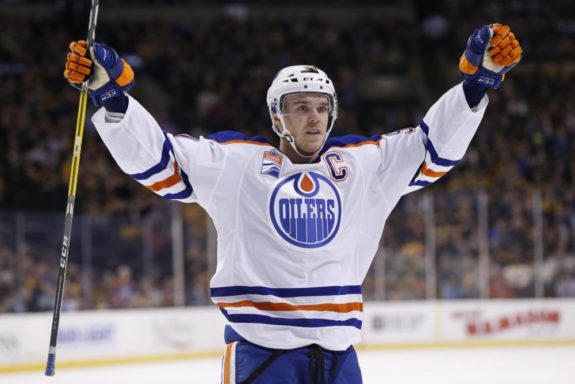 Anyone who watched on Wednesday night has to believe, if McDavid stays healthy, he's got the ability to score at least one goal in 75% of the games he has left. To do so would put him at 63 goals on the season. If you give him 20 two-goal games (amazing, but not absurd) he'll have around 83. That alone would be incredible, especially if you consider that just last season he only netted 30.
How many more multi-goal games would he need? One or two four-goal performances almost feels expected. From there, it's anyone's guess.
Still Not Convinced
If the most cynical of fans were to remotely believe 100 goals was possible, a few things would have to happen.
First, McDavid has to shoot more. He talked about wanting to increase his shot totals at the beginning of the year and it looks like he's off to a good start. On Wednesday, he had seven shots on net. That pace obviously won't continue, but there could be an awful lot of games he comes close and other games where he has more.
Second, he'll need to keep using his speed. It's hard to imagine that McDavid could have gotten faster, but he has. He was burning past defenders all evening and during his second goal of the game, he was clocked skating over 40km per hour. He stopped on a dime, threw the puck upstairs on Smith and never once touched the goaltender. His speed is simply too much to handle for defenders and the Calgary Flames are assumed to have one of the better blue lines in the league.
Third, is his ability to finish breakaways. He's already great, but when you consider how many he'll get this season, if he finishes breakaways at just a 25% clip, he'll probably net 20 goals on undefended shots alone.
Why Even Talk About It?
Again, the idea that an NHL player can score 100 goals in a season is ridiculous. And, to be having this conversation after one game is the kind of thing a fan with a serious case of drinking the Koolaid would do. But, a fan didn't suggest it. One of the better players in hockey did.
With a smile on his face, if a player like Jagr jokingly says McDavid could score 150 if the young star was better on breakaways, you know he's only partially kidding when he says 100 is within reach.
Let's put it this way. If McDavid scores even half of what Jagr thinks he can, it will be a glorious day for the Edmonton Oilers, the NHL and fans in Edmonton who so badly want the team to make a trip to the Stanley Cup playoffs again, and this time go deep.
Those fans in Edmonton who saw Jagr's interview just got a whole lot more excited. As if there wasn't enough of a  reason.
Jim Parsons is a senior THW freelance writer, part-time journalist and audio/video host who lives, eats, sleeps and breathes NHL news and rumors, while also writing features on the Edmonton Oilers. He's been a trusted source for five-plus years at The Hockey Writers, but more than that, he's on a mission to keep readers up to date with the latest NHL rumors and trade talk. Jim is a daily must for readers who want to be "in the know."
Other content contributions include: NHLtradetalk.com, The Sportster and hosting weekly video casts, THW News and Rumors Rundown, plus Oilers Overtime.
For interview requests or to provide content info, follow Jim on Twitter or his social media accounts. They appear under his photo on articles like this one.