The first game of the Edmonton Oilers season is over, and Connor McDavid led the way by doing Connor McDavid things. The Oilers captain scored a natural hat trick, the first hat trick in a season opener in franchise history. Edmonton's now won five straight games against the Calgary Flames dating back to last season.
Calgary went out this summer and bolstered their lineup by adding another top-four defenseman in Travis Hamonic. They even acquired Mike Smith from the Arizona Coyotes to stabilize their goaltending. If it wasn't for Smith standing on his head and stopping 39 of 41 shots, this game could've got ugly in a hurry.
On paper, the Flames blue line is supposed to be one of the best in the NHL. It didn't look that way in game one. They left the middle of the ice wide open and allowed the Oilers to have easy zone entry. Not to continue bashing the Flames, but this team hasn't looked great through preseason either.
Their players need to do a better job executing their system. Calgary was outscored 27-19 in the preseason, if that means anything to you, and their defensive coverage struggled. If this is any indication of what McDavid looks like against that defense, imagine the type of year he's going to have.
McDavid Does McDavid Things
This is the reigning league MVP mind you, and he somehow got a helluva lot better over the summer. That's got to be a scary thought for opposing teams. If Calgary has any hope to catch Edmonton in the Battle of Alberta, they'll need some power skating lessons to learn how to keep up with Edmonton's captain. McDavid absolute had his way with the Flames defense.
He'd catch them flatfooted, throw them out of position and had the Flames chasing him all over the ice. Remember this is a blue line with Mark Giordano, TJ Brodie, Dougie Hamilton and Travis Hamonic on it. Those guys are far from being the slowest defenders in the league. Let that sink in.
Sportsnet clocked McDavid going just north of 40 kilometers per hour (km/h) on his breakaway goal. That's nearly 25 miles per hour (mph) for our American friends. In closing, Robin Brownlee made an interesting comment and said the last person he saw this fast was Pavel Bure.
McDavid might be faster than Bure, and he hasn't even hit his prime. It truly is a special time to be an Oilers fan.
Oilers & The Yamamoto Watch
Kailer Yamamoto was a great story through training camp. Edmonton's 2017 first round pick exceeded expectations and willed his way onto the Oilers opening night roster. Edmonton general manager Peter Chiarelli and coach Todd McLellan have both towed the company line that Yamamoto will be evaluated on a game-by-game basis.
The consensus opinion is that the 19-year-old will stick around for nine games before Edmonton decides on his future. The real question is if Yamamoto can be a difference maker for the Oilers at this stage in his career.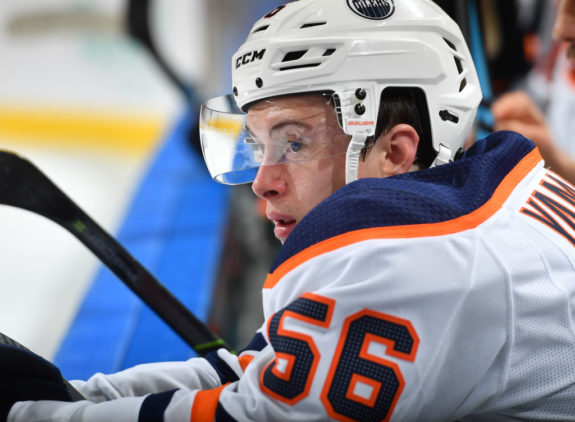 If he can't, there's no reason to keep this kid if he's only going to play 6:33 in ice-time. That's what happened to Yamamoto in the season opener. You can't fault the youngster who had some early game jitters and had a turnover that cost him some points with McLellan. The Oilers coach would seldom use him through the last half of the game.
However, McLellan did throw Yamamoto back out later in the game with two back-to-back shifts to try to build some trust. McLellan replaced Yamamoto on Edmonton's second-line with Zack Kassian for a long stretch in the game. Kassian actually looked more effective with Milan Lucic and Ryan Nugent-Hopkins than Yamamoto did.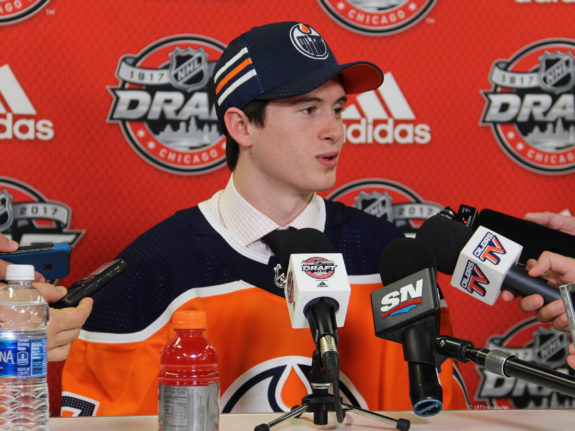 Before we throw the kid to the wolves, we need to remember it's a process. It was Yamamoto's first NHL game, and the sample size was too small to get an accurate evaluation. In the short glimpses we saw, sure, Yamamoto looked a little lost and out of position. That's uncharacteristic of the youngster and the way he plays. Call this game a write-off.
With the first game jitters now out of the way, let's see how he does against Vancouver on Saturday night. He's got to get meaningful minutes, though, and that means McLellan has to loosen the leash on Yamamoto.
Oilers Defense Is Grossly Underrated
There's a ton of takeaways from Edmonton's first game, and most of them were positives. One thing that keeps coming back is how grossly underrated some prognosticators have been with the Oilers blue line. Oscar Klefbom has emerged as a stud, and he's the lynchpin on Edmonton's backend.
In 2016-17 he led the Oilers defense with 38 points and in ice-time with an average of 22:22 per night. Along with Adam Larsson, the two are an effective two-way pairing. For some reason, he doesn't get the love he deserves around the league. Klefbom didn't muster a single vote, not one, on the Norris Trophy ballot.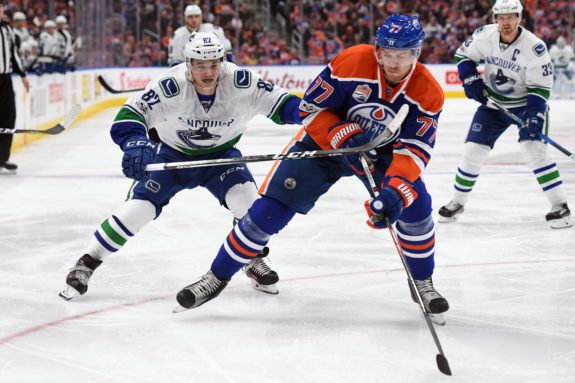 You know who did? Dmitri Orlov, of all people! Klefbom once again led Edmonton in their opener with 22:30 ice-time, and had an astonishing nine shots on net. The guy's an absolute force and deserves some recognition. Maybe this is the year Klefbom gets some respect around the league.
Larsson had a solid game and finished as a plus three. He had three hits and limited the Flames top offensive units from getting any substantial scoring opportunities. He's got a subtleness to his game, but he's effective. Edmonton's favorite whipping boy, Kris Russell, was impressive as well.
Russell looked quicker and made better decisions with the puck, something that was a criticism of his game last year. Hopefully, Russell keeps that up playing with Matt Benning. The pair looked competent as the Oilers de facto second-pairing. The only criticism is that Benning had some turnovers and needs to clean that up.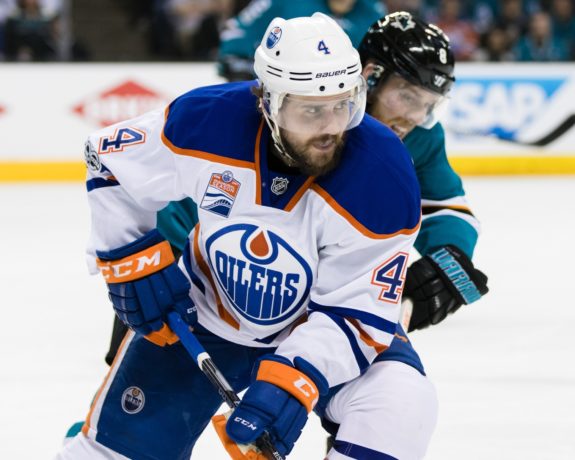 Having Darnell Nurse on Edmonton's third-pairing is a luxury. He was solid, looks faster this year and was firing the puck at will, finishing the night with four shots on goal. By the end of the season, both Benning and Nurse could emerge as top four guys. Edmonton's defense overall is vastly underrated right now.
Everyone talks about how improved the Flames defense is this year, and that's fair in itself. But the Oilers blue line has matured through last year's playoff and is a real defense-by-committee. It's time for the league to not only show respect for Klefbom but Edmonton's defense as a whole.
Leave your thoughts in the comments below!
Edmonton Oilers regular contributor providing insight on all things Oilers including club history, prospect profiles, trade breakdowns, and everything else in between. Check back regularly for new and exciting content. Follow on Twitter @SanderTHW.