The Edmonton Oilers nailed down their opening night roster to kick off the 2017-18 season. If you're living under a rock, or just trying to keep track of the latest Oilers news, there are some things to note. Prized prospect Jesse Puljujarvi will not start the season with the Oilers. However, Kailer Yamamoto will. In just a short time, it looks like Yamamoto has unseeded Puljujarvi as Edmonton's top prospect, for now.
This isn't something to dwell on for Puljujarvi. It's an excellent opportunity to develop as a prospect and become the difference maker he was pegged to be. Joining him in Bakersfield will be Anton Slepyshev for a short conditioning stint.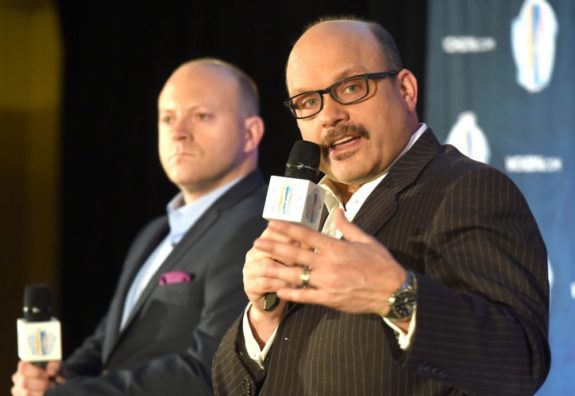 Edmonton didn't sign Chris Kelly who's professional tryout (PTO) is over. Alternatively, Kelly will practice with the Oilers and stick around while things sort themselves out. Todd McLellan's lines are being jumbled as he experiments with the roster. Here's what the opening night roster looks like:
Goaltenders
Left Defense
Right Defense

Cam Talbot

Oscar Klefbom

Adam Larsson

Laurent Brossoit

Kris Russell

Matt Benning

Darnell Nurse

Eric Gryba

X – Yohann Auvitu

Left Wing
Center
Right Wing

Patrick Maroon

Connor McDavid

Leon Draisaitl

Milan Lucic

Ryan Nugent-Hopkins
Kailer Yamamoto

Drake Caggiula

Ryan Strome

Jussi Jokinen

Jujhar Khaira

Mark Letestu

Zack Kassian

X- Iiro Pakarinen
Chris Kelly*
Connor McDavid and Leon Draisaitl might start the year together. Throughout most of training camp, the duo has been anchoring separate lines. Ryan Strome's now being tried as the third-line center.
This gives the other Ryan (Nugent-Hopkins) a chance to yield some offense as the second-line pivot. Jussi Jokinen has already shown some versatility lining up on both wings and is slotted in on Strome's right side.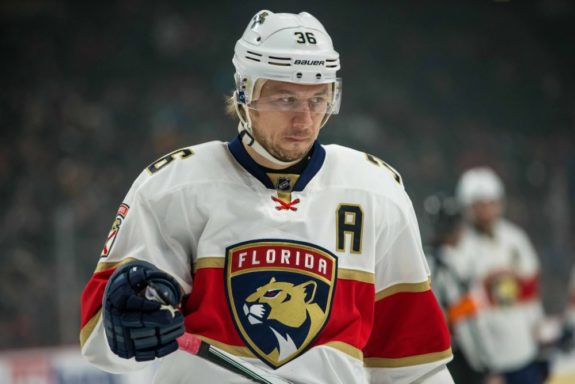 Playing Jujhar Khaira, Mark Letestu and Zack Kassian together could help the Oilers raise hell with four deep lines. Regardless, here are some thoughts on how these roster decisions shake out.
Oilers Send Puljujarvi to AHL
A lot of things were said about Puljujarvi being sent down to Bakersfield to start the season. Some of the more asinine comments online were that Puljujarvi was a bust. Listen — patience is often a virtue when it comes to NHL prospects, even first round picks, as they mature.
"Jesse needs more time. We expect Jesse, when he arrives and he's ready to play – and the same can be said of Yamamoto – to play in our top nine, minimum. Not on the fourth line. We didn't feel like he won that position and therefore we wanted to get him to Bakersfield and have him start the season there and get him working on his game."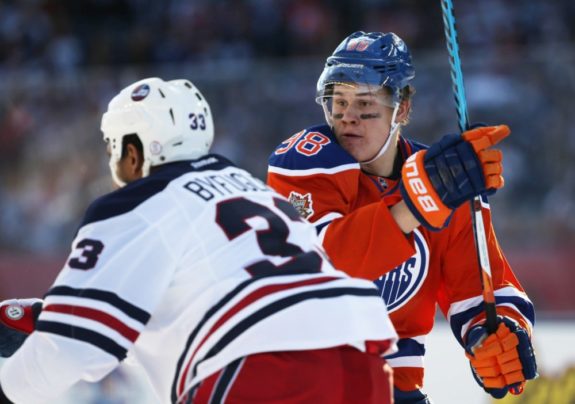 Puljujarvi, 19, isn't the only top-five pick that won't crack an NHL lineup from that 2016 draft. Olli Juolevi was loaned to TPS in Finland by the Vancouver Canucks. Even Dylan Strome (third overall, 2015) didn't spend significant time with the Arizona Coyotes before making their team this year. Prospects mature at different rates, and people need to ease off Puljujarvi.
What he needs right now are top minutes, and that includes valuable power play time so he can develop his game. The numbers game wasn't going to make that happen in Edmonton, but he can get those minutes with the Condors. Let Puljujarvi mature and come back to Edmonton when he can be a difference maker, not just another body on the roster.
Yamamoto Starts Season in Edmonton
Yamamoto exceeded expectations in the preseason and rightfully earned a spot on Edmonton's roster. He scored five goals and seven points and was one of the Oilers best forwards. Every test Todd McLellan threw at Yamamoto, the 19-year-old passed with flying colors.
Now the toughest test yet, showing he can play against real NHL teams. So far his size (5'8″, 154-pounds) hasn't been an issue. The youngster's work ethic has been his best trait. He's been able to go into hard areas, win battles, and come out with the puck. Yamamoto is elusive and thinks the game better than most 19-year-olds and that's why he's having success right now.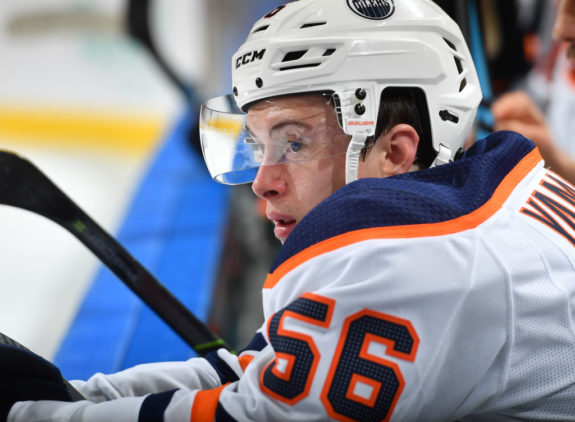 It's a crowded situation on the Oilers right side, and no one has separated themselves from the pack. Ryan Strome, Jussi Jokinen, Drake Caggiula, Jesse Puljujarvi, and Zack Kassian have all played on the right wing through camp. The situation has also forced Todd McLellan to reunite McDavid and Draisaitl. It's a great luxury for Edmonton to have that option, but the rest of the roster needs to step up.
"He's deserved to be here at this time. He's an exciting player to watch because he's always making plays in every zone. Having said that, we all know the play picks up as the regular season starts. We'll assess him and that's what we told him day-by-day."

– Oilers GM Peter Chiarelli, on Kailer Yamamoto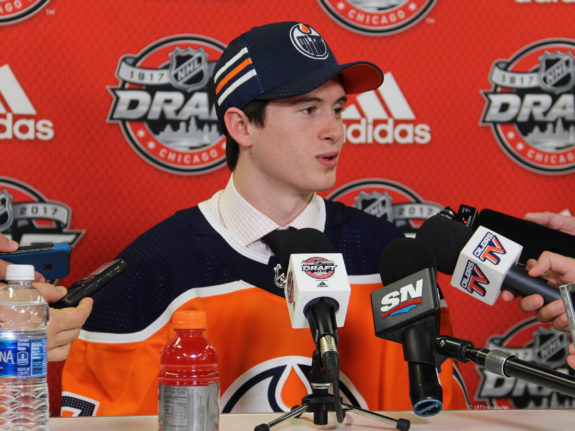 Yamamoto will get a chance to run with a golden opportunity in Edmonton's top six to open the year. There are tons of questions about the right wing situation, namely if it's deep enough for a run at the Stanley Cup. Before exploring trade options, give Yamamoto a chance to show what he can do in nine games. If he struggles, Chiarelli should start looking at the market for help.
Slepyshev Assigned to Conditioning Stint
Slepyshev missed the entire preseason with an ankle injury and hasn't played yet. For now, the Oilers have assigned the 23-year-old to the Condors on a conditioning stint.
"We'd like him to go to Bakersfield and play one game there, perhaps as early as this weekend, and then bring him back and find a spot for him in our lineup."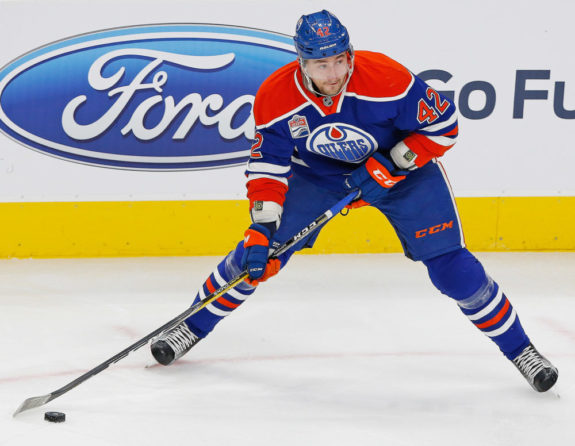 Slepyshev had great numbers during his stints in the AHL last year scoring ten points in nine games. With the Oilers, he put up ten points in 41 games. In the playoffs, he scored three goals and emerged as a real option in Edmonton's top nine. With the makeup of this year's team, Slepyshev could factor into the Oilers middle six. He's also a viable option on the second power play unit.
"I want to take my spot on the team. I want to play every game, not just one, two and scratched again like three or four games. It's what I tried to do (in the playoffs). I tried to show every game 100 percent what I can do and how I can help the team." – Anton Slepyshev
Kelly Hasn't Signed with Oilers… Yet
One of the stories in camp was one of Chiarelli's former soldiers Chris Kelly coming to camp on a PTO. Kelly, 36, won a Stanley Cup with Chiarelli in 2011 with the Boston Bruins. The two have been together frequently over the last decade with the Ottawa Senators and Bruins. If it weren't for the fluid situation on the Oilers right wing, I genuinely believe Kelly would likely already be signed as Edmonton's 13th forward (depending on your thoughts of Iiro Pakarinen).
Sure, it's an indirect way of thinking about it, but the Oilers lineup isn't exactly set in stone. So why bother committing? Yamamoto is currently being examined on a game by game basis, and Slepyshev is still working his way back from injury.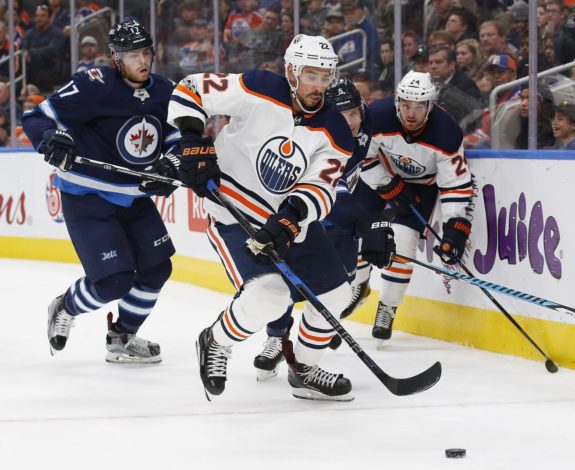 The deadline to sign players on PTOs was five o'clock on October 3. For the interim, Kelly has been released from his PTO but will continue to practice with the Oilers. It's a gentleman's agreement. Once Edmonton's roster situation looks a little more definitive, a final decision on Kelly will be made. In my opinion, he gets a deal.
"We got 24 players but he's not signed. I've talked to Chris about sticking around and I'll have another talk with him. He's shown he can play in the League. He's a very smart, character player. He's going to be sticking around and we'll play that day-by-day too."

– Oilers GM Peter Chiarelli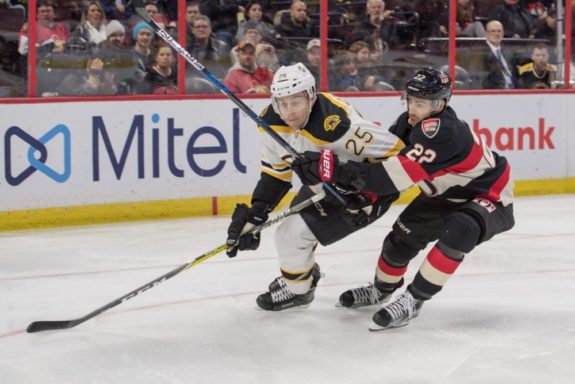 Kelly played all 82 games for the Ottawa Senators last season and scored 12 points. Kelly may or may not be able to help a penalty kill that was average and ranked 17th in the NHL. Edmonton has 49 of 50 contracts with just over $10 million in cap space.
Let me know your thoughts in the comments below!
Edmonton Oilers regular contributor providing insight on all things Oilers including club history, prospect profiles, trade breakdowns, and everything else in between. Check back regularly for new and exciting content. Follow on Twitter @SanderTHW.