The Edmonton Oilers are a few days into training camp, and head coach Todd McLellan seems to have an eye on the regular season line combinations. From the first look, McLellan is working towards getting his opening night roster nailed down. Edmonton starts their pre-season on Monday with split-squad games against the Calgary Flames.
McLellan's already begun trimming their camp roster which began with 61 players. The team is down to five goaltenders, 16 defensemen, and 31 skaters. After the split-squad, it's fair to assume the team will make their second round of cuts. McLellan has been quick to bring the finished product into focus early in his previous camps as well.
With that comes the question of what Edmonton's opening night roster could look like. From the first few days of training camp, it looks like Edmonton will count on numerous players taking forward strides and being key contributors in 2017-18. Some of those players include Matt Benning, Drake Caggiula, and Jesse Puljujarvi.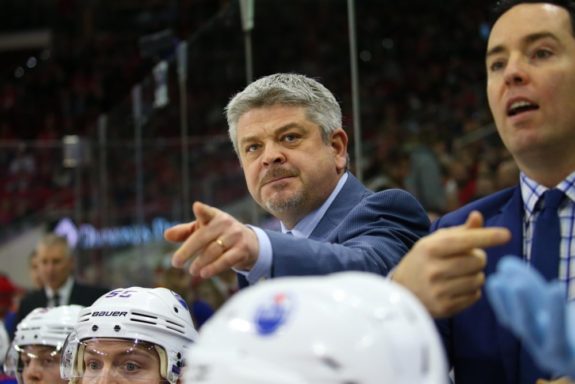 Oilers Split Squad Rosters
These are the groups as per the Oilers official website. There are at least two possible lines in each of Group A and B. The same can be said for the defense. In goal, Cam Talbot and Laurent Brossoit take the reigns for their respective teams while Nick Ellis and Ed Pasquale will back them up. Both Ellis and Pasquale are the Condors' likely goaltending tandem for 2017-18.
In the meantime, Edmonton has already re-assigned several players from Group C to their junior teams. Four picks from their 2017 draft class, Stuart Skinner, Kirill Maksimov, Ostap Safin and Dmitri Samorukov will head back to junior. Dylan Wells, 2016's fifth-round pick, was also re-assigned, leaving five goalies in camp.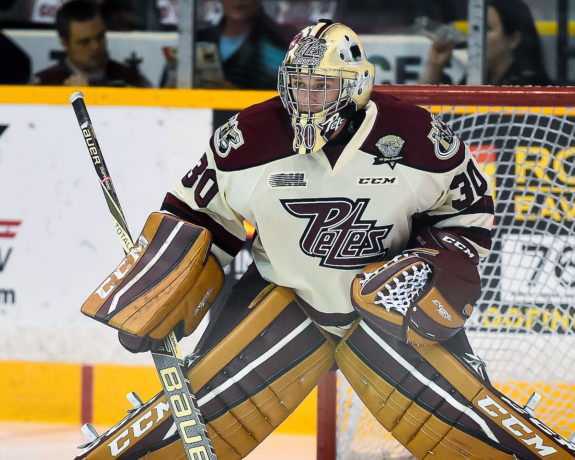 GROUP A
Forwards: Chad Butcher, Mitch Callahan, Grayson Downing, Ryan Hamilton, Zack Kassian, Chris Kelly, Jujhar Khaira, Mark Letestu, Patrick Maroon, Connor McDavid, Iiro Pakarinen, Patrick Russell, Ryan Strome
Defence: Yohann Auvitu, Ethan Bear, Matthew Benning, William Lagesson, Kris Russell, Dillon Simpson, Ryan Stanton
Goal: Ed Pasquale, Cam Talbot
GROUP B 
Forwards: Drake Caggiula, Braden Christoffer, Leon Draisaitl, Joe Gambardella, Jussi Jokinen, Joey Laleggia, Milan Lucic, Brad Malone, Ryan Nugent-Hopkins, Kyle Platzer, Jesse Puljujarvi, Ty Rattie, Kailer Yamamoto
Defence: Mark Fayne, Eric Gryba, Caleb Jones, Oscar Klefbom, Adam Larsson, Keegan Lowe, Darnell Nurse
Goal: Laurent Brossoit, Nick Ellis
GROUP C
Forwards: Tyler Benson, Gregory Chase, Josh Currie, Kirill Maksimov, Zach O'Brien, Evan Polei, Ostap Safin
Defence: Ben Betker, Ryan Mantha, Dmitri Samorukov
Goal: Stuart Skinner, Shane Starrett, Dylan Wells
Early Line Combinations for Oilers
If you've kept up with Bob Stauffer (Oilers Now), he tweeted out the combinations McLellan has been using. The main takeaway is that Ryan Strome will get the first look on Edmonton's top line with Patrick Maroon and Connor McDavid.
It's early but reading into this, Leon Draisaitl will be centering what would be the second line with Milan Lucic and Drake Caggiula. Caggiula had some good looks in the Oilers' top six when the playoffs rolled around, and it sounds like he's getting a chance to run with an opportunity in 2017-18.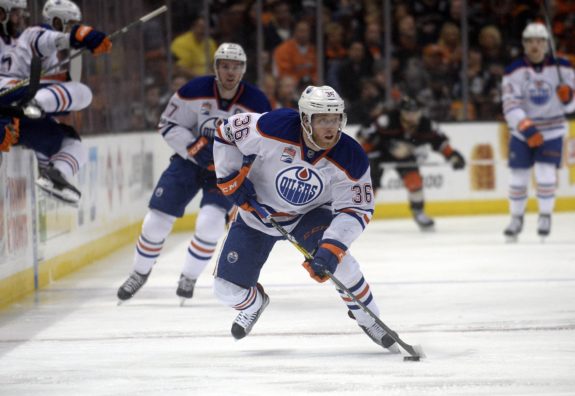 McLellan's got a lot of respect for Ryan Nugent-Hopkins who he believes is one of the NHL's most underrated two-way players. For that reason, he's been hesitant to move him to the wing. He'll center a third-line with Jussi Jokinen and Jesse Puljujarvi. This could be a quick, creative and solid two-way line for the Oilers if everything clicks.
| | | |
| --- | --- | --- |
| Left Wing | Center | Right Wing |
| Patrick Maroon | Connor McDavid | Ryan Strome |
| Milan Lucic | Leon Draisaitl | Drake Caggiula |
| Jussi Jokinen | Ryan Nugent-Hopkins | Jesse Puljujarvi |
| Jujhar Khaira | Mark Letestu | Zack Kassian |
With Edmonton rolling three solid offensive lines they could be complemented by an excellent fourth line in Jujhar Khaira, Mark Letestu, and Zack Kassian. It's still unclear where Chris Kelly, who signed a pro tryout, fits in and it looks like Matt Benning is going to get the first crack at a top-four role in place of the injured Andrej Sekera. The pairings outside of that aren't too surprising.
| | |
| --- | --- |
| Left Defense | Right Defense |
| Oscar Klefbom | Adam Larsson |
| Kris Russell | Matt Benning |
| Darnell Nurse | Mark Fayne / Eric Gryba |
If you read into these pairings and line combinations, Kailer Yamamoto is on the outside looking in. It's not surprising to a lot of people, but it's a bonus and credit to the club for finally having enough depth that they don't need to rush an 18-year-old into their NHL lineup. Yamamoto, 18, was skating alongside Kirill Maksimov, Greg Chase, and Kyle Platzer.
In the end, this will be one of the more cut and dry camps for the Oilers. A majority of the spots look spoken for, and it'll just come down to some tinkering for McLellan and company.
How do you feel about the Oilers projected lineup?
Edmonton Oilers regular contributor providing insight on all things Oilers including club history, prospect profiles, trade breakdowns, and everything else in between. Check back regularly for new and exciting content. Follow on Twitter @SanderTHW.