The Anaheim Ducks figure to be one of the top contenders in the Western Conference. Now, though, a wrench has been thrown into their early-season plans.
Center Ryan Kesler is recovering from offseason hip surgery and could be out of the lineup until around Christmas, which means he would miss nearly the first three months of the season.
Kesler's Prognosis Not Clear
While the hope is that Kesler will be back before Christmas, Ducks general manager Bob Murray admitted at the start of the team's training camp on Friday that there is no firm timeline.
"As of right now, there is no timeline whatsoever," Murray said. "He couldn't skate [during the second half of the season]. No push-off on his right leg. He has to rebuild his glutes and quads. That's what we're in the process of doing right now. I'm hopeful to have him back before Christmas, but that's all I'm going to say right now."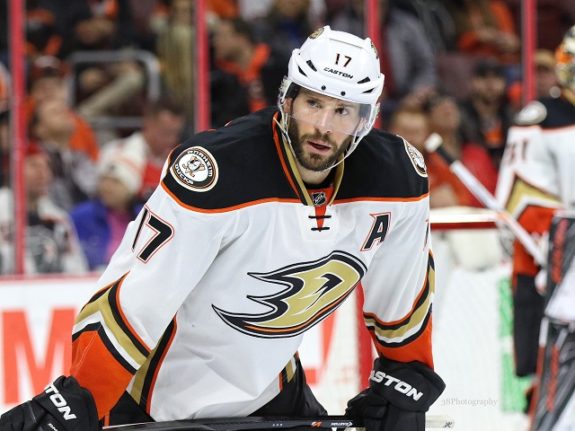 While Kesler had the second-highest point total for the Ducks last season (58 points via 22 goals and 36 assists), a hip issue hindered his mobility and had an adverse effect on his scoring numbers in the latter part of the regular season and into the postseason, where he scored just one goal in 17 contests.
Kesler had surgery on June 8 to remove several pieces of floating hip capsule, and more than three months later, his prognosis is still nebulous. In any event, what is clear is that the recovery period for the 33-year-old is taking longer than the Ducks could have hoped, as this news came as somewhat of a surprise and has obvious implications on the lineup Anaheim will ice when the regular season gets underway on Oct. 5.
With Adversity Comes Opportunity
With Kesler sidelined to start the season, there is a big void between the team's top center (Ryan Getzlaf) and the next player on the depth chart (Antoine Vermette). Having Vermette play as the second-line center would be extremely sub-optimal, as the 35-year-old faceoff specialist's game is best suited for a bottom-six role at this stage in his career.
Rakell Back at Center
The obvious fix at this point is to move last year's leading goal scorer, Rickard Rakell, back to his natural center position. While he excelled on the wing last season playing with Getzlaf, having a player with that type of offensive ability serve as the second-line pivot is worth the sacrifice of the Getzlaf-Rakell connection in the wake of Kesler's surgery, as it allows the Ducks to spread their scoring around.
Early on in training camp, it appears the Ducks are already moving in this direction.
Rickard Rakell is playing at center (with Nick Ritchie on his left side) to open camp. Does he stay there to start season?

— Eric Stephens (@icemancometh) September 15, 2017
This is also an opportunity for Rakell, still only 24 years old and brimming with star power and potential to become one of the next faces of the franchise, to begin to establish himself as a long-term top center for the Ducks as Getzlaf and Kesler play through the back halves of their careers.
Open Roster Spot: Chance for Kerdiles and Steel
Even if Rakell were to begin the season in the middle, his vacated wing position would leave an opening. Winger Nicolas Kerdiles—who also has the versatility to move to center if needed—would have a good opportunity to land a bottom-six role.
A 23-year-old who was born in Texas but spent most of his early years in California's Orange County, Kerdiles has a great chance to lock down a spot with his hometown team. He did suit up for one regular-season game and four postseason contests for the Ducks last season, so he is looking for more in 2017-18.
Kerdiles, a second-round pick of the Ducks in 2012, is a good skater with natural offensive abilities. He began to show more signs of his talent during the 2015-16 season with Anaheim's AHL affiliate, the San Diego Gulls. He tallied 15 goals and 12 assists for 27 points in just 45 games. Last season, a concussion kept him off the ice for most of the season, but in his 27 games for the Gulls, he potted seven goals while adding eight assists.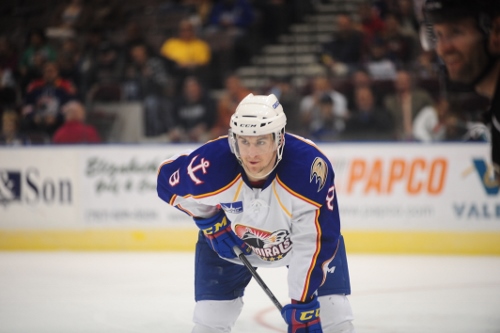 Kerdiles needs to stay healthy and seize this opportunity that has been afforded him, albeit through an unfortunate circumstance. As Dobber Prospects' website says, "At 23, this may be his last legitimate shot of cracking the NHL and staying, rather than becoming a full-time AHLer with a big-time cup of coffee here and there."
Sam Steel, last year's leading scorer in the CHL, is a darkhorse candidate to make the club. While there is a good chance he will end up returning to junior despite having more than proven himself at that level (at age 19, he is a year away from being eligible for assignment to the AHL), an impressive camp could make the Ducks think twice about that, especially with another spot open. Steel already had a good showing in the Ducks' rookie camp, so he will need to bring that with him to and through training camp and the preseason.
Either way, the Ducks would be wise to see what they have in their young skilled talent rather than granting the extra roster spot to a low-ceiling veteran like Jared Boll. While the club undoubtedly wants Kesler back on the ice as soon as possible, they and their rising youngsters have to see the silver lining in this predicament, and those youngsters have to make the most of it.
Tom has been with The Hockey Writers for almost four years. After previously covering the LA Kings and the New York Rangers, Tom now covers the Anaheim Ducks.
While in college at Clemson University, the 2016 college football national champions, Tom wrote game summaries and feature articles for the official team website of the Greenville Drive, a Class-A minor-league baseball team and affiliate of the Boston Red Sox. Tom is happy to be able to continue to fulfill his passions for sports and writing with THW.