Despite ultimately coming up short in the postseason in recent years, the Anaheim Ducks have established themselves as a consistent Stanley Cup contender. They will look to keep that trend going and get over the hump in the upcoming 2017-18 season.
Led by their long-time duo of Ryan Getzlaf and Corey Perry to go along with a deep and talented blue line, much of the Ducks' roster is already set. Their offseason of relative inactivity points to the fact that they are already so well-balanced. Besides re-signing Patrick Eaves and extending Cam Fowler's contract, the only notable offseason acquisitions the Ducks have made have been Ryan Miller to be the backup goaltender, depth center Dennis Rasmussen, defenseman Francois Beauchemin (back for his third stint with the club), and Reto Berra for further organizational goaltending depth.
Although most of the roster composition is known, there are still plenty of details up in the air. Let's take a look at the players who will comprise the defense, forward, and goalie slots on Anaheim's 23-man roster.
Defensemen
Locks: Cam Fowler, Hampus Lindholm, Sami Vatanen, Josh Manson, Brandon Montour, Francois Beauchemin, Kevin Bieksa
Vying for a Spot: Korbinian Holzer, Jacob Larsson, Marcus Pettersson
While the Ducks are very strong on the back end, things will be interesting early in the season thanks to Hampus Lindholm and Sami Vatanen each needing time to recover from offseason shoulder surgery.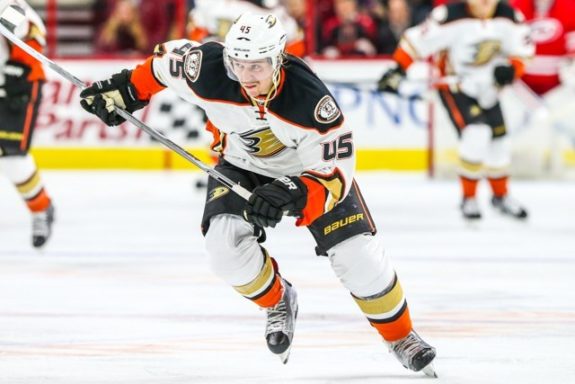 In late May, the outlook for Lindholm was 4-5 months, while it was "longer" for Vatanen. If both are out to start the season, which seems likely, then Anaheim will likely carry at least seven of the eight other names mentioned above on its roster. In fact, the Ducks could consider carrying all eight, including Pettersson, to give them the ability to tinker with the lineup if some of the depth defensemen struggle.
This will represent a big opportunity for 20-year-old Jacob Larsson, one of the club's top prospects who also got a cup of coffee in the NHL last season, to show what he's got and perhaps earn a regular spot on the Ducks' roster even after Lindholm and Vatanen return to full health.
Once Lindholm and Vatanen are both back, the uncertainties really dwindle down to who will take the sixth and seventh defenseman roles, as well as whether the Ducks will carry seven or eight blueliners.
Prediction: At the start of the year, Lindholm and Vatanen are both likely to be out of the lineup. Assuming they are on injured reserve (IR), the Ducks will feature a six-man defender group of Fowler, Manson, Montour, Beauchemin, Bieksa, and Larsson. Holzer will be the team's seventh defender, while Pettersson will not make the cut. If, however, there is an injury, Pettersson would be the first call-up candidate.
Once Lindholm and Vatanen return, Larsson, a 2015 first-round pick, will have proven his worth and earned a spot (here's your hot take). The Ducks will then dress Fowler, Manson, Lindholm, Vatanen, Larsson, and Montour. Veterans Beauchemin and Bieksa would stay on the roster as the seventh and eighth defensemen, meaning the Ducks would have to demote Holzer and a forward. If Lindholm returns before Vatanen, then Holzer will likely stay as an eighth defenseman during that interim period.
Forwards
Locks: Ryan Getzlaf, Corey Perry, Rickard Rakell, Ryan Kesler, Jakob Silfverberg, Patrick Eaves, Andrew Cogliano, Nick Ritchie, Antoine Vermette
Vying for a Spot: Ondrej Kase, Nicolas Kerdiles, Dennis Rasmussen, Logan Shaw, Chris Wagner, Jared Boll, Sam Steel
The Ducks appear to have nine forward slots set. That leaves three more to fill out the full lineup of 12, and then another one or two extra forwards. Assuming Rakell stays on Getzlaf's wing for the time being rather than moving to center, that means the Ducks have to fill the fourth-line center position. It appears Rasmussen, formerly of the Chicago Blackhawks, was signed specifically for this role.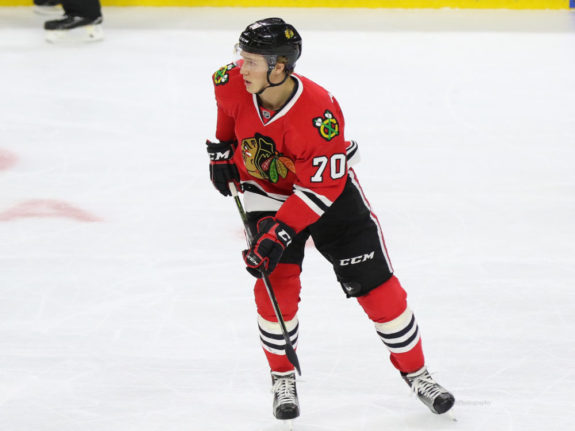 Nevertheless, while Rasmussen is already 27 years old, he has just two years and 112 games of NHL experience under his belt. Anaheim would be foolish to not foster a competition for the fourth-line center role.
Other contenders for this position include incumbent Chris Wagner, 26, who appeared in 43 games for the Ducks last season and all 17 of their playoff games. Wagner and Rasmussen will be the primary players battling for that role, but 19-year-old Sam Steel, the reigning WHL scoring leader and player of the year, is a darkhorse candidate to potentially fill that role. If the Ducks' 2016 first-round pick impresses in training camp, that might be enough momentum for him coming off his spectacular junior season to make the jump to the big club.
For one of the remaining two wing positions in the 12-man forward group, Ondrej Kase might not be a lock, but he's reasonably close to it. After flashes of excellence in 53 regular-season games and another nine playoff contests for the Ducks last season, he could be poised for a breakout year.
That leaves Kerdiles, Shaw, and Boll to push for the last regular spot on the wing. After that, assuming the predictions for the defensemen come to fruition, the Ducks would have room for two more forwards at the beginning of the season before needing to demote one upon the returns of Lindholm and Vatanen.
Prediction: Rasmussen will start the year as the regular fourth-line center. Shaw, who played 55 games for Anaheim last season, will take the last fourth-line wing slot. He also has the ability to move to center if necessary. The fourth line trio would thus be Rasmussen, Kase, and Shaw.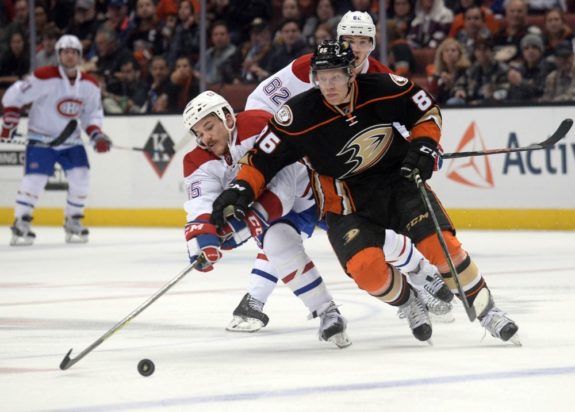 At the beginning of the season, Wagner and Kerdiles will be the extra two forwards, pushing out Boll and Steel. Steel will have a strong showing in training camp, but the Ducks will elect to send him back to juniors to get regular playing time rather than have him see little to no ice time while on the NHL roster. At age 19, he has to return to junior for one more season instead of being assigned to the AHL. Since he doesn't have a whole lot to prove at that level, that might make the Ducks think twice about sending him down, but for this year, he will ultimately be squeezed by the numbers game up front.
After Lindholm and Vatanen come off IR, the 21-year-old Kerdiles will likely be sent down to the San Diego Gulls to get AHL ice time. Wagner's ability to play center, as well as being more of a known commodity, will also be key factors in keeping him on the roster as the 13th forward.
Goaltenders
Locks: John Gibson, Ryan Miller
Vying for a Spot: N/A
The goaltending position is much less complicated for the Ducks. There is no uncertainty. Not much background or explanation is needed here, so we can jump straight to the prediction.
Prediction: Gibson, 24, is the team's long-term starter in net. He appeared in a career-high 52 games last season and should see an uptick in that number, provided he stays healthy. The veteran Miller, now 37, will serve as a great backup and mentoring presence to Gibson. If Gibson gets hurt at any point or has any trouble adjusting to a heavier workload, the Ducks have a great insurance policy in Miller.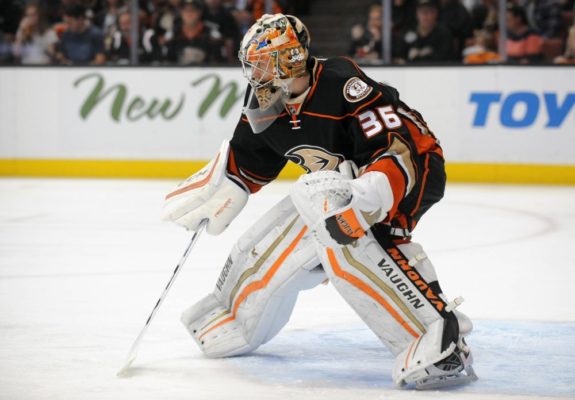 Veteran Reto Berra gives Anaheim more organizational depth at the position. While he will be playing in the minor leagues, he can come up to the Ducks in the event of an injury to Gibson or Miller.
Final Roster Summary
With these predictions, here is how the Ducks' 23-man roster will look once everyone is healthy:
Forwards:
Ryan Getzlaf
Corey Perry
Ryan Kesler
Rickard Rakell
Jakob Silfverberg
Patrick Eaves
Andrew Cogliano
Nick Ritchie
Antoine Vermette
Dennis Rasmussen
Ondrej Kase
Logan Shaw
Chris Wagner
Defensemen:
Cam Fowler
Hampus Lindholm
Sami Vatanen
Josh Manson
Brandon Montour
Jacob Larsson
Francois Beauchemin
Kevin Bieksa
Goaltenders:
John Gibson
Ryan Miller
Tom has been with The Hockey Writers for almost four years. After previously covering the LA Kings and the New York Rangers, Tom now covers the Anaheim Ducks.
While in college at Clemson University, the 2016 college football national champions, Tom wrote game summaries and feature articles for the official team website of the Greenville Drive, a Class-A minor-league baseball team and affiliate of the Boston Red Sox. Tom is happy to be able to continue to fulfill his passions for sports and writing with THW.