Over the next couple of months, The Hockey Writers will be releasing a series of bold predictions. Team by team, this series will take shape as we look at some of the more questionable possibilities that could come into fruition during the 2017-18 season.
For two years in a row now, the Washington Capitals have finished atop the NHL in points. Presidents' Trophy winners and armed with arguably one of the best pure goal scorers in the game today, and still the Caps don't have a Cup to their name. So, could 2017-18 be any different for Alexander Ovechkin and his teammates? Let's see.
Recapping 2016-17
Yet another top seat finish complimented by their second straight Presidents' Trophy, the 2016-17 regular season was a good one for the Capitals. They finished with a league-high 55 wins and 118 points to go along with their plus-81 goal differential.
Their top four scorers all played full 82-game seasons. Nicklas Backstrom led the way with 23 goals and 86 points, with Ovechkin (69 points), Evgeny Kuznetsov (59 points) and Marcus Johansson (58 points) following behind him.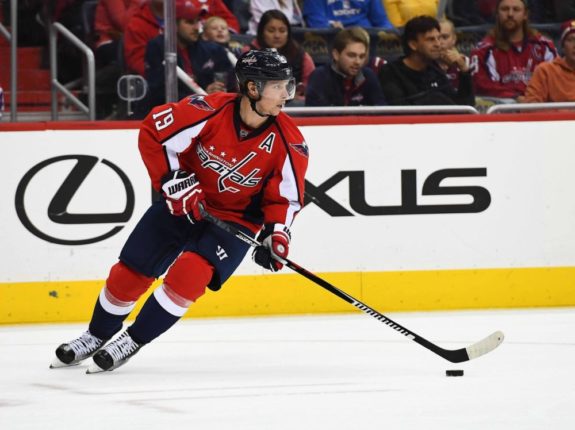 The Caps got 19 regular season games out of Kevin Shattenkirk following a trade for the defenceman in late February. In that time, he scored two goals and 14 points before heading into the postseason with the top seeded team.
As for their goaltending, Braden Holtby led the way with a 42-13-6 record in 63 regular season games. He finished the year with a 2.07 goals against average, a .925 save percentage and nine shutouts.
Behind him, Philipp Grubauer had impressive numbers of his own. He secured a 2.04 goals against average and .926 save percentage on his way to a 13-6-2 record in 24 games played – helping his squad capture the Presidents' Trophy.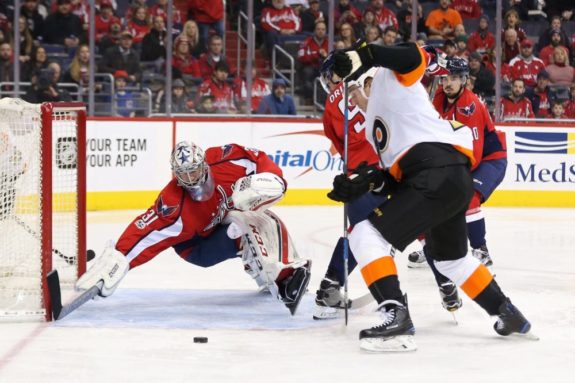 But as has been the case for Capitals' fans the past number of years, the team narrowly knocked off the Toronto Maple Leafs in six games to get out of the first round of the playoffs before losing to the Penguins in seven games. It was yet another second-round loss for Ovechkin and the Capitals.
Capitals' Quiet Offseason
Justin Williams left. The Vegas Golden Knights scooped up Nate Schmidt and Shattenkirk bolted for Broadway.
While that was going on, the Caps locked up T.J. Oshie, Brett Connolly, Dmitry Orlov, Kuznetsov, Devante Smith-Pelly, Andre Burakovsky and Grubauer to their new respective contracts.
Other than that, however, the Caps didn't bring in any new major acquisitions. While the players they lost certainly hurt the club, those they were able to keep around had their own thoughts on the team's offseason.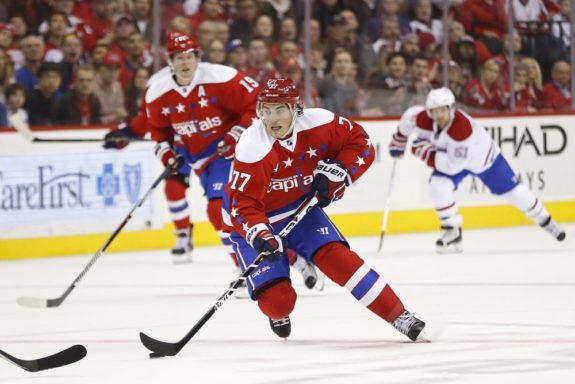 "We lost a lot of really, really good players, and I think we knew that was going to happen," said Oshie in an article by NHL.com's Jessi Pierce. "Now we're going to need a lot of younger guys to fill in for a lot of different roles."
While the team will rely on younger players in 2017-18, Ovechkin will once again have to reprise his role as the team's offensive leader.
2017-18 Bold Prediction: An Ovi Bounce Back?
There's no questioning whether Ovechkin will be a major offensive threat for the Capitals this season or not. The fact is his shot and his ability to get to the open areas are among the best in the league.
That being said, the 31-year-old Russian sniper has seen declining numbers over the past three seasons. And last season was the first time in four years that the Capitals' captain didn't reach the 50-goal mark.
Part of that could be the promise from head coach Barry Trotz to make the Caps' sniper more of a two-way forward – a player who can play responsibly in his own end.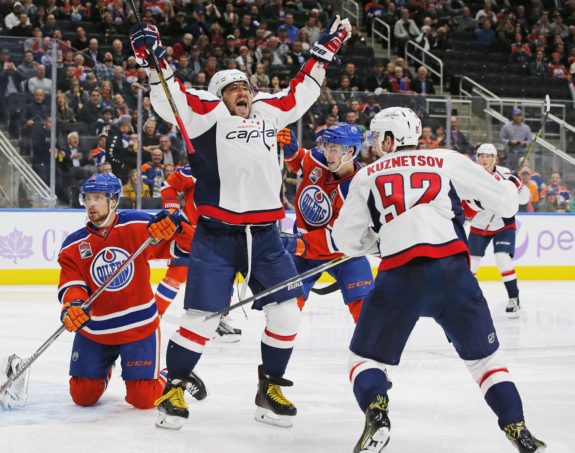 In 2013-14, Ovechkin scored 51 goals and 79 points in 78 games. That came with a minus-35 rating. The following year he notched 53 goals and 81 points in 81 games. He was a plus-10 that season and had 34 power play points. In 2015-16 he still reached the 50-goal plateau, but only had 71 points in 79 games. His power play points dropped by 10 to 71 and he maintained a plus-21 rating.
Last season he experienced yet another drop in goals and points. He played all 82 games, but only scored 33 goals and 69 points. His power play points were back up to 26, but it's clear he's taking on a bigger role on the ice.
I know, some are wondering how we can use the word 'only' alongside 33 goals. But for a player who has scored 558 over his NHL career, including seven 50-goal seasons, 33 seems like some kind of shortcoming.
So, predicting this season is tough, but it's clear that the Capitals have lost some significant players as they head into the 2017-18 season. That being said, they won't win their third Presidents' Trophy. In fact, they won't win the Metropolitan Division, but they will make the playoffs. Only this time, they will get their as a wildcard team in the Eastern Conference.
On top of that, Ovechkin will continue to play more of an all-around role for the Capitals. While it may benefit them on the defensive end, his offensive numbers will take a hit once again in the coming year as he will likely reach the 30-goal plateau, but will finish below the 65-point mark in 2017-18. Oh, and don't forget he still wants to play for his country at the upcoming Olympics.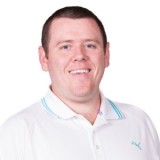 Andrew is in his 8th year reporting for The Hockey Writers covering the Toronto Maple Leafs. He began his broadcasting with CBC's Hockey Night in Canada team as well as being part of their coverage of the 2014 Winter Olympic Games in Sochi. He's the former play-by-play voice of the London Jr. Knights for Rogers TV and currently hosts the Sticks in the 6ix podcast. You can follow him on Twitter at @AndrewGForbes.