The Toronto Maple Leafs are entering the 2017-18 season with massively increased expectations after a miraculous run that was the 2016-17 campaign.
Some are predicting an Atlantic Division title and a playoff run long into the spring, even going as far as calling the Leafs a true Stanley Cup contender.
Let's stop and take a breath. Just last year at this time, both fans and team management were going into the second season of a total rebuild expecting to slightly move up in the standings, but a playoff berth was not a realistic expectation on anyone's mind.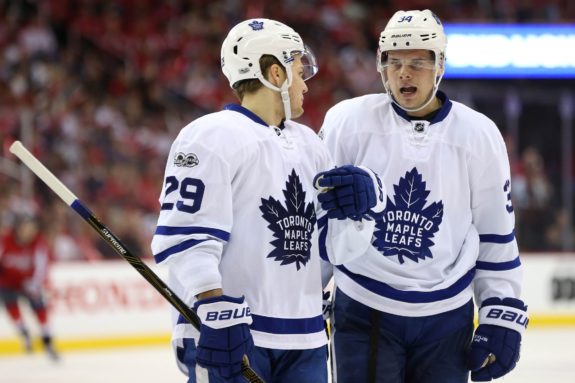 What was expected was an uber-young team earning experience, but struggling along for at least another two years before even thinking about making a push for the playoffs. Yes, just one year ago, 2018-19 was the general and hopeful sightline for the postseason.
However, after more success than anyone had imagined, most people around the team—fans, media, and players alike—may be getting ahead of themselves. The truth is, this is still not a team that is strong enough nor deep enough to be thinking about lengthy playoff runs.
While the Leafs managed to outscore their opponents on most nights during 2016-17, there was an underlying story that many have been reluctant to face. The Leafs have a very obvious Achilles Heel.
It's their defensive game.
Stats Say: The Leafs Must Work on Shot Suppression
While the Leafs' offensive firepower was enough to cover up their hole on defence last year, there's no denying that it is an area that needs improvement.
The Leafs ranked 22nd in the league during 2016-17 in goals against, with 234. That averages out to 2.85 goals against per game. In shots against, Toronto landed 28th out of 30 teams, allowing 32.6 shots on net per game.
The Maple Leafs' record when outshooting their opponent was 13-12-7. Just 32 games out of a total of 82 did the Leafs manage to get more shots on net than the opposition. When being outshot, it's a different story: a 26-14-8 record. It's odd that the team's points percentage was actually 10.6 percent higher when generating less offence, with a 51.6 percent rate when outshooting the opponent versus a 62.5 percent mark when being outshot.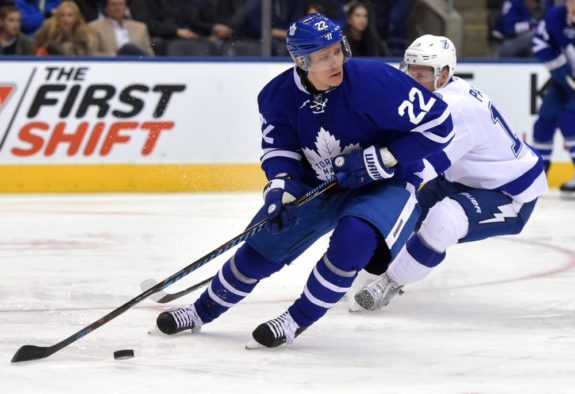 Although the Leafs are now without both Matt Hunwick and Roman Polak, their core defenders are still in tact from last year's lineup. Taking their places will be Ron Hainsey and likely one of Martin Marincin or Calle Rosen. The good news is that Hunwick and Polak both ranked poorly in even strength Corsi at 49.53 percent and 47.88 percent respectively, offering a potential for the team to better their numbers in 2017-18. However, Hainsey was not much better, with a 49.69 percent rate. As such, the Leafs will need to see individual improvements from each of their top-six defencemen in order to come to a noticeable difference on a team scale.
But, as we know, stats cannot tell the entire story.
Eyes Say: The Leafs Need More Defensive Depth
Toronto has a few high-end defenders in Morgan Rielly, Jake Gardiner, and potentially even Nikita Zaitsev. Although none would be considered elite, they are no doubt useful players who give the Leafs an advantage to winning games.
On the other hand, the other three defencemen which round out the team's top-six are not quite as valuable. As it stands today, those three will be Ron Hainsey, Connor Carrick, and Martin Marincin. Are any of those three qualified to be playing top-four minutes? Not likely. But, as we now know from Mike Babcock, Hainsey is probable to play on the top pairing alongside Rielly. That's where things get worrisome for the Maple Leafs. With a lack of defensive responsibility all the way through, opposing teams with stronger forward depth will be able to take advantage of matchups and burn the Leafs' defensive end.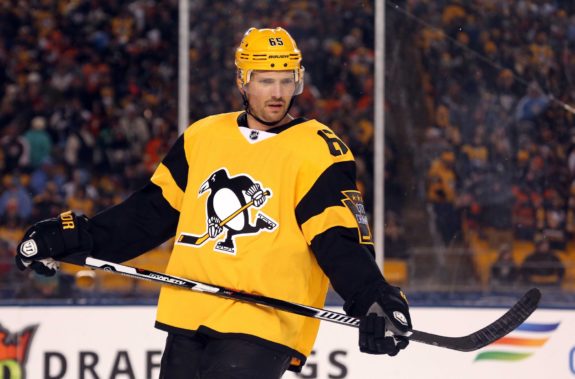 If you're thinking, "But, they were able to win last year. Why won't they win in 2017-18?" you need to look towards the success of the forward group that offsets the mediocrity of the defensive group. While the team was fortunate enough to benefit from five outstanding rookie seasons, the veterans also each had a career-best year. All three of James van Riemsdyk, Tyler Bozak, and Nazem Kadri set new bests in points. That's a very rare combination of elite performances on a team scale that is very unlikely to be replicated.
With that said, a likely decreased rate of production from the forward corps will leave the defensive liabilities sticking out like a sore thumb. Without any major additions to the blue line, there's no stalling the foreseen outcome that is a team that struggles to keep the puck out of the net at a better rate than they can score goals.
Predicted Outcome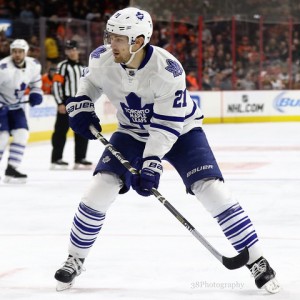 As a result of the lack of skill and depth of the Leafs' defensive core combined with the likelihood of the forward core to be able to repeat their 2016-17 performance, the likely outcome is that the Leafs will not be able to live up to the insane expectations placed upon them. A slight dip in offensive production with relatively the same defensive play will ultimately result in a disappointing finish in the standings.
While the Leafs squeaked out a playoff berth by a one-point margin over both the Tampa Bay Lightning and New York Islanders, and with others like the Philadelphia Flyers and Carolina Hurricanes on a positive trend, the Leafs are not likely to return to the postseason in 2017-18. A realistic expectation would be in the 87-93 point range. Good enough to stay in the playoff race up until the end, but not quite enough to make it back-to-back postseason appearances.
Contributor for the Toronto Maple Leafs and Prospects. Scout with the Oakville Blades of the OJHL. For questions, concerns, or comments, contact me at devinslawson123@hotmail.com or on twitter @SlawsonTHW.