Defencemen may not be the most watched players on the ice at a given time, asides from the likes of Erik Karlsson, Brent Burns, or Victor Hedman, but they represent the backbone of any successful NHL franchise.
There's a famous saying that goes with constructing a team that can contend for a Stanley Cup. Build from the bottom, up. That means starting with solid goaltending, then building an impenetrable top-four along the blue line before finally rounding out a deep corps of forwards.
After thinning the herd of 12 elite goaltending prospects in the NHL, a consensus Top Goaltending Prospect was found. We return today to overview the top dozen defensive prospects in the league, and of course, the very best prospect on the blue line.
While evaluating and projecting goaltending prospects may be the most difficult job for an NHL scout, defencemen slot in as the next toughest position. Often taking a few years longer to fully develop their game, defenders can be inconsistent with their ideal style of play while in junior. It's also very rare to find a defensive prospect with a complete game at a young age. Usually, one of skating, awareness, or strength is lacking.
Related: The Top 15 Forward Prospects in the NHL
Related: The Top 12 Goaltending Prospects in the NHL
However, each of the following exceptional prospects has figured out their game such that there are very little holes with any aspect of their performance. Here are the top 12 defensive prospects in the NHL today. Note: only rookie-eligible skaters for the 2017-18 season are considered.
Secondary Tier of NHL's Defensive Prospects
12: Gabriel Carlsson – Columbus Blue Jackets
Age: 20
Shoots: Left
Size: 6-foot-4 & 192 pounds
Drafted: 29th overall in 2015
2016-17 Team: Linköping HC (SHL)
A big shutdown defenceman, Gabriel Carlsson knows his role and is perfecting it. While he continues to fill out his frame, the 20-year-old made the jump to North America at the end of the 2016-17 season, playing in a sheltered role during the Blue Jackets' first-round matchup. Although his offensive numbers will never blow anyone away, Carlsson hones a strong transition game. He makes a smart and safe first pass from the defensive zone to quickly turn the play up ice. Defensively, he uses a smart stick to take away passing lanes and force turnovers.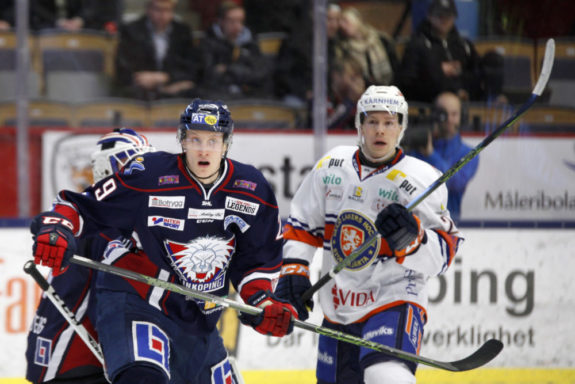 Carlsson has proven his ability on the international stage as well, showcasing his talents on Sweden's blue line over the past five consecutive years. Heading into the 2017-18 season, Carlsson is expected to have a strong chance to battle for a top-six spot in the Blue Jackets' lineup. While it appears the sixth spot will be one of him or Markus Nutivaara, a year of experience in the AHL certainly wouldn't be an inconvenience to Carlsson's development.
11: Jacob Larsson – Anaheim Ducks
Age: 20
Shoots: Left
Size: 6-foot-2 & 192 pounds
Drafted: 27th overall in 2015
2016-17 Team: Frölunda HC (SHL)
Renowned for his tremendous skating ability, Jacob Larsson is a two-way defender who reads the game exceptionally well. With great offensive awareness, Larsson is always a threat during zone exits. He can thread effective breakout passes or rush the puck into the offensive zone as well. As he continues to grow stronger and quicker, Larsson will only become more dangerous at both ends of the ice. Making his NHL debut with the Ducks at the beginning of the 2016-17 season, Larsson played well in his short stint, averaging 16:25 minutes of ice time through four games.
Much like Carlsson, Larsson has represented Sweden internationally over the past five years. He's also captured back-to-back Champions Hockey League titles with Frölunda HC. As Larsson enters the 2017-18 campaign, he is likely to play significant minutes with the San Diego Gulls, as the Ducks' blue line is relatively set in stone. Looking further into the future, Larsson should blend well with the core Ducks defencemen, all of whom skate well and can make a difference offensively.
10: Julius Honka – Dallas Stars
Age: 21
Shoots: Right
Size: 5-foot-10 & 185 pounds
Drafted: 14th overall in 2014
2016-17 Team: Texas Stars (AHL)
Another in a trend of intelligent, two-way defencemen, Julius Honka has developed his game at the professional level at an admirable pace. After making the jump to North America with the WHL's Swift Current Broncos for his NHL-Draft year, Honka was eligible to move right on to the AHL as a 19-year-old. Through 2016-17, Honka is a three-year veteran of the AHL, accumulating an impressive 106 points over 191 games with the Texas Stars. He was also able to make his NHL debut last year, adding five points during a 16-game stint in which he averaged 16:52 minutes per game.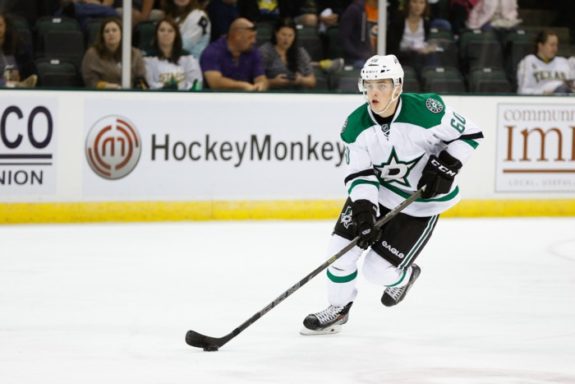 After starring for Finland at each international junior level, Honka was invited to the World Championship team this past Spring where he was recognized as a top three player for Finland. Looking ahead to the 2017-18 season, Honka will have to earn a spot in the opening night lineup. As it stands now, there will be a battle for the sixth defenceman spot between Honka, Jamie Oleksiak, Patrik Nemeth, and Greg Pateryn, not to mention 2017 third-overall pick Miro Heiskanen, who could potentially jump straight to the NHL. A fair estimate for Honka could be another year of split time between Texas and Dallas.
9: Jake Bean – Carolina Hurricanes
Age: 19
Shoots: Left
Size: 6-foot-1 & 172 pounds
Drafted: 13th overall in 2016
2016-17 Team: Calgary Hitmen (WHL)
Playing a strong all-around game, Jake Bean shows minimal flaws in his style. Understanding the dynamics of the game, Bean displays great intelligence on the ice through his positioning and awareness of developing plays. Bean competes as hard as anyone at both ends of the ice and can be a game changer on the offensive side. He will confidently carry the puck through the neutral zone and has a great point shot. On the defensive side, Bean is always in the right place, utilizing body and stick positioning to limit successful zone entries.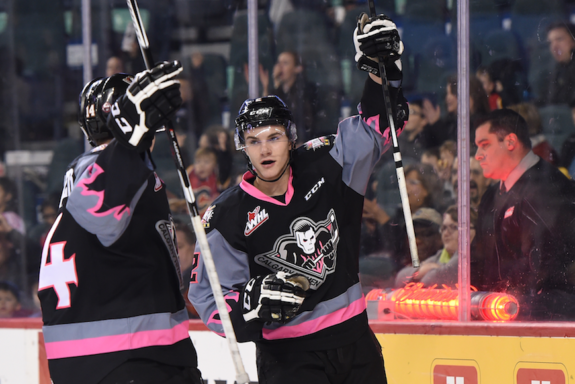 Bean has represented Canada on the international stage at the U17, U18, and U20 level, most recently earning a silver medal at the 2017 World Juniors. Looking forward to the 2017-18 season, Bean will back to Calgary to join the Hitmen for a fourth season in the WHL. After jumping the point-per-game plateau last year, Bean looks destined to be a top offensive defenceman in the CHL. He is also a virtual lock to return to the World Juniors with Canada. In all, Bean is on a steady trajectory towards a strong NHL future with the Hurricanes.
8: Travis Sanheim – Philadelphia Flyers
Age: 21
Shoots: Left
Size: 6-foot-4 & 201 pounds
Drafted: 17th overall in 2014
2016-17 Team: Lehigh Valley Phantoms (AHL)
Since being drafted in 2014, Travis Sanheim's all-around game has come a long way. In two years of WHL hockey after being drafted, Sanheim put up 133 points over just 109 games. His puck-moving ability began to be a game-changing asset, as the mobile defender showcased tremendous vision and intelligence. He can also quarterback a power play with success, making smart decisions as to when to move the puck north-south or east-west. This past season, Sanheim made a seamless transition into the AHL, finishing in second among Phantom defencemen with 37 points in 76 games.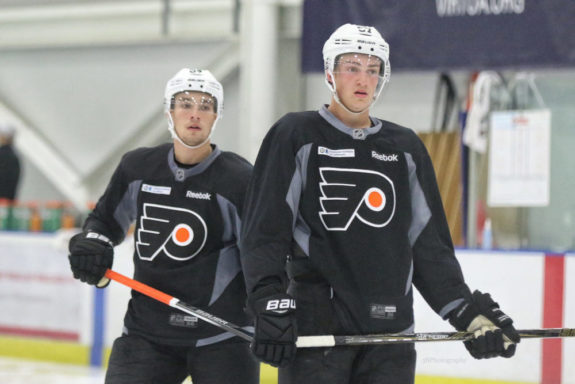 With the Philadelphia Flyers facing a thin blue line in 2017-18, Sanheim may have a solid shot at cracking the lineup as a 21-year-old. Alongside fellow young stars including Shayne Gostisbehere, Ivan Provorov, and possibly Samuel Morin, the Flyers will feature a young but talented defence core in 2017-18. What Sanheim could bring to the table includes a strong two-way game with solid skating ability. If he is unable to crack the Flyers' lineup, another year's worth of AHL experience will allow Sanheim to mature and continue to round out his game.
7: Timothy Liljegren – Toronto Maple Leafs
Age: 18
Shoots: Right
Size: 6-foot-0 & 192 pounds
Drafted: 17th overall in 2017
2016-17 Team: Rögle BK (SHL)
After his rank fell in the 2017 NHL Draft due to health issues holding back his play, Timothy Liljegren is beginning to earn back the trust of those who projected him as a top-three pick one year prior. The speedy Swede skates as well as anyone from his draft class and can be a dynamic offensive defenceman when he's on his game. While the defensive aspects aren't as solid just yet, Liljegren is sure to smooth them out as he matures and makes smarter decisions in his own zone. However, the reward is much greater than the risk with Liljegren, as he could become a truly dynamic defender in this league.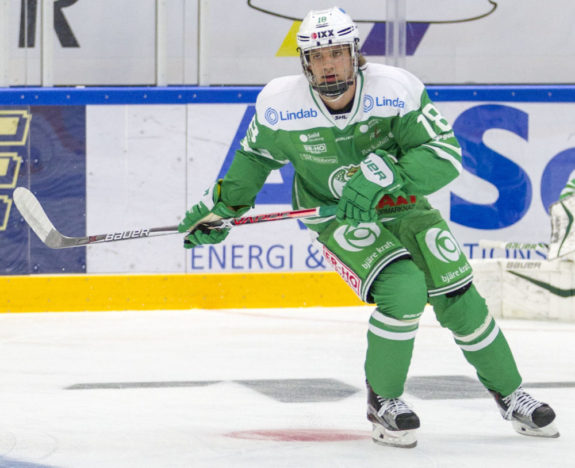 Starring on Sweden's junior blue lines for each of the past three years, Liljegren looks destined to earn a significant spot on their World Junior squad this coming Winter. In pre-tournament action this Summer, Liljegren's game was dominant, as he added four points over five games and was arguably one of the Swedes' top performers. As for the 2017-18 season, Liljegren seems likely to return to the SHL for one more year. While he is eligible to play in the AHL with the Toronto Marlies, it may be more beneficial for his future to earn one more year of experience back home before making the jump.
Top Tier of NHL's Defensive Prospects
6: Olli Juolevi – Vancouver Canucks
Age: 19
Shoots: Left
Size: 6-foot-3 & 198 pounds
Drafted: Fifth overall in 2016
2016-17 Team: London Knights (OHL)
Already critiqued by fans around the league before even making his NHL debut, Olli Juolevi's future remains as bright as ever. Drafted one spot ahead of stellar rookie Matthew Tkachuk, Juolevi instead returned to the OHL's London Knights for an additional year of seasoning. While not the flashiest of defencemen, Juolevi plays a smart two-way game which is led by an innate ability to read the ice. He's a confident puck handler and is efficient in transitioning the play up ice. While strength is an area of possible improvement, this coming season will be a huge indicator of Juolevi's NHL future.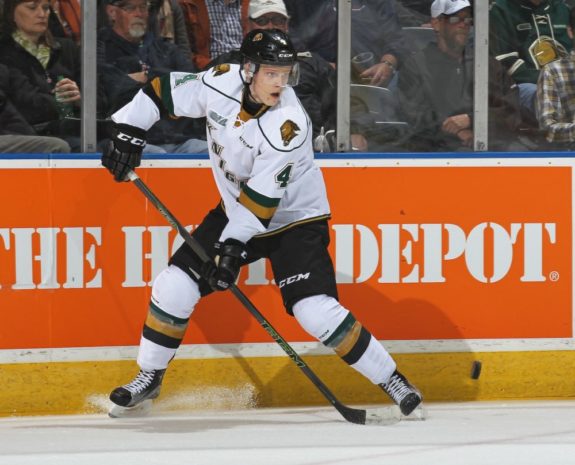 Captain of the Knights, Juolevi also captained Finland at last year's World Juniors. One year after dominating and capturing a gold medal, Juolevi and the Finns struggled on the big stage. In 2017-18, Juolevi could be a strong candidate to crack the opening night lineup on a Canucks team that is almost certain to be near the bottom of the standings again. As a result, Juolevi cannot be expected to excel under conditions that conduct failure. He remains a work in progress, but the essentials are all there.
5: Cale Makar – Colorado Avalanche
Age: 18
Shoots: Right
Size: 5-foot-11 & 187 pounds
Drafted: Fourth overall in 2017
2016-17 Team: Brooks Bandits (AJHL)
A smooth skating, offensive defenceman, Cale Makar was a high rising prospect heading into the 2017 draft. Valued for an impressive hockey IQ, Makar racked up 24 goals and 75 points in 54 games in the AJHL. Reading the ice as well as anyone, Makar loves to rush the puck through the neutral zone with authority. There's no sense of any defensive liabilities either, as Makar proves his awareness of the ice and of his positioning regularly. Committed to UMass Amherst, Makar may need a couple of years before cracking the NHL, but the natural talent and potential are there.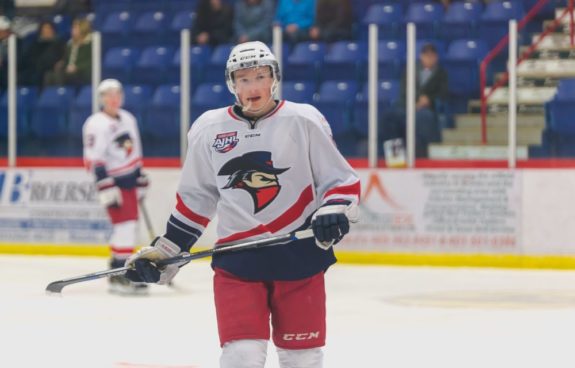 Appearing in the World Jr. A Challenge over the past two years, Makar was most recently an All-Star at the tournament, with four goals and eight points in four games. Ready for his freshman year in the NCAA, Makar and the Avalanche will soon find out how his game transitions to a much higher level of play. While nothing is certain, the Avs hope that Makar will be able to turn pro in time for the 2018-19 season. An offensive dynamo, Makar projects to be the next Mike Green.
4: Mikhail Sergachev – Tampa Bay Lightning
Age: 19
Shoots: Left
Size: 6-foot-3 & 216 pounds
Drafted: 9Ninth overall in 2016
2016-17 Team: Windsor Spitfires (OHL)
Another strong, two-way defenceman, Mikhail Sergachev can be a difference-maker at both ends of the ice. With a fluid stride, Sergachev can rush the puck up ice and distribute it to a soft spot for his teammates. He can lead a power play with smart vision of the ice and a powerful point shot. Following a four-game stint with the Montreal Canadiens in 2016-17, Sergachev returned to the OHL where he added 43 points in 50 games. The big Russian is menacing in his own end as well, closing gaps quickly and using an active stick to disrupt opposing forechecks.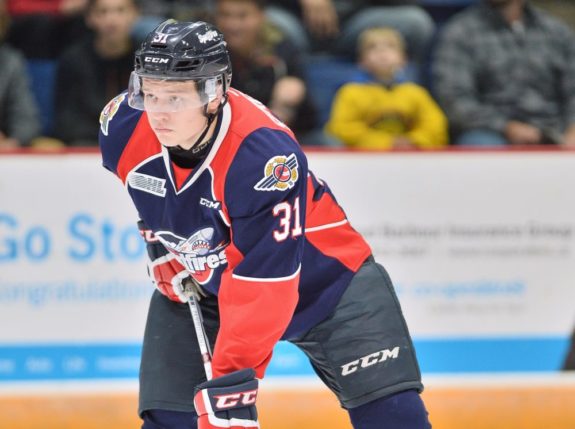 After being dealt from the Canadiens to the Lightning, Sergachev will be given a very strong shot at cracking the lineup for 2017-18. With a lack of left-handed defencemen in Tampa Bay, Sergachev could slot right into their top-four this year. With a chip on his shoulder from being traded and an extra year of nourishing at the OHL level, he should be prepared to make the transition smoothly, especially on a team which can offer sheltered minutes. Sergachev is a lock to be a top-four defenceman, but more likely, a top-pairing defender within three years.
3: Miro Heiskanen – Dallas Stars
Age: 18
Shoots: Left
Size: 6-foot-0 & 172 pounds
Drafted: 3Third overall in 2017
2016-17 Team: HIFK (Liiga)
As complete of a player as they come, Miro Heiskanen is a dynamic, franchise defenceman in the making. With no flaws to his game, Heiskanen's most valuable assets include a strong, smooth stride which allows him to be a poised puck handler on the rush. As opposed to many young defenders, Heiskanen is sound defensively with an ability to play smart positionally or lower the boom with a heavy hit. He has shown a game-changing capability at the highest level in Finland, where he added 10 points in 37 Liiga games last year.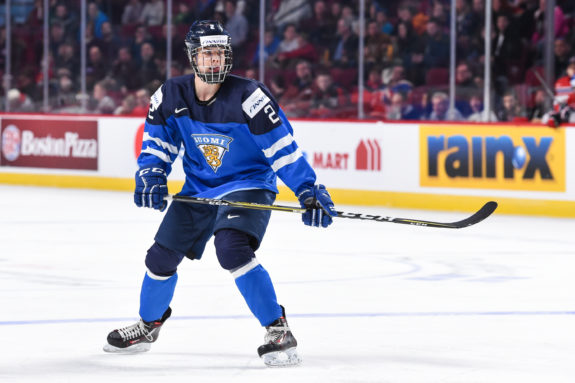 A member of Finland's U18 and U20 team during 2016-17, Heiskanen dominated the World Junior U18 Championships, adding 12 points in seven games to be voted the top defenceman of the tournament. Looking ahead to the 2017-18 season, Heiskanen will be in tough to crack the Stars' lineup out of training camp with a surplus of left-shot defencemen already on the team. A very valuable alternative will be an additional year in Liiga, where he will be able to continue to grow and develop while playing against men. In all, he is a future dynamo who can do it all on the Stars' blueline.
2: Thomas Chabot – Ottawa Senators
Age: 20
Shoots: Left
Size: 6-foot-2 & 190 pounds
Drafted: 18th overall in 2015
2016-17 Team: Saint John Sea Dogs (QMJHL)
An offensive defenceman, Thomas Chabot annihilated the QMJHL in 2016-17 and is set to make his first impression on Senators fans with huge expectations. With a combination of mobility and puck skills, Chabot is a threat each time he takes the ice. Often rushing the puck through the neutral zone, Chabot will join rushes to create odd-man situations. Tremendous as the power-play quarterback, Chabot averaged more than an assist per game this year. He has continued to improve each day in junior hockey and has rounded out his defensive game very well. With a smart stick and responsible positioning, Chabot can force turnovers well and quickly transition the play up ice.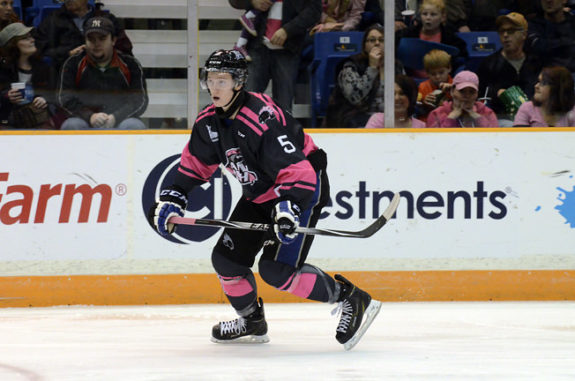 Putting up a combined 15 goals and 68 points in 52 QMJHL regular-season and playoff games this past year, Chabot captured the Defenceman of the Year Award and Playoffs MVP. At the 2017 World Juniors with Canada, Chabot really made a name for himself. Adding four goals and 10 points in seven games en route to a silver medal, Chabot was honoured as the WJC Best Defenceman and Most Valuable Player. Heading into 2017-18, Chabot is more than ready to jump to the NHL, entering the season as a Calder Trophy favourite. He will play top-four minutes with the Sens and will form a ridiculous duo with Erik Karlsson within the next few years.
The NHL's Top Defensive Prospect
1: Charlie McAvoy – Boston Bruins
Age: 19
Shoots: Right
Size: 6-foot-1 & 212 pounds
Drafted: 14th overall in 2016
2016-17 Team: Boston University (NCAA)
A strong defender with a thick frame, Charlie McAvoy is ready for a huge rookie season in the NHL. The two-way defenceman turned pro at the end of 2016-17 after another year of domination at Boston University. An extremely strong skater with tremendous balance, McAvoy can throw explosive checks along the side wall, quickly closing gaps and eliminating opponents on the rush. Offensively, McAvoy can thread outlet passes to create odd-man rushes and has a good point shot. He may not put up a ton of points, but McAvoy has a complete game that is mature beyond his years.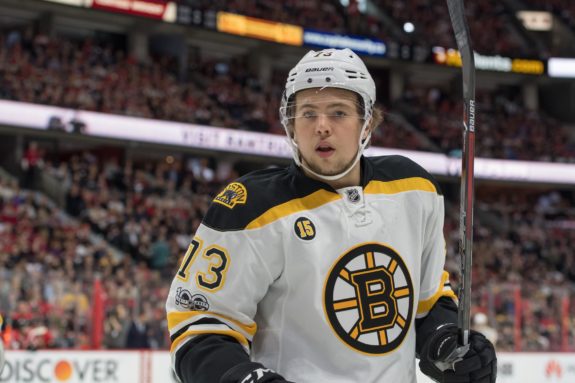 McAvoy played a key role for Team USA at the World Juniors last year, his second time around, guiding the team to a gold medal on the back of a tournament All-Star performance. He was also able to earn a stint with the Bruins during their playoff run, making quite the impression in a short time. The 19-year-old would play 26:11 per game, the second most minutes on the team, while adding three assists in six games. McAvoy not only proved his NHL-readiness, but his ability to dominate already, leading to early 2017-18 Calder Trophy predictions. McAvoy will almost certainly jump right into a top-pairing role with the Bruins this coming season and projects to be a franchise cornerstone defenceman.
Contributor for the Toronto Maple Leafs and Prospects. Scout with the Oakville Blades of the OJHL. For questions, concerns, or comments, contact me at devinslawson123@hotmail.com or on twitter @SlawsonTHW.