The Toronto Maple Leafs have cut down their roster to 23 players as of Tuesday, making some positional battles more clear before the season opener on Wednesday. According to TSN, Lou Lamoriello said that Roman Polak will not be signing with the team after completing his professional tryout. In addition, it looks like first-round pick Timothy Liljegren will either suit up for the Toronto Marlies or head back to Sweden this upcoming season, where he can continue to round out his defensive game.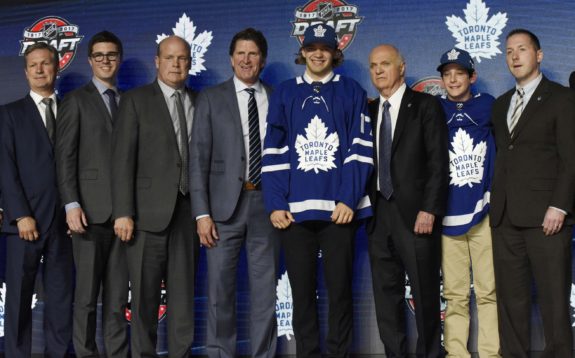 Polak has spent the summer and training camp recovering from a leg-on-leg collision with Washington Capitals defenseman Brooks Orpik in their first-round series this past spring. He may end up sticking around the team to practice as he continues recovering from his leg injury. Liljegren had a decent training camp, but it is unfair to expect a defenseman to crack the starting lineup as an 18-year-old. He has shown flashes of offensive flair, but additional experience is needed to handle the defensive side of things before he becomes a Maple Leaf.
Notable Leafs Roster Omissions
The training camp for the 2017-18 Maple Leafs was very competitive, which leads to players who are of NHL calibre being sent back to the AHL due to roster depth. These players are known as being "next in line" if an injury were to occur, or a trade which would free up a roster spot.
Kasperi Kapanen
The most notable name on this list, Kasperi Kapanen proved to be an effective player last spring, even while playing fourth-line minutes. However, even before training camp began it seemed unlikely he would receive a spot due to the depth at both wings. The speedy winger is likely disappointed with this outcome; however, Lamoriello insists that it is strictly a business decision because he doesn't have to clear waivers.
Lou Lamoriello on his message to Kasperi Kapanen and Nikita Soshnikov as they head back to the minors today pic.twitter.com/KKIiXDxGtw

— Kristen Shilton (@kristen_shilton) October 2, 2017
Since he can be sent down with no repercussions, this puts him at a disadvantage in terms of likeliness to make the NHL over other veterans on one-way deals. You can be sure that if a winger is injured, the Leafs will be quick to give Kapanen a shot, and maybe he can contribute with a few more game-winning goals.
Miro Aaltonen
Miro Aaltonen was looking like he was closing in on the fourth-line centre position, outplaying both Dominic Moore and Eric Fehr. This was one of the most competitive battles in the entire training camp, where there were three players given an equal opportunity to prove why they deserve to get the job. In the end, it looks as if the Leafs prefer the veterans they brought in. Babcock's reasoning was that if it's close, the tie goes to the veterans, which is fair.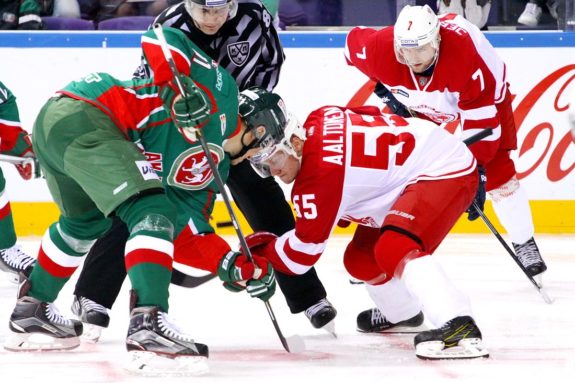 Aaltonen seems like a speedy centre who has good offensive instincts, but defensively could be a downgrade over Moore and Fehr. Both Moore and Fehr will stick with the roster, but Aaltonen serves as a perfect call-up option if an injury were to occur to anyone in the centre position.
Travis Dermott
Heading into training camp, Travis Dermott seemed like the front-runner for the last available defensive spot in the starting lineup. Dermott plays a sound two-way game and is very vocal and responsible in his own end. However, it seems as though the two Swedish defensive signings have altered this expectation.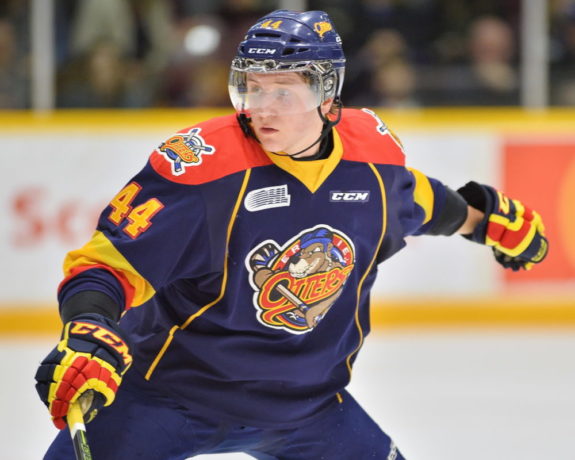 Dermott could easily be a sixth defenseman on most teams in the NHL, but since he is with the Maple Leafs, he will be sent down to the Marlies where he can continue to round out his game playing important minutes. Dermott was often paired with Liljegren in training camp, so it will be interesting to see if that becomes a consistent pairing this season. As the Maple Leafs continue to get deeper, this will be a common theme amongst most prospects. They could be NHL ready but forced to "over-ripen" in the minors due to immense roster depth.
Which Swedish Defenseman Starts in the NHL?
We found out Tuesday afternoon that Cale Rosen will be sent down for some additional seasoning with the Marlies, while Andreas Borgman will get to start on the third pairing. Here is what Babcock had to say regarding the decision:
Won't be confirmed until later, but if Andreas Borgman has indeed secured a roster spot, here's Mike Babcock with some insight on why pic.twitter.com/BVH9itknkt

— Kristen Shilton (@kristen_shilton) October 3, 2017
So it seems as though some size and physicality are preferred on the third pairing, but that isn't all Borgman brings to the table. He has a very impressive resume which includes being named the SHL's rookie of the year last season, an honour that has been received by NHL defensemen such as Mattias Ekholm, Victor Hedman, and Tobias Enstrom. In his only SHL season, Borgman put up almost a point per game in the playoffs and is looking like he will form the bottom pairing with Connor Carrick.
Carrick has not developed a reputation of contributing offensively at the NHL level but has been known to contribute at the AHL level. Perhaps with the two being paired together, we can expect a little more offense from the blue line than the Matt Hunwick-Roman Polak pairing was able to provide. Martin Marincin will serve as the Leafs' seventh defenseman, which makes plenty of sense rather than scratching a player like Rosen, Dermott, or Andrew Nielsen, whose potential would be wasted serving as a healthy scratch.
I've been a Leafs fan since I was a little kid, and had to live through the painful collapse of the 2012/13 season against the Bruins. Most of the Leafs top players are my age. They light up the NHL and I write about it! The youth on this roster makes for very entertaining hockey. You won't want to miss a game!