Over that past few seasons, the Vancouver Canucks have had some difficulty cementing a top-six forward lineup and this coming 2017-18 won't be any different. As I've touched on before, roles have changed, additions have been made and talent has developed. This has created a big-time fluctuation in the Canucks' top six forwards.
Management has decisions to make before the Canucks' season-opener. There are eight players pegged to play on the top two lines and with a rebuild is currently underway, the decision will be that much more difficult.
Newly acquired players and coach hope to be the key that sends the @Canucks back into the playoffs. https://t.co/Dgxu0ORytx

— NHL (@NHL) October 1, 2017
The Staples
With any top six, there are staples; regulars that you don't have to think twice about putting into prominent roles. For the Canucks, I figure there are four staples: Henrik Sedin, Daniel Sedin, Bo Horvat and Sven Baertschi.
Henrik Sedin
Henrik has been the number-one center for many years now and he is the captain of the Canucks. At 37, he is slowing down but is still perfectly capable of putting up 50-or-more points and holding down the number-two centerman position alongside his twin, Daniel. Did I mention that he's the Canucks' franchise point leader with 1020, carrying an impressive point-per-game average of .82?
Daniel Sedin
Much like his brother, Daniel has been one of the best players on the Canucks for a considerable amount of time but also like his brother, he is slowing down with age. Daniel will be playing alongside his brother on the second line and will likely tally a similar point total, making them one of the more productive second lines in the league. Equipped with a scoring touch slightly better than his brother, Daniel is the Canucks' franchise goals leader with 370 and will hopefully find twine 20-or-more times this season.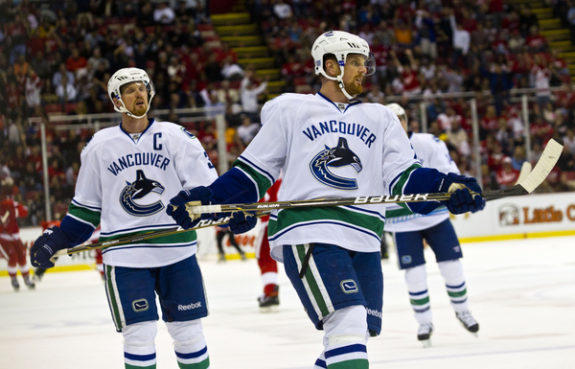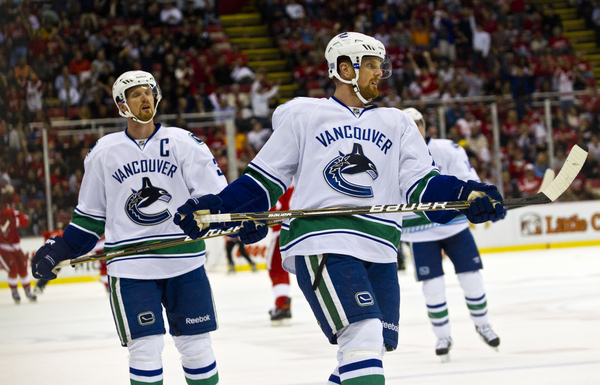 Bo Horvat
Horvat is considered by many to be the future of the Canucks organization. Last season, the now 22-year-old led the team in goals (20) and points (52), giving fans some hope in an otherwise horrific season that saw the Canucks finish 29th in the league. He is the new top center and will play a larger role in the 2017-18 season.
Sven Baertschi
Since joining the Canucks during the 2014-15 season, Baertschi has come out of his shell as a player and started to show why Calgary selected him 13th overall in the 2011 NHL entry draft. He has a knack for finding the score sheet and finished third on the team in goals last season with 18 while playing alongside Horvat. They are dynamic and with solid chemistry are considered the new one-two punch of the Canucks' offence.
Forwards the Bubble
With two-thirds of the top two lines filled, the hard part of deciding who gets the final two positions begins. With arguably four suitable players at head coach Travis Green's disposal, his decision is a doozy. The four players on the bubble are Loui Eriksson, Thomas Vanek, Brock Boeser and Markus Granlund.
The question is whether or not the Canucks want to go down the route of a "complete rebuild" and put youth in the top six, put the statistically best option in or find a comfortable hybrid of the two.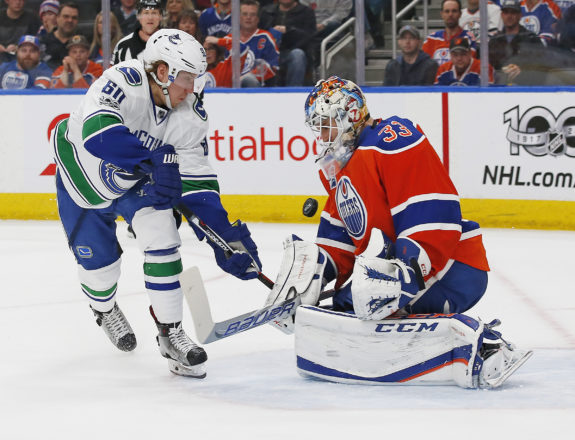 If we are playing the numbers game, Granlund finished second on the team with 19 goals in 2016-17 and Vanek found twine 17 times last season and was just recently signed to a one-year contract to fill a top-six position and score goals.
On the other side of the coin, you have Boeser, projected as the future of Canucks goal scoring, and who was arguably the best Canuck through preseason play and finished last season with four goals and a helper in his first nine NHL games. You also have Eriksson, a proven 30-goal-scorer who noticeably had a bad year last season with only 11 goals that can probably be chalked up to unfamiliarity and a terrible season for the team.
It's a tough decision and I empathize with coach Green. Boeser is a potential 40-goal-scorer but you run the risk of throwing him to the wolves a little too early. Why would the Canucks sign Vanek if they didn't plan on using him in the top six? How much trust can you put in Eriksson to have a bounce-back year and score 30 goals again? How would it look if you don't put your second best goal-scorer from last season on one of the top lines?
The good news is that either way, the Canucks will have a very strong third line this season.
"We have to cut one more player – everyone is on the bubble." Coach Green is facing some difficult decisions in the next 24 hours. pic.twitter.com/Fjc6oJ5SgB

— Vancouver #Canucks (@Canucks) October 2, 2017
My Verdict
If I was in coach Green's position, my lines would be:
Baertschi – Horvat – Boeser
D. Sedin – H. Sedin – Vanek
I'd roll this lineup at least to start and then make changes if it didn't work out. I think Boeser with Baertschi and Horvat is a very fast and skilled line that can do damage if they gel. Vanek with the Sedins will be a big, strong veteran line that can cycle and keep the zone. If those two lines don't work out and quickly, I'd send Boeser down to Utica for further development and put Eriksson or Granlund on the first line, whoever is playing better hockey.
Matt is a longtime fan, player and student of the game of hockey. Broadcast and Online Journalism student at the British Columbia Institute of Technology.