Just because the NHL is the best hockey league in the world, it doesn't mean that all the best players in the world can be found in the NHL. But who is best of the rest?
The answer to this question turns us to Europe. Some of the players included in this top 20 list of the best players that play elsewhere will surely have a future in North America. Others have already played there. Still, they should all be touted as world-class players.
If we're lucky, we have a good chance of seeing these players in the 2018 Winter Olympics, especially if the players from the NHL remain on the outside looking in. Even if not, it's about time for the rest of them to get some well-deserved credit.
20. Igor Shestyorkin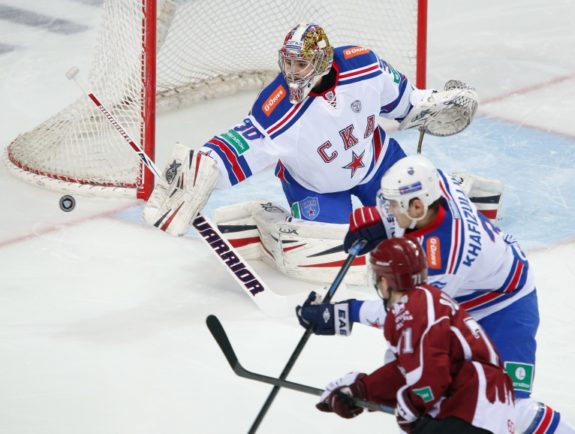 Team: SKA St. Petersburg (KHL)
Position: G
Age: 21
Shestyorkin didn't take long to claim his first Gagarin Cup title belt. But the 2017–18 season will be his real breakout year, as he looks to finally replace Mikko Koskinen as the starting goalie for SKA St. Petersburg. And judging from the beginning of the season, Shestyorkin is ready for the task. The smooth-moving Russian goalie has made a habit of making the highlight reel with some spectacular saves, and the New York Rangers will have something to look forward to if he chooses to leave Russia in the future.
19. Ryan Lasch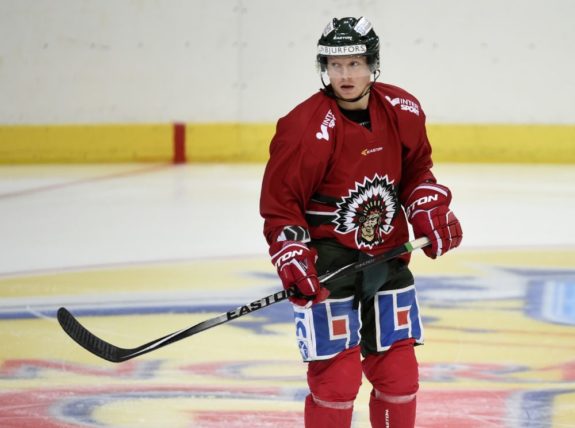 Team: Frölunda HC (SHL)
Position: RW
Age: 30
The Lake Forest, California native is all about production. After his move to Europe in 2013, Lasch has made his mark with close to 150 points in less than 200 games in the Swedish Hockey League. And not to forget his two impressive yet short terms in both Finland and Switzerland. Lasch has conquered Europe thanks to his offensive instincts and skills. If he only was sculpted in a bigger size or could move even faster, he would have been NHL material by now.
18. René Bourque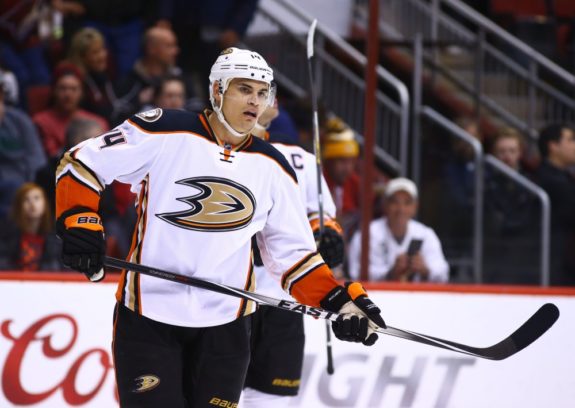 Team: Djurgårdens IF (SHL)
Position: LW/RW
Age: 35
It's not uncommon for Canadian players to try to refine their game and style of play as soon as they enter a European league, but that hasn't been the case for Bourque. He has been loyal to his modest, hard-working self during his first time with Djurgårdens IF in Sweden. The result shows that he's one of the best players on this level, a power forward with goal scoring abilities.
17. Viktor Stålberg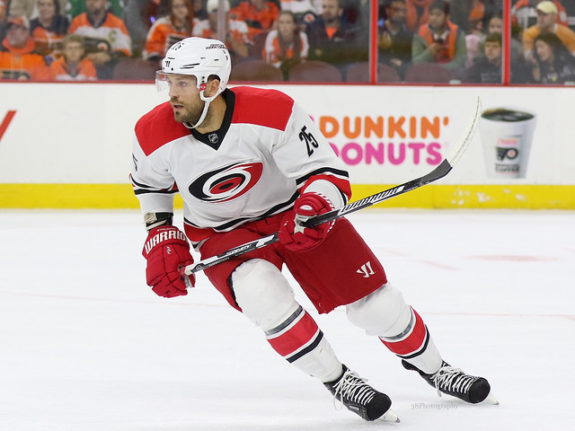 Team: EV Zug (NLA)
Position: LW/RW
Age: 31
It was a bit surprising to see Stålberg leave the NHL after a solid playoff performance with the Ottawa Senators to wrap up the 2016–17 season. Surely, several teams would still want a guy like Stålberg on their roster. Perhaps it was for his own good to leave, however, seeing that he now has become more of a star player than he would ever be in the NHL. Good for Stålberg, good for Switzerland.
16. Nikita Nesterov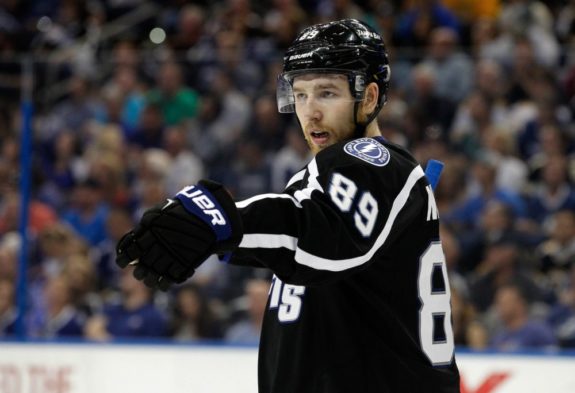 Team: CSKA Moskva (KHL)
Position: D
Age: 24
For whichever reason, Nesterov turned down a couple of qualifying offers from NHL teams this summer. Instead, he moved back home, after four consecutive seasons in North America, and immediately rose to become one of the top defensemen in the KHL. Nesterov stands out in the defensive zone, while he also can be useful in attacking plays. If we've seen the last of him in the NHL, that's a shame. On the other hand, this might be exactly what Nesterov needs to give his career another push in the right direction.
15. Kirill Kaprizov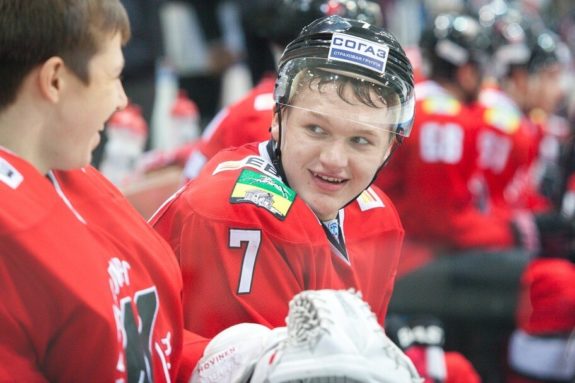 Team: CSKA Moskva (KHL)
Position: LW/RW
Age: 20
I'm very high on Kaprizov, as you can tell. The talented young forward is bound to become a star player for the Minnesota Wild in a few years time. But until then, he's busy shining in Russia. With a sharp-shooting game that can be best described as elite, Kaprizov is a point-per-game player already. It will be interesting to see how he will develop after joining CSKA Moskva in the KHL prior to the 2017–18 season. The odds for success are in his favor.
14. Patrik Hersley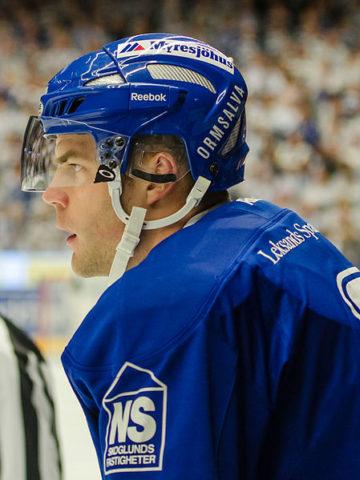 Team: SKA St. Petersburg (KHL)
Position: D
Age: 31
Hersley is gifted with one of the world's heaviest shot from the point. Born in Sweden, Hersley came on as a late-bloomer who didn't see his ultimate breakthrough until 2013. In that year, he scored 24 goals in 51 games as a defenseman in the SHL. Soon after that, he left for the KHL, and now he plays for SKA St. Petersburg, arguably the best team in the league. His points production is going nowhere but up. And on top of that, Hersley is also a sound two-way defenseman.
13. Philip Larsen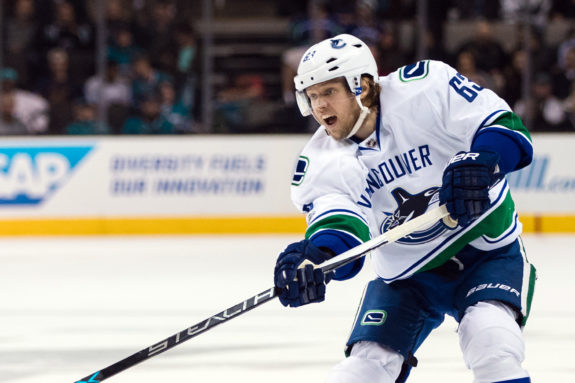 Team: Salavat Yulaev Ufa (KHL)
Position: D
Age: 28
The best defenseman Denmark has to offer. Alright, the competition might not be very fierce, but that doesn't take away the fact that Larsen is a high-quality player. After separate tenures with three different NHL clubs, the latest of which were the Vancouver Canucks last season, Larsen seems to have found his calm again in Russia. At least he gets more offensive responsibility than in the NHL, and he lives up to the task.
12. Andrei Markov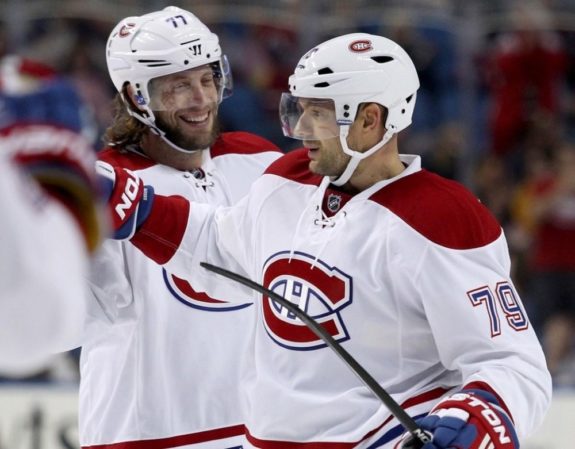 Team: Ak Bars Kazan (KHL)
Position: D
Age: 38
For NHL standards, Markov isn't what he used to be, but the soon-to-be 40-year-old defenseman still got it. We all know him as a smart and agile player, even for his age, and those abilities really come to show in his new environment where the tempo is a bit lower and the rink bigger. Markov has made it his field of expertise to set up offensive plays with excellent passing game. Given that, shall we once and for all dub him as the modern father of secondary assists?
11. Linus Klasen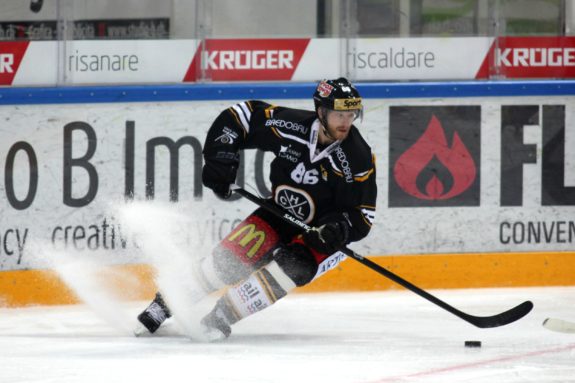 Team: HC Lugano (NLA)
Position: LW
Age: 31
A wizard with the puck. The Swedish forward is marking his fourth season in the Swiss league, and he's been a steady game-changer since day one. Considering his remarkable vision and silky hands, it has to be every sniper's dream to play alongside Klasen. That being said, and with all due respect for the NLA, it would be interesting to see Klasen take on the next level before his career expires. Four NHL games with the Nashville Predators back in 2010–11 don't count for much.
10. Mark Arcobello
Team: SC Bern (NLA)
Position: C/RW
Age: 29
There are loads of small-sized players with North American origin playing in Europe. Arcobello is one of them. Although he's a bit familiar to the broader audience after a series of short terms when going back and forth between the NHL and the AHL, he landed in Switzerland before the 2016–17 season. His points production instantly went through the roof. A playmaker and power play specialist that can both execute and set up his teammates for goals in large numbers.
9. Joakim Lindström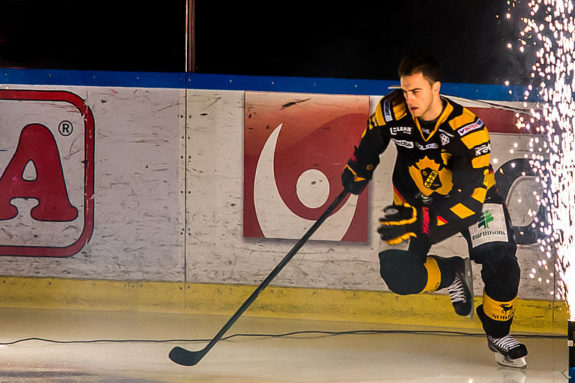 Team: Skellefteå AIK (SHL)
Position: RW
Age: 33
It's somewhat of a mystery that Lindström never got his act together while in the NHL. Not saying he was bad; the left-shooting winger actually put up some impressive numbers, but he never stuck, despite several attempts. In Europe, however, there's no doubt what Lindström is capable of. As a contributing leader behind Skellefteå AIK's dynasty in the SHL a few years back, Lindström somehow raised the bar for what quality to expect of the league in Sweden. That's something to be remembered by.
8. Ilya Sorokin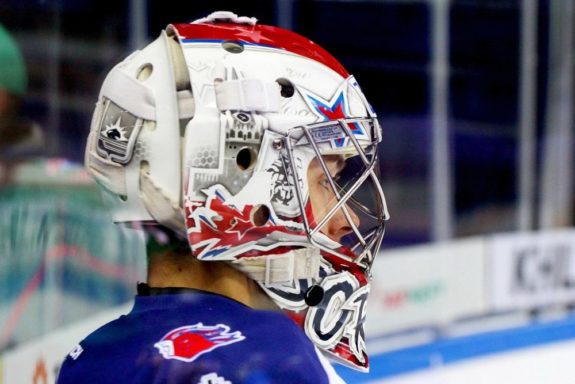 Team: CSKA Moskva (KHL)
Position: G
Age: 22
Another talented Russian goalie with a bright future ahead of himself. Sorokin has to be assessed as one of the most exciting young goaltenders there is, if not the one. One day, he will make the life of every single New York Islanders fan much easier. Sorokin looks to keep on growing and getting better while in the KHL before then. But still, he is already playing on a level that few goalies can reach up to.
7. Justin Azevedo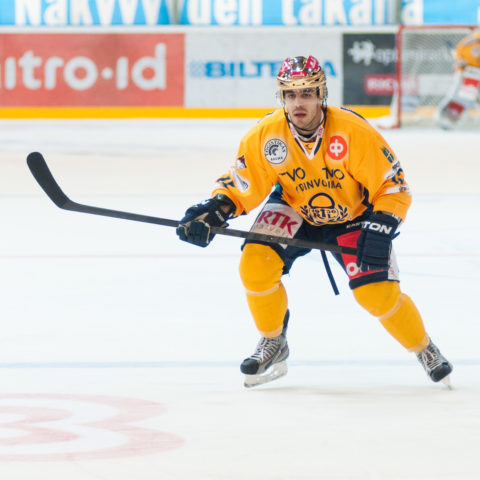 Team: Ak Bars Kazan (KHL)
Position: C/RW
Age: 29
Despite the fact that the West Lorne, Ontario native never has stepped a foot on NHL ice, he's made his own way with great success in Europe. Azevedo is a small yet fearless right-shooter with glaring playmaking skills. When there will be a Team Canada without NHL players in the upcoming Olympics, Azevedo will surely take on the role as one of the most reliable offensive creators on the team. And you can expect him to deliver.
6. Linus Omark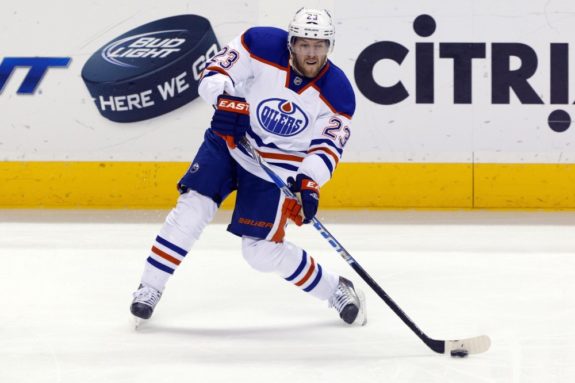 Team: Salavat Yulaev Ufa (KHL)
Position: LW
Age: 30
You probably remember Omark for his controversial first shootout goal in the NHL in 2010. But the Swedish forward should be remembered for so much more, even if he never managed to settle down in the big league. In the KHL, however, Omark has proved for a consistent period of time that he is more than just an impulsive, creative showman. He is the real deal, with efficient skills and a smartness that compare to few others on this level. And his points production over the last years tells us that we all should take him seriously.
5. Nigel Dawes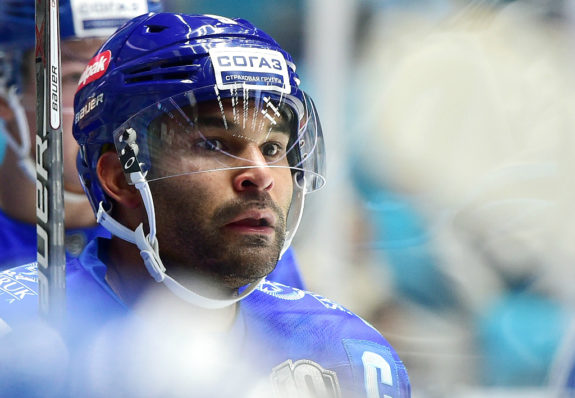 Team: Barys Astana (KHL)
Position: LW/RW
Age: 32
Dawes seems to be aging like fine wine; he gets better for every year. Barys Astana's team captain has lined up goals in large numbers for as long as he has been in the KHL. Although, Dawes is no straight-out sniper like we use to define them. Most of his points rather stem from hard work, speed, and soft hands. A superstar even in the KHL, and since a couple of years back, a prominent leader of Team Kazakhstan as he added another citizenship on top of his Canadian origin.
4. Pavel Datsyuk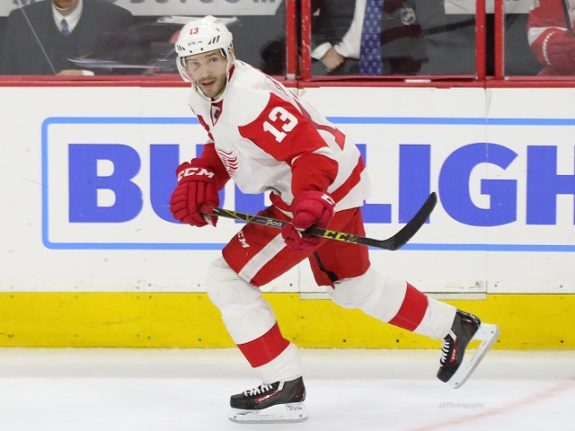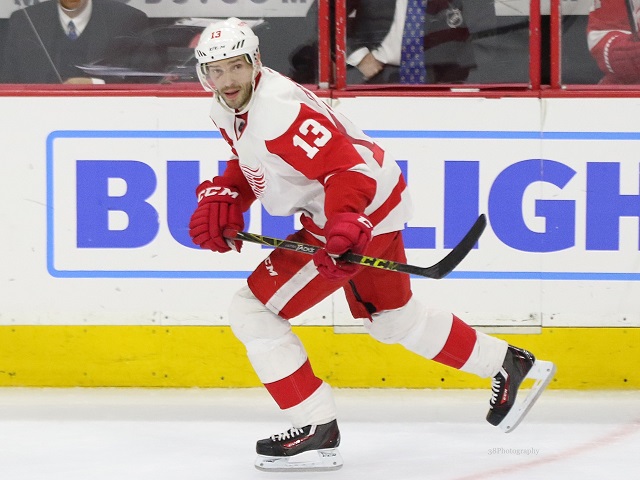 Team: SKA St. Petersburg (KHL)
Position:C
Age: 39
After 16 seasons with the Detroit Red Wings, Datsyuk moved back home and joined SKA St. Petersburg to wrap up his career in the country where it once began. That doesn't mean that Datsyuk doesn't have anything left to give. He will turn 40-years old in the summer of 2018. But he still is, in his own little ways, the best at doing what he does. A generational playmaker and reliable two-way center who always puts his team first, not the least thanks to his impressive production and countless assists. Datsyuk is arguably one of the last standing gentlemen of his kind in hockey.
3. Nikita Gusev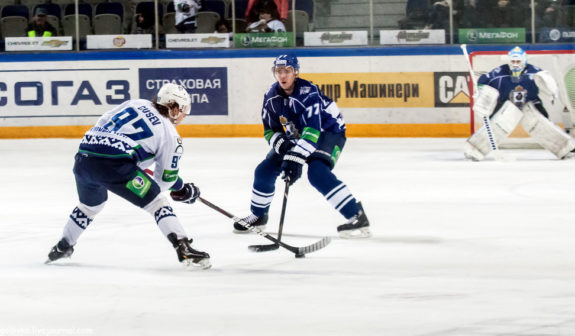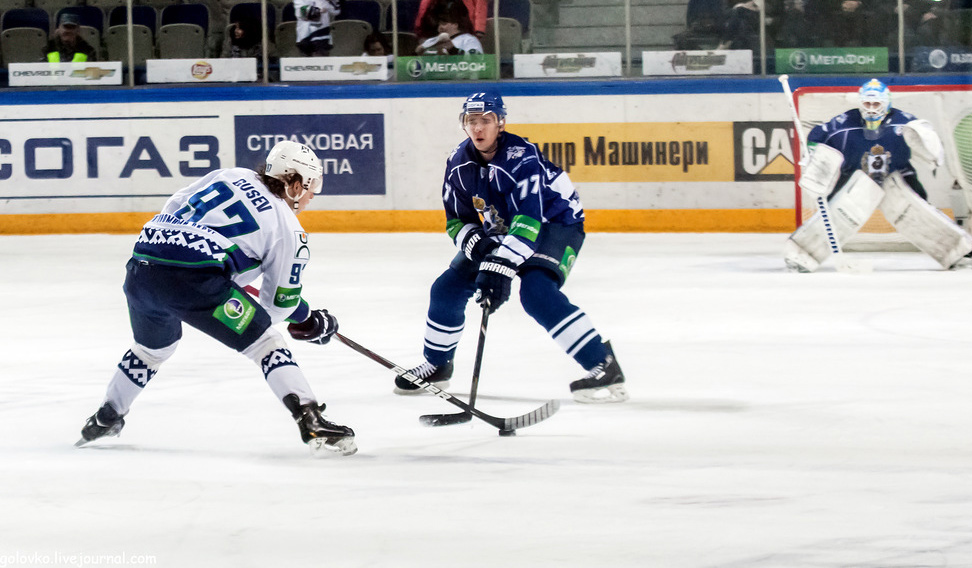 Team: SKA St. Petersburg (KHL)
Position: LW
Age: 25
Gusev could have been a star player in any team, even in the NHL. Yet he remains quite unknown to the large audience. The speedy winger's points production in the KHL over the last years has been off the charts. What makes Gusev stand out the most is his sixth sense of finding open slots in the right territory, to the point where it almost looks easy to score as much as he does. One more exciting thing about case Gusev is that his NHL rights are owned by Vegas Golden Knights after a trade with the Tampa Bay Lightning in July 2017. Will he be the first savior of the new team in the desert?
2. Ilya Kovalchuk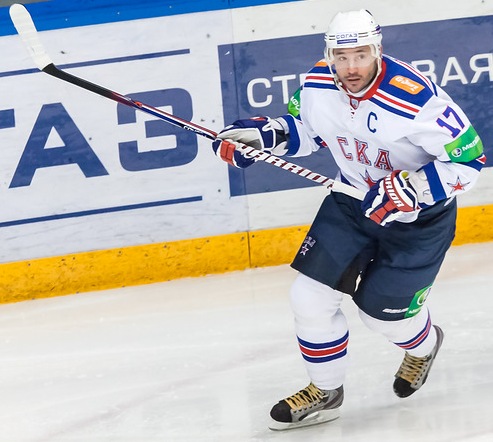 Team: SKA St. Petersburg (KHL)
Position: LW
Age: 34
No one at the moment is more disputed around the question of will he/won't he play in the NHL as Kovalchuk. Word is that the sharp-shooting Russian have interest in a return to the New Jersey Devils. But let's put that aside for now, and instead focus on how good he still is. Kovalchuk can't stop scoring goals. The left winger is known for his heavy approach and is armed with a sniper shot that still competes with the best players in the world. During these last few years in Russia, Kovalchuk has also shown distinguished leadership qualities, making both himself and his team a better match than when he was younger.
1. Sergei Mozyakin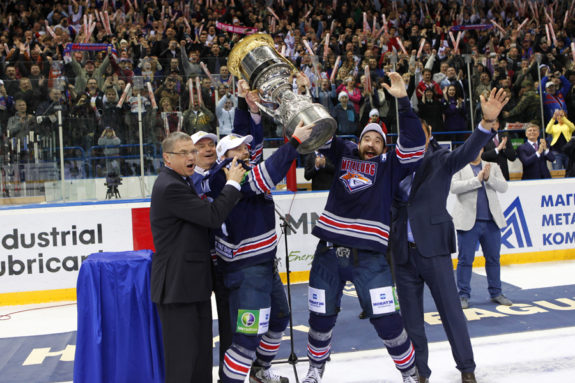 Team: Metallurg Magnitogorsk (KHL)
Position: LW
Age: 36
Mozyakin is, without doubt, the best player to never have played in the NHL during the 21 century. Maybe that's why he rarely gets the recognition he deserves. With over 600 points in a just over 500 games in the KHL, he has been a supreme domestic force for a long time by now. That makes him the top scorer in Russian/Soviet league history. When it comes to instinct and hockey IQ, there are few others like Mozyakin. And he can both shoot and pass extremely well, which makes him difficult to read for opponents and a useful virtuoso in any given situation in the offensive zone. A player that doesn't come around very often. Therefore, when we discuss the best players in the world, we must not forget about Mozyakin just because he is based in Russia. His quality speaks for itself.
Honorable mentions
Andy Miele, Taylor Beck, Kevin Dallman, Staffan Kronwall, Vasili Koshechkin, Broc Little, Robert Nilsson, Dominik Kubalik, Roman Cervenka, Jonas Junland, Jiri Sekac.
Special thanks to The Hockey Writers' KHL expert Alessandro Seren Rosso for insight to this article.
Freelance sports journalist settled in Malmo, Sweden. Author on the official site of the Swedish Hockey League. Cover Swedish prospects on their road to the NHL, and Swedish players making it in the NHL.