There's been plenty of talk about the Edmonton Oilers and their need for a stud No. 1 defenseman. The bullet points of the argument are that the Oilers are without a minute-munching, point-producing and elite-level shutdown defender.
If the Oilers are going to take that next step to become an elite-level team, they need an Erik Karlsson, Drew Doughty, Brent Burns, or Duncan Keith on their blue line. But what if they already have one?
Oscar Klefbom might not be the sexiest name, but the 23-year-old is slowly emerging as a bonafide top-pairing NHL defender. Since coming to North America as a 20-year-old in 2013-14, Klefbom has quickly adjusted to the pro game and has steadily seen his minutes increase in Edmonton. For a team that plays defense by committee, Klefbom is slowing solidifying himself as the lynchpin.
So is Klefbom a true No. 1 defenseman?
---
Edmonton's Best Defenseman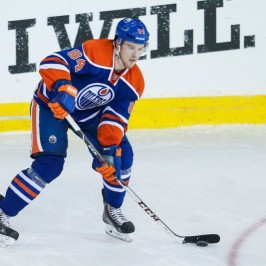 Klefbom is averaging 22:11 in ice-time on a given night, but on nine occasions this season he's played over 25 minutes a night. No other Oilers defenseman has done that.
He also leads Edmonton's defense in goals (11), points (28), points-per-game (0.42), power-play points (9) and shots (168).
Klefbom's statistically the Oilers' best defenseman and is on pace for a career-high 13 goals and 34 points this season.
OSCAR KLEFBOM CAREER REGULAR SEASON STATISTICS
YEAR
GP
G
A
PTS
+/-
PIM
PPP
TOI
S
PTSPG

2016-17

63

11

17

28

6

4

9

22:11

168

0.42

2015-16

30

4

8

12

-4

6

0

21:53

48

0.40

2014-15

60

2

18

20

-21

4

0

21:59

98

0.33

2013-14

17

1

2

3

-6

0
o

15:47

14

0.18
Those are respectable numbers for a top-four NHL defenseman, but what's even more impressive is that only seven blueliners have more goals than Klefbom this season. If you break it down by conference, Klefbom's tied for the third-most goals scored by a Western Conference defenseman.
However, he's 21st in the Conference and 44th in the league in points. Based on that logic, he's one of the better No. 2 defensemen in the league.
Defense by Committee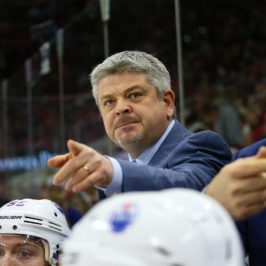 Oilers head coach Todd McLellan has almost evenly rotated Klefbom, Andrej Sekera (21:36 TOI), Kris Russell (21:23) and Adam Larsson (20:12) this season.
Klefbom ranks 45th among NHL defensemen in ice time, but there's been a steady decline in defenders that average over 25 minutes per night.
Over the past five seasons, there have been between 11-14 blueliners who have played more than 25 minutes a night for their respective teams. This season it's barely at 10 with three just making the cut.
Teams are simply not relying on just one stud defenseman to get it done. We're now seeing teams spread the workload to two or three others. Thus we need to change our understanding and what defines a modern day No. 1 defenseman.
EDMONTON DEFENSE STATISTICS

PLAYER
GP
G
A
PTS
+/-
PIM
TOI
SH
P/GP
Oscar Klefbom
67
11
17
28
6
4
22:11
168
0.42
Andrej Sekera
65
7
20
27
7
18
21:35
104
0.42
Adam Larsson
64
4
13
17
15
42
20:12
71
0.27
Matt Benning
52
3
10
13
3
27
16:58
60
0.25
Kris Russell
53
1
6
7
2
19
21:23
51
0.13
Eric Gryba
34
1
4
5
-4
51
16:29
38
0.15
Darnell Nurse
30
3
2
5
-5
17
17:33
54
0.17
Mark Fayne
4
O
2
2
1
O
7:55
4
0.50
Dillon Simpson
3
O
O
O
O
2
10:53
2
0.00
Jordan Oesterle
2
O
O
O
-1
O
17:17
2
0.00
Klefbom's 11 goals this season are the most by an Oilers defenseman since Justin Schultz scored the same number in 2013-14. Schultz finished the year with 33 points in 74 games. If Klefbom can stay healthy, he's on pace for 13 goals and 34 points, and no Oiler blueliners have scored that many points since Sheldon Souray, Tom Gilbert and Denis Grebeshkov did that in 2008-09.
When it comes to advanced stats, his 5-on-5 points-per-60 (PTS/60) is an incredible 0.94, and his Corsi-for percentage (CF%) is 50.88 percent. Among defenders that have played a minimum 50 games and over 1,000 minutes, Klefbom's 5-on-5 save percentage (SV%) is .913. That's good enough for 66th among NHL blueliners with comparables to Justin Faulk, Dion Phaneuf, Cam Fowler, Kevin Shattenkirk and Dustin Byfuglien.
Klefbom's goals-against-per-60 (GA60) is 2.53, 64th amongst that same group and comparable to Alex Goligoski, Nick Leddy, and Roman Josi. It's not the worst company, and it paints a picture of Klefbom's place in the NHL.
Future Projections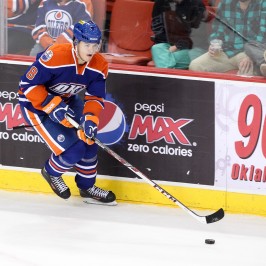 If management's strategy for the Oilers' immediate future is to stay the course with this defense by committee, they'll need offensive production from that same group. Klefbom is on the verge of becoming a 40-point defenseman, but beyond him and Sekera, the offense is sparse. Edmonton has promise in Matt Benning, who could one day become a consistent power-play producer, but neither Larsson, Nurse or Russell have shown offensive growth.
Right now Klefbom is an excellent hand, but he's not quite an elite-level defenseman. There are warts in his defensive game, and he's struggled against the more elite teams, as seen against Pittsburgh on Friday night. That said, we're talking about a young 23-year-old defenseman who has yet to play 200 games in the NHL. Through Klefbom's 170 career games, he's moving in the right direction, and despite injuries, he's been a 35-point defender over the last two years.
Finding a No. 1 defenseman is one of the most difficult things to obtain. The best strategy is drafting and hoping for someone in your development system to emerge. The other options are getting into a bidding war in free agency or the trade market. In the process you'd be giving up a ton of cap space or moving various assets. Edmonton just doesn't have the cap structure to get into that bidding war without taking a step back in other areas.
For Columbus to acquire Seth Jones, they had to move Ryan Johansen. For Nashville to acquire P.K. Subban, they had to move Shea Weber. For Edmonton to get Adam Larsson, they had to move Taylor Hall. The price is sky-high right now, and the Oilers have to start earmarking cap space for the future deals of Connor McDavid and Leon Draisaitl. Klefbom is currently making a very cap-friendly $4.16 million per season. We can comfortably call Klefbom a bonafide No. 2 defenseman on the cusp of becoming a real No. 1.
You can complain about the Oilers' defense as much as you want, but in reality, it's not as horrendous as you'd think. The defense has slowly become its deepest position in the organization. Klefbom, Sekera, and Larsson make a strong group, and the ceiling on the two Swedes has yet to be seen. If we're arguing about the need for offensive production, Benning, 22, can pick up some of that offensive slack in the future.
In the meantime, the Oilers stood pat at the deadline for a reason: there's belief in Klefbom one day becoming the real deal. In a year or two, we may not be talking about the Oilers' dire need for a top-pairing defenseman. Instead, we could be talking about how they've got one for a steal at $4.16 million. It's not all doom and gloom in Edmonton these days, and the future looks very bright.