With the end of the season fast approaching and the New Jersey Devils well out of playoff contention, the focus shifts to examining options for the future. There are several players toiling in Albany and junior hockey who are eligible for an extended look. Management should be cognizant of these players when making future roster decisions.
As of March 12, the Devils can make two more call-ups from Albany (emergencies notwithstanding) but can recall as many players as desired from junior hockey. The following three candidates could very well play for John Hynes' team before the close of the 2016-17 season.
John Quenneville
It's curious to see that Quenneville, despite being Albany's most potent point producer in his rookie season in the AHL, has only appeared twice for New Jersey in 2016-17. He did not separate himself from the pack in those two games, going pointless and minus-1, but only was afforded 17 minutes of ice time over that stint.
In Albany, Quenneville has been an electric playmaker, first on the A-Devils in assists and points with 29 and 40 respectively. All of these accolades come in his first season in the AHL. Moreover, he is seventh among AHL rookies in points and the second-youngest player in the top-seven.
A 2014 first-round pick lauded for his versatility, Quenneville is capable of playing both center and wing. His versatility does not compare to his hockey sense on the ice. He's comfortable with the puck and without it and plays a full 200-foot game. As one of the Devils' top future options at center, Quenneville is deserving of another opportunity this season.
The Devils are devoid of scoring and need something to catalyze chance creation. Quenneville is as good a candidate as any to rejuvenate an offense in desperate need of help.
Yohann Auvitu
Auvitu is a familiar face on the list. He played in 23 games – picking up four points – before being sent down to Albany in December. That transaction helped Auvitu gain his confidence, as he said, but did not lead to any more scoring in his most recent two appearances in New Jersey in January. Since then, Auvitu has 10 points and 59 shots in 21 games.
One of Auvitu's strengths is producing scoring chances – he's second among defensemen in Corsi/60. Only Damon Severson creates more shooting opportunities when on the ice. Some of that success may be a result of favorable zone starts, but he has outperformed Karl Stollery and Dalton Prout, who have had similar chances.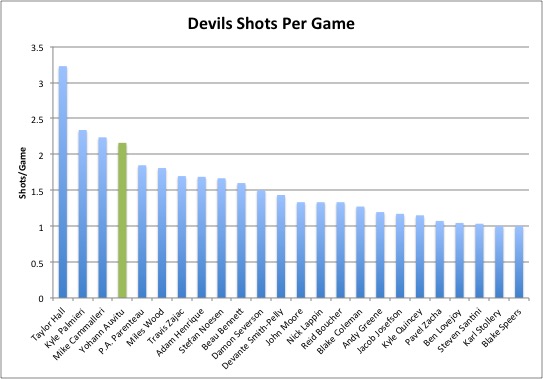 The Devils struggle to get offense out of their defenders. Auvitu offers scoring ability and can fire pucks on net at a healthy rate, with 2.2 shots/game. The defensive zone play is Auvitu's great downfall. In his first season of North American hockey, Auvitu has noticeably struggled with the game's defensive side. It will be interesting to see if Auvitu has made strides in that part of his game when he eventually reappears in New Jersey.
Blake Speers
Speers makes for an interesting case. The 2015 third-round pick appeared for the Devils in three games at the onset of the season before being returned to Sault Ste. Marie. If he is on the main roster for seven more games, then the Devils burn the first year of his entry-level contract. Additionally, the team cannot call up Speers until Soo's season is over. The timing of all this may make a Speers appearance in New Jersey unlikely, as the Greyhounds are second in the OHL in points.
While playing for Soo in 2016-17, Speers has scored 30 points in 26 games. Speers puts a considerable amount of power behind his shots and has good hockey sense, which is why his game could translate well to the NHL.
Updates on Devils prospects Michael McLeod, Blake Speers, Nathan Bastian and more https://t.co/7e4aSirBqF

— Chris Ryan (@ChrisRyan_NJ) March 4, 2017
The Devils' depth at right wing includes Kyle Palmieri, Stefan Noesen, Devante Smith-Pelly, and Beau Bennett. Palmieri is on pace for 54 points and remains one of the team's few consistent pieces. Noesen and Bennett have shown flashes of greater talent but are still struggling to separate themselves from a mediocre lineup. Smith-Pelly has not played up to expectations after his impressive scoring run last year (13 points in 18 games). Help is needed at right wing both right now and in the long run, and Speers could be the answer to both concerns.
The Devils are going through their greatest struggles of the 2016-17 season. The offense, especially, is in total disarray. Until management tries out some of its overlooked talent, the team will continue to play a stale, event-free brand of hockey. At the very least, an influx of youth could pull this team out of a long funk.