The Sabres are starting to become a healthy hockey club again.  That of course is the good news.  The bad news is that Buffalo has 8 healthy defenseman currently on the active roster.  Injuries have allowed them to avoid crowded blue line, but now they may be forced into making a move.  Buffalo can do one of two things to get out of this current bind; trade or waivers.  The question is, what path makes the most sense?
Waive Goodbye
Perhaps the path of least resistance would seem be to place a defender on waivers to send the Sabres AHL affiliate the Rochester Americans.  Two players make the most sense for this; Jake McCabe and Carlo Colaiacovo.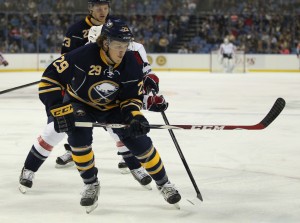 In regards to Colaiacovo, he would almost certainly clear waivers.  However, the issue is that the Sabres already have too many veteran contracts currently in Rochester.  This makes the idea of sending Colaiacovo down a moot point.
McCabe on the other hand would be able to play in Rochester, but I believe he is one of the top six blue liners on the roster.  Sending the 22-year-old back to the minors would only be a delay in his development.  He belongs at the NHL level and needs to learn more by getting ice time with NHL talent.  The former Wisconsin Badger has spent his time in the AHL and it wouldn't make sense to send him back down now.
Lets Make a Deal
While waiving a player may be the easiest route, the most likely scenario is a trade.  The trade deadline is only a few weeks away and it's not uncommon for deals to happen prior to deadline day.  General Manager Tim Murray has a few players he can look to move to bring in assets for his rebuilding team.
The first player who could be moved is Josh Gorges.  The veteran defender has two more seasons remaining on his current deal after this season.  The 31-year-old would bring back the Sabres the best return in any defenseman they'd be willing to move.  Buffalo will not look to just give Gorges away.  He's currently the leader of the defense group and the price would be high to acquire his services at this point.  Murray will certainly listen to offers on Gorges, but isn't searching out a trade.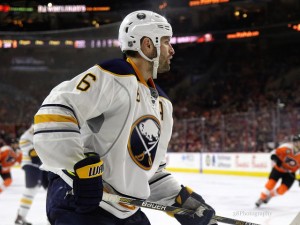 Another player who is likely on the trade block is Mike Weber.  Unlike Gorges, Weber is playing on an expiring contract.  The 28-year-old is playing perhaps the best hockey of his career right now.  He's shown the type of value he can bring to a team looking for a cheap 6th defenseman who can bring a physical side.  Weber only has a 1.6 million dollar cap hit according to our friends at capfriendly.com and pro-rated at the trade deadline would be a very inexpensive depth add for a contending team.  Depth defenders are always in great demand come the trade deadline for playoff bound teams.
The other current members of the blue line are unlikely to be moved off the roster this season.  Rasmus Ristolainen is an untouchable at this point in his career as he's developing into a premier top defenseman.  Mark Pysyk is another player who wouldn't be on the move unless it's part of a monster trade.  The Sabres like his game and he is a great fit in Head Coach Dan Bylsma's system.  I think Zach Bogosian could be moved in the right situation, but with his current contract situation that is very unlikely.  It also seems that Bogosian is starting to finally feel comfortable after the early season groin injury.  He's really elevated his game over the last month.
Bylsma mentioned this week that he plans to rotate 7 defenseman over the teams next 3 games in 4 days stretch.  If the group can stay healthy over the next week (not a given by any means) I think we'll see a move prior to the deadline to free up a roster spot.
Also read: Understanding Where the Sabres are in the Process
Chad DeDominicis was born and raised in Buffalo, NY. Chad is currently a Buffalo Sabres contributor for The Hockey Writers. He is an avid sports fan and is passionate about the game of hockey. Chad works hard to share creative and quality content with his readers.