There's no turning back now. Tuesday night, Elias Lindholm played his tenth game as a Carolina Hurricane, meaning he is officially in year one of his entry-level deal. Had he been sent back to Brynas of the Swedish Hockey League before the ten-game cutoff, his contract would have "slid", not kicking in until 2014-15. But it didn't appear that the Hurricanes entertained any notion of sending the young Swede back home.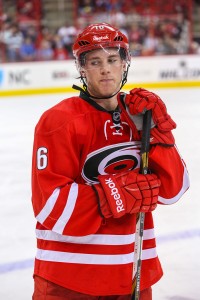 A trip to Charlotte, however, is a another story. Wednesday, the Hurricanes sent him to their AHL affiliate to get a bit more seasoning.
Lindholm, the fifth overall pick in June's NHL Entry Draft, has had an uneven start to his career. Though he's already notched his first career goal and assist, the latter on a beautiful passing play capped off by Nathan Gerbe, he's also missed five games due to injury.
"It's kind of tough," Lindholm said. "Everything happens so quick over here in the small rink. That was kind of bad timing on that hit, but what can I do? I just have to keep working."
He's also bounced around from lines two through four, playing with everyone from Jordan Staal to Brett Sutter. Perhaps his best chemistry has been forged with road-trip buddy Jeff Skinner, but their time together has been limited by injuries to both players. When paired, the duo has been dynamic. Lindholm's exceptional vision and passing meshes perfectly with the tempo of Skinner's game.
And vice-versa. Skinner was the one who assisted on Lindholm's first NHL goal. It was tough to tell who was happier — Skinner or the scorer.
Lindholm might be his own biggest critic. After suffering a 4-2 loss at the hands of the then NHL-leading Colorado Avalanche in which he won 64 percent of his draws and recorded a plus-one rating, he still wasn't happy with his play.
"I was so bad in the beginning," said Lindholm "In the third, I played alright, but I need to play better than this."
In Charlotte, he'll get the chance to work on the minute details of his game. While an excellent passer on the powerplay, his five-on-five play could use some work. Before being sent down, he held the worst even-strength shot-attempt differential of any Carolina forward not named Kevin Westgarth.
Off the ice, Lindholm has adjusted to the North American lifestyle. It doesn't hurt that he's not the only rookie on the team; Ryan Murphy is also in his first full professional season with the 'Canes. Skinner too is right around the same age, despite entering his fourth year.
"It's been great. Young kids can watch out for each other and help each other out," he said. "That's been good for me, having guys my age."
Just so everybody knows! You can now stop thinking about my drivers license.
Cause I just passed it!!!!!!!! #ryanmurphy #nobiggie #couple

— Elias Lindholm (@lindholmelias) November 4, 2013
In Charlotte he'll have even more teammates of similar age, as well as fellow countryman Victor Rask. Forging another relationship there should be easy.
Given the details of Lindholm's contract and the Hurricanes' penchant for injuries, it's unlikely that he'll be away from Raleigh for too long. The "demotion" should be taken as nothing more than a chance to learn. When he returns, hopefully he'll have learned to keep his head up, physically and metaphorically.
Andrew Luistro graduated from Appalachian State University. An avid sports fan, he began beat writing for the Sunbelt Hockey Journal, part of The Hockey Writers Network, with a focus on the Carolina Hurricanes. Andrew also actively follows the Boston Red Sox and Carolina Panthers, among other teams. Follow him on Twitter @ndrewL7