Carolina Hurricane fans watched first round pick Elias Lindholm struggle early last season. He showed promise as the season progressed, but was still very up and down. Coming into the season Lindholm was growth was a bright spot for the team. The preseason confirmed that with the young forward scoring 3 goals in a game against the Buffalo Sabres. So far Lindholm has not been a difference maker for the 'Canes. Has he regressed as a player or is he playing at the same level as early 2013? One month into the young season there aren't huge numbers to take away, but when looking at the stats, Lindholm has put up almost same numbers in his first two October's of the season.
October 2013
Elias Lindholm played in 7 games in the month of October in his 2013 rookie season. He registered only two points in those first seven games, and only registered two shots on goal. He was a minus-2 and was averaging 10.38 total average ice time for that first month. His first month didn't impress the Canes his rookie season and sent down to the AHL to find his game. His stats don't jump off the page but they look like identical to the numbers he is putting up this year.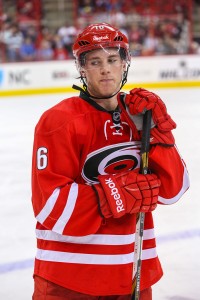 October 2014
Lindholm has played in all 8 games for the 'Canes in the first month of the season. He has only 1 point on the season and is at an uninspiring minus-6 . He is getting much more ice-time playing an average of 17.01 minutes a game mostly on the second line. The one stat that is looking up for the young Swedish center is that he has tallied 14 shots on goal this season. Lindholm is tied for 3rd on the team in shots on goal with defenseman Justin Faulk. The 'Canes as a team have had tons of issues with getting shots on a net this season. Watching the games you can see Lindholm getting more comfortable on the second line, but things just aren't clicking for the second year player.
For better or for worst
It isn't time to give up on the young Lindholm. He has played at the same level, and almost the same stat line as he did in October last season. His demotion to Charlotte in early November last season helped kick his offense game into gear, but the 'Canes can't afford to lose him this year. Thoughts of that three goal game in the preseason linger in the mind, and the team really needs that offensive production to start coming from somewhere. He has a steady line with Jeff Skinner and Riley Nash this season. Nash has been one of the most productive players on the team this year. Before Saturday's game Lindholm was practicing with a different line and maybe the new line will help kick-start his November.
#Canes forward lines: Tlusty-E. Staal-Skinner Gerbe-Nash-Lindholm Malone-McClement-Dwyer Boychuk-Rask-Terry Semin

— Michael Smith (@MSmithCanes) October 31, 2014
More time will tell if Lindholm will start to show some more life offensively for the team. The sophomore slump is a phrase thrown around a lot in sports. Calder Trophy winner Nathan MacKinnon was struggling with a sophomore slump until he broke out and scored two goals in a win against the Islanders. Lindholm played nowhere near the level of MacKinnon last year, but it gives hope that the young center just needs some more time, and spark to get going this season.
Philip is a Sports Journalist covering the Pittsburgh Penguins. Duquesne University Journalism Grad 2013.