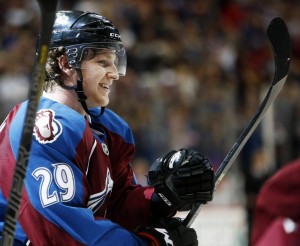 It has been a pretty horrifying start to the season for the Colorado Avalanche, especially for Nathan MacKinnon who hasn't scored a goal in the first 10 games of the season.Though, in the Thursday night game against the New York Islanders, MacKinnon finally lit the lamp, and the Avalanche looked more like the Avalanche of last season and less like the weaker team they've been in the early part of this campaign. Colorado will hope this win can springboard them back up the standings. Unlike their big win against Vancouver early last week which was followed up by a pair of frustrating overtime losses. More important for MacKinnon personally, he undoubtably hopes this game can see him break his slump and climb the NHL scoring leader board.
MacKinnon came into the league last season with sky-high expectations, and for the most part,  he more than lived up to them. This season his expectations have been raised even further. Many have commented that he's a bigger, stronger player this year. He spent the off-season gaining more than 10 pounds of muscle . During the pre-season he looked remarkably strong on the puck, but he didn't seem to have lost any of his dynamic speed. But as with Colorado's early season struggles, MacKinnon had some trouble contributing at the rate many people were expecting.
MacKinnon hasn't been held scoreless without any effort on his part though. In 82 games last season he averaged around 2.9 shots per game, and so far this season he's averaging about the same. His shooting percentage has dropped though. Obviously before scoring 2 against the Islanders his percentage was at 0 percent, but now it's up to 6.3%. MacKinnon has been getting his chances. Colorado now has to hope that his scoring will continue now that the ice is broken. In the 3rd MacKinnon nearly had his first career hat trick, but was denied by Islanders goalie Chad Johnson. All this is encouraging for Colorado.
While MacKinnon's expectations are higher this year, than they were in his rookie season, he also had a slow start last season when it came to putting up the goals. His goal tally after 11 games this year is exactly 1 goal higher than it was after 11 games in the previous campaign. The issue is that the rest of the Colorado offense has struggled at times to put up points. Not as many critics will notice MacKinnon's lack of scoring when the team was scoring 6, for example, as they did in last year's season opener.
MacKinnon: now has 2 goals in his first 11 games….had 1 in first 11 last season….so technically, he's off to a better start in goals.

— Mike Kelly (@MikeKellyNHL) October 31, 2014

With the departure of Paul Stastny, MacKinnon has also been asked to do more for all 200 feet of the ice. Against the Islanders there were occasions when he was sent out to win a defensive zone draw. He only won 33% of his draws against New York, but in his previous 3 games he had won more than 50% of his face-offs in each contest. No one's watching MacKinnon for his face-offs though, it's just a part of his game. But his scoring is what gets fans out of their seats. Both his goals against the Islanders showed either his patience or his nose for goal, depending on which one you're looking at.

His first of the year came on the power play. A goal mouth scramble saw the puck fall to him, and with the kind of patience you don't normally see from a player in a goal drought, he took his time and found the right moment to place the puck into the top corner. His second of the year came from a great feed by Jarome Iginla. MacKinnon made his way to the front of the net and directed a centering pass from Iginla, who had come in on the forecheck, past Chris Johnson.
The Colorado Avalanche need Nathan MacKinnon to have a big season. His emergence has a premier center is something that Colorado are hoping will happen this season. With Matt Duchene reunited with Ryan O'Reilly, Patrick Roy is hoping those two will reignite the chemistry that made them so dangerous last year. If MacKinnon, on that second line, can start to put up the big number that people know he's capable of, then Colorado can start turning their season around.
MacKinnon is said by some to be a big game player. He made a big splash in the Memorial Cup two years ago, and announced himself to the NHL with a pair of stellar performances in the playoff's last season. If MacKinnon is that kind of player, then Colorado better hope that his two goal performance against the Islanders was the game that opened the flood gates.
Born and raised in Denver, I'm a writer covering the Colorado Avalanche. I have a degree in Journalism from Northern Illinois University.