Remember Brian Elliott's awful .882 save percentage in his first 12 games? Back then he was keeping the Calgary Flames from the playoffs. Not anymore. Today, Elliott and his recent back-to-back shutouts are a big reason why the Flames find themselves in fourth place in the Western Conference with a grasp on home ice advantage in the playoffs for the first time in 11 NHL seasons.
There are a lot of reasons why the Flames have a nine-game win streak going but none of them are bigger than Elliott's incredible string of performances between the pipes.
Brian Elliott since all-star break:
– Wins: 12 (1st)
– GAA: 1.86 (2nd)
– SV%: .936 (3rd)
– Even-Strengh SV%: .943 (3rd)
– Shutouts: 2 (3rd)

— Darren Haynes (@DarrenWHaynes) March 12, 2017
"I think everybody is approaching it a game at a time and building those two points at a time," Elliott said, according to Scott Billeck at NHL.com. "We have to keep doing the same things. You can't sit back and look at the little run we've been on. You have to look forward to the next game."
It's obvious the Flames have changed their mentality as a hockey team since the all-star break. They have gone from being a fragile hockey team that often gave up the first goal and that had difficulty winning on their own home ice to a composed, efficient and more disciplined group that has all four lines contributing in different ways. It's a change that has simplified the job for Elliott and that's brought much-needed consistency and poise to the Flames organization especially when it comes to their defensive pairings.
Worry in Winnipeg
On Thursday night, the Flames played what was probably the single best game of their entire season when they blanked the visiting Montreal Canadiens by a 5-0 score. As usual, Elliott continued to play well for the Flames but on this night, he only faced 24 shots, which really speaks to the defensive improvement that has occurred since Michael Stone and Matt Bartkowski were added to the lineup in mid-February.
However, the dominant victory was overshadowed by two injuries in the second period to Flames defensemen Dougie Hamilton and to Stone. At the time, both injuries looked very severe with Hamilton breaking his stick in frustration as he skated to the bench on one leg and Stone heading immediately down the tunnel with a limp arm after taking an open ice hit. Flames fans collectively held their breath and speculated for hours about the extent of the injuries until it was confirmed in the post-game show by assistant coach Martin Gelinas that Hamilton probably would return "sooner than later" from his injury.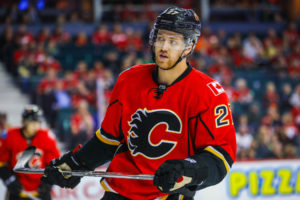 Still, without any word on Stone's status and with Hamilton being a game-time decision for Saturday night's contest in Winnipeg, there was a lot of anxiety in the air leading up to puck drop. In the end, Hamilton was able to play after it was confirmed that he received a cut on his leg that narrowly missed his Achilles tendon while Stone was out of action with the team called an upper-body injury.
This lead to the return of the much maligned Dennis Wideman to the lineup and even though the Flames didn't look nearly as dominant or composed as a group, they still managed to hold together defensively to pull off their ninth victory in a row. It wasn't pretty though and if not for Elliott, who really kept the Flames in the game in the first period, the game could have had a much different result.
Still, Elliott sealed the victory with a second consecutive shutout by making 31 saves. After that, the Flames got rolling thanks to two power play goals scored by the 3M line of Mikael Backlund, Michael Frolik and Matthew Tkachuk, to go along with a three assist performance from Hamilton. For Backlund and Hamilton, it was a record-breaking night as both set career highs in points at 48 and 44, respectively, with 14 games still to go in the season.
"You know what, Dougie was in a lot of pain and there was a time there we were going to shut him down there in the third," Flames head coach Glen Gulutzan said, according to Billeck. "He did a really good job, ended up with three assists and was effective. I thought he did a great job."
Looking ahead to the Penguins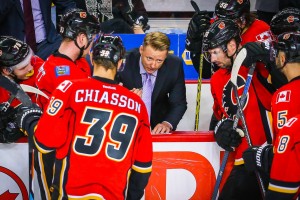 A nine-game win streak is a first for the Flames franchise since they came to Calgary from Atlanta back in 1980. However, the actual franchise record for consecutive wins stands at 10 when the Atlanta Flames went undefeated from Oct. 14 to Nov. 3, 1978. On Monday night, the Flames will look to match that total against one of the most difficult opponents in the NHL when Sidney Crosby and the Pittsburgh Penguins come to town.
Thankfully, the Flames can already say they have beaten Pittsburgh once this season when they squeaked out a 3-2 shootout victory on Feb. 7th at the PPG Paints Arena. This time, they will try to do it again on home ice but it will be a harder task defensively as they still are expected to be without the services of Stone for the game. Can Wideman's veteran experience help the Flames as they struggle through their recent injury woes or will his slow foot speed cause confusion on the ice as other players struggle to cover for his lagging positional play?
It's hard to know for sure. Wideman looked solid enough in his last outing against the Jets. However, it's probably a safe bet the Flames will need another outstanding performance from Elliott in net to go with a varied and effective attack from their top nine forwards in order to keep this impressive win streak alive.
Jon is a Calgary resident and life-long Flames fan who is a new contributor on TheHockeyWriters.com. You can follow Jon on Twitter @sportfanyyc where you'll probably learn a bit more about sledge hockey as well.