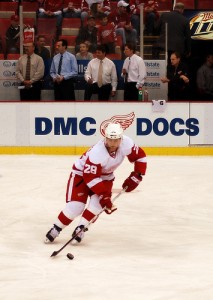 Dearbon, Michigan native Brian Rafalski was elected to the United States Hockey Hall of Fame on Wednesday.
The 40-year-old had 79 goals and 436 assists in 833 NHL games with the New Jersey Devils and Detroit Red Wings. He won two Stanley Cups with the Devils, one with the Red Wings and two Olympic silver medals with Team USA.
It's hard to believe a defenseman coming out of the University of Wisconsin who was named to the WCHA first all-star team, the NCAA West all-star team and the WCHA Defensemen of the Year wasn't drafted.
Instead, he continued to hone his skills in the Swedish and Finnish leagues. Finally, the Devils signed him for the 1999-2000 season. At 5-foot-10, 191 pounds, Rafalski wasn't a menacing force on the blue line, but what he lacked in size he made up for in sound defensive play.
Playing Style
Rafalski's playing style suited the Red Wings. The Red Wings were — and still try to be — a puck-possession team, and Rafalski had the skills to move the puck out of the defensive zone and make tape-to-tape passes to his teammates.
He and Nicklas Lidstrom were one of the best defensive pairings in the league and might be one of the best in history. Lidstrom, although very sound defensively, also had a knack for finding shooting lanes while on the power play.
Rafalski's right-handedness also helped keep penalty killers off balance, as they two would switch sides constantly in order to create shooting lanes. It's no doubt a big reason why general manager Ken Holland has been adamant in adding a right-handed shooting defenseman to the current team.
Legacy
Ever since Rafalski retired in 2011, the Red Wings have struggled to find a right-handed shooting defenseman who could live up to Rafalski's stature.
He never missed the playoffs during his NHL career, and his 515 career points are 10th-best among American-born defensemen, according to MLive.com's Brendan Savage.
Rafalski also is one of the most humble guys to play the game. He had this to say about the time he spent in Detroit and around the league.
It was great to play in front of family and friends and have the opportunity to play with other great defensemen like Nick Lidstrom and Chris Chelios. Throughout my whole career I had the opportunity to be coached and play with some of the best defensemen of all-time, going to back to Slava Fetisov, Larry Robinson, Scott Stevens, Scott Niedermayer and Ken Daneyko in New Jersey.

Going to Detroit, there was Mark Howe and Larry Murphy. Just being around the locker room when those guys would come through and playing with Chelios and Lidstrom, I've had so many different influences and people to learn from. I just tried to absorb all that.
He didn't get the recognition or star power of Lidstrom or Scott Niedermayer, but he'll go down in history as one of the best defenseman not only in United States hockey in history, but in NHL history.