The Erie Otters have now played ten games in the 2017-18 season. We have a far clearer picture of how this team is shaping up, but there's still a lot of unknowns to look forward to in the coming weeks and months. Much of the Otters' success will have to come from the successful integration of key new pieces, coupled with the influence of veteran players still on the roster.
This is a younger Otters team, with the average age being under 18. Players with more experience under their belts are transitioning into their newfound roles as veteran leaders, on and off the ice. At 18 years old, Josh Wainman qualifies as one of the older, veteran players on this team, a role which he is embracing.
"The older guys have definitely been a big help going into this league," Wainman recalls, "and I try to give back to the young guys now that I'm kind of an older guy on this team. I just try to help them out as much as I can." Already, the Otters vets are proving more than capable of effectively leading this younger team, as first evidenced by their season-opening 5-2 win over Peterborough in which Ivan Lodnia, Christian Girhiny, and Taylor Raddysh all produced goals.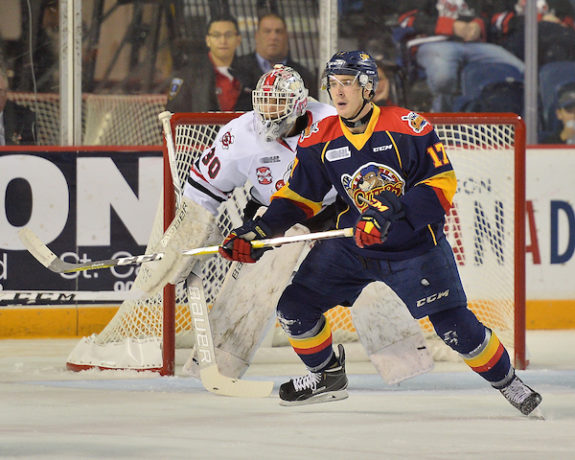 Future NHL-er Taylor Raddysh is just one of three players on the team that have already hit double-digit point production numbers in ten or fewer games played this season. He's scoring the big goals, like the overtime winner against the Niagara Ice Dogs in the Otters' most recent game, and he's been a big-time leader off the ice as well.
Raddysh started out on a line with left winger Kyle Maksimovich, who leads the team in points, centered by Minnesota draft pick Ivan Lodnia, who leads the team in goals. Raddysh sustained a shoulder injury that took him out of the lineup for one game and has since switched to Gera Poddubnyi's line. Those line combinations proved highly effective against the London Knights, a game in which the Otters won 5-2, so Coach Hartsburg has subsequently been playing Raddysh on Poddubnyi's wing and experimenting with left-wingers, rookie Maxim Golod flanking him most recently.
Rolling Out the Rookies
The Otters' rookies are already seeing some big minutes on the ice as they are quite simply needed right now; it looks as though they will have to be developed on the fly. There are no complaints from them, however, as the younger guys are all excited for the opportunity to contribute more on the ice for the Otters. The rookies are especially grateful for the mentorship of the older players on the team; their advice and little tips on the ice go a long way.
Emmett Sproule, the Otters' first-round draft pick from this year, is no exception. He names off Taylor Raddysh, Owen Headrick, and Kyle Maksimovich as some of the veteran players that have taken him under their wings. "All those older guys have really taught me what it takes [to play in the OHL]," Sproule divulges. "They've been here, last year winning the championship, so they're giving me little tips on the ice, like what good play to make, and it's a big help."
Sproule emphasized the drastic change of pace as an aspect that takes some getting used to when transitioning to playing in the OHL. "It's way quicker than Minor Midget, you know, [there are] bigger bodies out there. It's just faster, and everyone's good out there. It's different." It's a challenge he feels he is up to, though, and has set big goals for himself and his new team. "I want to win the OHL championship," Sproule states. "As for me, I want to try to go for Rookie [of the Year] or point-getter, but it's all about team first." Sproule models his game after Maple Leafs winger Mitch Marner. "He's smaller and skilled like me," Sproule muses, "[He has] good hockey IQ and I feel like I fit that [profile]."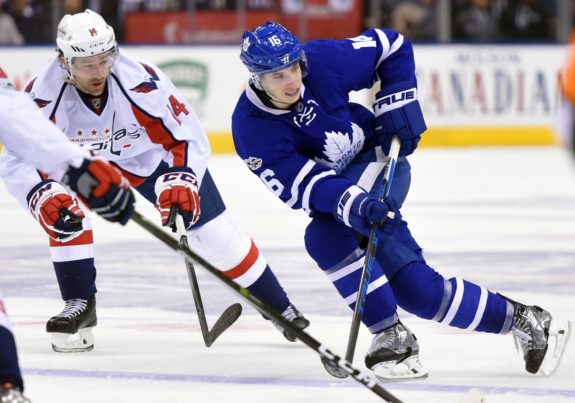 Fortifying Defense with Young Blood
I expected to see some younger guys playing big minutes on defense this season as well, alongside the likes of Owen Headrick, Josh Wainman, Jordan Sambrook, and Mitchell Byrne. Jack Duff has stepped into a much bigger role with Erie this year after recovering from a serious knee injury last season with the Chatham Maroons of the GOJHL.
Duff played a couple games with Erie early in the season last year, so he had already been briefly acquainted with the speed of the OHL prior to stepping into the role of top-six defenseman with the Otters. He knows what he has to do to play at this level: "You've got to make decisions a lot faster. [Keep your] head up," he emphasizes, "[head] has to be up, all the time." Duff also stresses the team-first narrative put forth by Sproule; his goals for the season are "working hard and being the best I possibly can, doing anything I can for the team."
Filling the Holes With New Pieces
The Otters picked up forward Alex Gritz from the Sault Ste. Marie Greyhounds in exchange for two future picks right before the start of the regular season. Gritz played last season in the OHL with the Soo, so while he's a new face on the Otters, he already has a full year of OHL experience under his belt. Gritz seems to already be meshing well with the Otters' style of play, scoring a goal in Erie's first game of the regular season against Peterborough (9/21).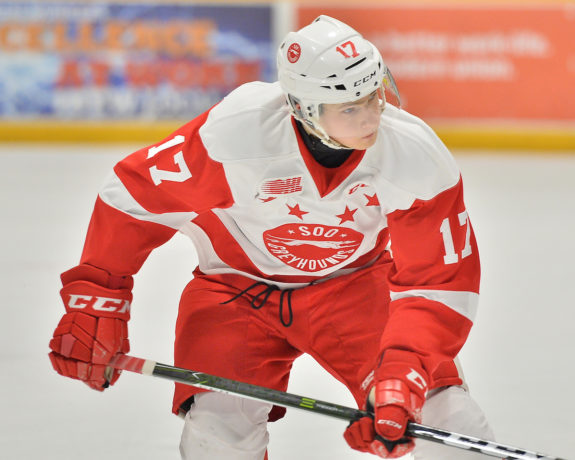 Gritz centers the 4th line, most recently tallying an assist in the Otters' last game against Niagara. The Pittsburgh area native models his game after Sidney Crosby, who he watched and idolized growing up. Gritz is happy to be here, acknowledging the hospitality he's been shown from his billet family and his new teammates. "They've been awesome. They've shown me around, told me a lot about the city, a lot about the team, and that's made the transition very easy and I'm really happy about it and excited."
All in all, this Otters team fully realizes that they are not the same high-powered, offensively-stacked team from years past, but don't count them out. They're figuring out how to adapt and are starting to win games, with flashes of greatness becoming more and more frequent as the season progresses. I expect they will only get better as they play more games together and develop line chemistry and confidence in new head coach Hartsburg's modus operandi.
Erie/Pittsburgh, PA | Erie Otters; Junior Hockey | Editor-in-Chief of The Grizzled Vet | Formerly: University of Pittsburgh D1 Hockey Journalist