Gary Bettman may have some influence on the changes being made to the NHL Draft, but the biggest influences are coming from the other side of the pond.
Thomas Roost is an NHL talent-scout from Switzerland, employed by Central Scouting Europe for 20 years and he speaks with The Hockey Writers about the internationally renowned Auston Matthews. "He's unbelievably professional in interviews," says Roost. "He might already have tons of media relations lessons – his answers are usually very boring for the media guys. He never tells something wrong or unpredictable."
Sitting in a small room next to a small bed with probably the smallest bathroom in Europe, Roost is currently scouting for talent at the Five Nations Tournament, which is happening from February 9 to 13, 2016. "The tournament isn't good," he adds in. "Switzerland is here with some sort of A to B team and Finland, with either a B to C team. However, Sweden has some players who have a chance to get drafted in mid – or later rounds. Actually, there's likely not even one first-rounder at this tournament, but this is exactly the challenge for scouts. The first-rounders are the easiest parts of a scout's job and the real value of scouts comes out with picks in the later rounds."
The major U19-tourney will be played in Deggendorf, Germany. First game starts in a hour, SWIvsFIN

Team Sweden; https://t.co/xTLGhPcoWf

— Red Line Report (@daredlinereport) February 9, 2016
Roost is a lonely wolf doing his everyday job. "It's not the glamor of a World Junior Championship (WJC) U20 tournament in Helsinki or Toronto," Roost tells The Hockey Writers. With any luck, though, he'll find one or two good ones at the tournament being held in Deggendorf, Germany.
The European Invasion Begins
Scouts have a keen eye with unfailing precision for determining a player's potential in the future. These days, European scouts are getting a lot more attention than they used to. Anybody with a half decent ability to envision the domino effects of change in the NHL could see that a European invasion was bound to happen. It was merely a matter of time.
Beginning with the import draft, European players have been crossing overseas in pursuit of their hockey dreams: to play professionally in the National Hockey League. Over time, they began to bring with them a European style-of-play and eventually, this style became useful enough to the North American game that strategies to win championships included the study and preparation for opposition comprised of predominantly European players and their familiarizing ways.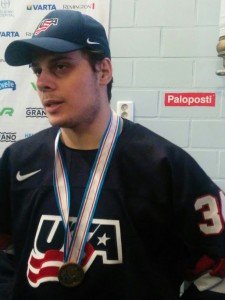 Today, we are beginning to see the role of European and North American players reverse, as the ability to play both styles of hockey becomes increasingly important. On top of that, the top three projected NHL Draft picks are currently playing hockey in Europe:
Auston Matthews, ZSC Lions of the Swiss National League A
Patrik Laine, Tappara in the Finnish Liiga
Jesse Puljujärvi, Kärpät in the Finnish Liiga
Look at Auston Matthews for instance. "From the team, I hear that he's pretty easy going," says Roost. "He doesn't act like the star. He's soft spoken and just an average, nice guy like other 18-year-olds."
He's also projected to be the No. 1 overall draft pick in the 2016 NHL Entry Draft in Buffalo, New York this summer and even though he was born and raised in the United States, he decided to play his pre-entry draft year in Switzerland – a decision that caused a lot of drama in the hockey world. "This decision discussion might be a bit overrated because Matthews is just a good player," says Roost. "He could already play in the NHL right now – there's no question about that for me. I don't think that his qualities would be significantly different if he had chosen to play in the NCAA, or Scandinavia, or wherever. Yes, he did improve under the eyes of former NHL Coach Marc Crawford, but would he not have improved elsewhere? I guess he wouldn't be much better or worse elsewhere. Matthews is Matthews."
Eyes on the NHL Draft Prize
Obviously, Matthews has a lot of skills honed under his belt by this point, but which ones has he mastered over the course of being in Switzerland? Roost tells The Hockey Writers that he plays much better without the puck now. "I've already seen him play six times in two U18 WJC tournaments before he arrived in Switzerland. Since his arrival here, I've watched his games every two weeks on average, partly in the arenas and partly with the live broadcast on TV," says Roost. "In addition, I did watch him play three games at the U20 WJC in Helsinki (at the arena and two games via live-stream). So, I guess I've already 'over scouted' this player. I've watched him much more than what is expected from a scout, but I just love watching him play… I follow him now because I'm some sort of a fan of his. Of course, come the playoffs, I'll go back to being serious because it'll be interesting to follow how he does when the intensity level is raised."
Even though there was some concern about Matthews' decision to play his pre-draft year in Switzerland, he's clearly proven himself capable of standing on his own two feet against grown men. Some industry experts have even said this will raise his stock value at the NHL Draft, but I keep wondering if this actually improves his unique value proposition in the eyes of NHL clubs. Perhaps his decision to play for ZSC Lions of the Swiss National League A this years has more to do with learning an unfamiliar style of playing the game? "He's started to position himself much better lately when he doesn't have the puck in his own end and this has given him more chances to get the puck in the defensive zone and carry it through the neutral zone, which he now does with ease," Roost continues on. "I also think that before the season, he was just an average to good shooter, but now he shows really pro-shots. Now, he's a very good shooter."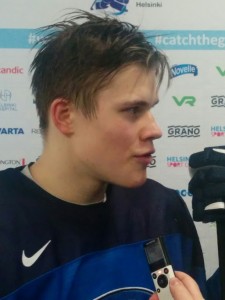 Roost also tells The Hockey Writers that Laine is "the one big rival for Matthews in terms of being called the first overall pick come June." If you were to compare Jesse Puljujärvi, Patrik Laine and Auston Matthews to one another, though, what would be their biggest differences in terms of skill sets? "Laine is the best shooter and scorer of the three," says Roost. "He shoots the puck unbelievable well (wrister and one-timer) and also makes big-sized moves and that's what makes him so dangerous in one-on-one situations. Laine is the more natural scorer; more so than Puljujärvi… I guess Puljujärvi is probably the best skater of the three and he plays an already developed two-way game," Roost continues.
"Matthews is the best in terms of being strong with the puck. He shields the puck very well in the corners and along the walls and uses his body to drop off attacking players in these situations. He is unbelievably strong with the puck – a bit like Jagr. Maybe Laine has the highest upside of the three, but he probably also has  the highest risk potential of these players. Matthews is in my eyes the surest thing. Puljujärvi is also a sure thing as an NHL player, but it's not clear yet in what role. Laine is a scoring machine with the ceiling of a 50 goal-scorer in the NHL, but he is still a bit raw."
Matthews & His 200-Foot Game
There's been a lot of hype this year about the 200-foot game because of the NHL's advent of 3-on-3 overtime. Now, greater value is placed on these types of players since they're becoming more necessary for winning championships. So how's Matthews' 200-foot game coming along? "He started to play better all over the ice," says Roost. "I already mentioned his improvement without the puck. What might be still something to improve upon is his intensity level without the puck. He hardly doesn't hit and he doesn't block shots a lot. He usually isn't involved if the going gets tough, but he is so skilled. It might be not wise for him to put himself in dangerous injury possibility scenes, but for the NHL he needs to raise the intensity level by getting a bit more gritty."
Matthews' decision to play his pre-draft year in Switzerland was likely the best decision he could have made in terms of securing the number one spot at the NHL Draft this June. Although his developed would have still improved a great deal no matter where he ended up playing this year, the decision to play in Europe has diversified his game in ways in which very few elite North American ever will.