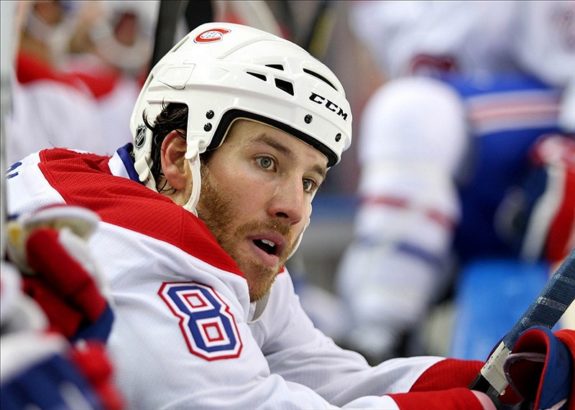 It's no secret that the Montreal Canadiens have exceeded expectations thus far in 2013. Now at the mid point of the season, the Habs still sit in first place in the Eastern Conference after finishing 15th in the conference last season. There are several factors to consider when evaluating why they're so much better this season, & we'll highlight those here as well as assess the Canadiens needs heading towards April 3rd's trade deadline.
Reasons for the Canadiens Improvement in 2013
– Brandon Prust : It is very difficult to truly measure the total impact Prust has had on the Canadiens this season, but there isn't anybody out there who will debate how important he's been to the team's success. The former New York Ranger leads the team with a +13 rating & 81 Penalty minutes. He's also got 9 points and 61 hits to go along with those numbers. However, what Prust has really brought to the table can't be measured by simple stats. He's brought an element of team toughness the Habs have been lacking for years. He seems to have that "Gel" factor that most teams look for in their players. We see more evidence of this by looking at the Rangers tough start without him this season. It will be interesting to see how the Canadiens play over the next 2 weeks without Prust, and who will step up in his absence, but it's definitely clear that he has made a significant impact on this team.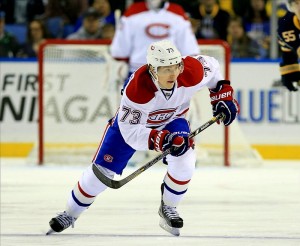 – The Rookies : Since the start of the season there has been all sorts of buzz around the Canadiens rookie duo of Alex Galchenyuk & Brendan Gallagher. Most experts felt that Galchenyuk had a shot to make the team out of camp, and that Gallagher would be sent back to Hamilton. Now almost 2 months later, and it is Gallagher who has really made a name for himself in the lineup and across the NHL. Standing at only 5-9, the feisty winger has made a living in the dirty areas and is now riding shotgun on the team's top line. As for Galchenyuk, while his elite level talent is on display every night, he seems to have slowed in recent games. This is understandable for a 19 year old player who missed the entire 2011-2012 season due to a serious knee injury. With that being said, it is clear that these 2 rookies have made their presence felt in the lineup and are both a big reason why the Canadiens have started off so well this season.
– Team Health : With the exception of Rene Bourque & Raphael Diaz, the Canadiens have been relatively healthy all season. It is very evident that having a healthy Andrei Markov and Brian Gionta in the lineup has really helped the team remain consistent. Markov seems to be the key ingredient to the Habs Power Play and has been for the last 6-7 years. Whether he was feeding the puck to Souray, Streit or Mathieu Schneider, the 34 year old Russian D-man has always been biggest factor in MTL's PP success. Now in 2013, after several knee surgeries, Markov's skating is not what it once was, however he is able to compensate with his great Hockey sense. He is also one of the biggest reasons for young PK Subban's success on the Power Play so far. As for Gionta, he gives Tomas Plekanec a steady winger, something he lacked all of last season. While not the same player he was in his younger days, he is still proving to be an effective 2nd line winger with 9 goals on the season.
– Culture Change : Perhaps the biggest reason for the sudden turn around of the team has to be the change in team culture from the top down. With a new management team & coaching staff in place, it is very evident that accountability is now being preached by everyone. The coaching staff demands hard work from it's players, and will not be afraid to sit anybody down if they feel that they aren't buying into the team's system. General Manager Marc Bergevin has made several moves early on in his tenure that clearly demonstrate he will do whatever it takes to ensure his team is competitive in the new NHL. With the organization stressing team toughness and accountability on all levels, there is no telling how far this team can go.
Heading into Trade Deadline on April 3rd 2013
One of the more intriguing topics in recent days has been around what the team can do to improve even more this year? With the Canadiens sitting in 1st place, Habs Fans are surely expecting the team to be buyers at the upcoming trade deadline. While that might be the case, it's also possible that GM Marc Bergevin will simply stand pat. He likes the chemistry on his team, and has already made a move by acquiring former Hab Michael Ryder. Bergevin will not want to make any drastic moves that can change the chemistry in the locker room and he will most certainly not give away the future for a "Rental".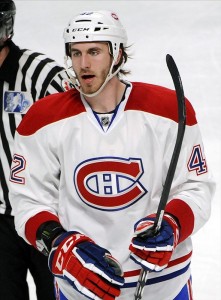 When looking at the make up of the Canadiens this season, there are two specific areas that the team can probably benefit from with some additional depth.  Some size and grit for the bottom 6 that can help in the faceoff circle, & some physicality on defense. There should be plenty of options available to the GM between now and April 3rd to help fill that void. Perhaps, they can fill some of it internally with Diaz coming back from injury and by giving Tinordi a shot later in the season. Getting Bourque back will also help with the size issue up front, however the Canadiens still need plenty of help in the faceoff circle. A name I'd like them to consider is center Paul Gaustad of the Nashville Predators, if the price is right. He's big, strong and great in the Faceoff circle at 61% this season.
No matter what Marc Bergevin decides to do, it's clear that this team has a bright future and he will continue to build towards long term success. If he can improve the team today without mortgaging the future then he won't be afraid to make that happen either. The next few weeks should be very interesting for everyone around the Montreal Canadiens.