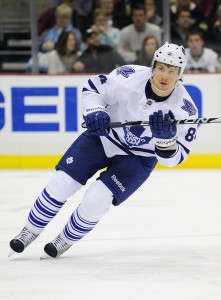 With the NHL's trade deadline quickly approaching (April 3rd, 3:00pm), chatter is heating up on the Internet and in NHL's circles on which teams will be buyers or sellers.
While Toronto Maple Leafs general manager Dave Nonis has to be happy with his teams' results thus far, there is every indication that he could be both a buyer and a seller at the deadline.
With both Mikhail Grabovski (six goals, 11 points) and Nikolai Kulemin (two goals, 13 points) struggling to light the lamp, Nonis could be looking for some additional scoring help. And, like most NHL clubs, acquiring some depth on defense could also be appealing to Nonis.
Grabovski is in the first year of a five-year/$27.5 million contract, which (according to CBC.ca) includes a modified no-trace clause which allows Grabovski to supply the Maple Leafs with a 10-team no-trade list. Grabovski's struggles this season might be detrimental to his trade value, but his overall career has been fairly consistent, scoring 20 goals or more in three out of the last four seasons and he's a safe bet to net between 45-50 points per season.
While Grabovski's contract may scare a few clubs away, he could be a difference maker on a contending clubs second line, which may spark some interest from clubs.
Meanwhile, after posting some exceptional numbers in the KHL with Metallurg Magnitogorsk (14 goals, 38 points in 36 games played), Nikolai Kulemin has yet to find his scoring touch since joining the Maple Leafs, posting two goals and 13 points through 26 games with the Maple Leafs this season.
Kulemin looked to be rounding into a serious scoring threat when he registered 30 goals and 57 points through 82 games with the Maple Leafs in 2010-11. Kulemin followed up his career season with an eight-goal/28 point effort through 70 games in 2011-12.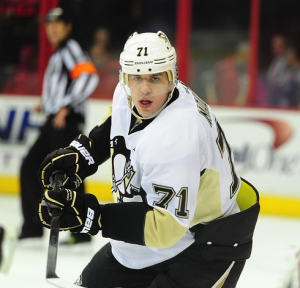 Having played with Pittsburgh Penguins super star Evgeni Malkin with Metallurg prior to joining the Maple Leafs and during the lockout, there could be a fit here. That said, Nonis may be banking on Kulemin finding his goal scoring touch and also may be hesitant to strengthen a Conference rival by trading Kulemin to Pittsburgh.
If Pittsburgh could offer Nonis fair value for Kulemin he may be prepared to pull the trigger on the deal. Some of the assets that may entice Nonis should include prospects Beau Bennett (RW), Olli Maatta (D) and Joe Morrow (D) or the Pens first round draft pick in the upcoming draft. That may sound like a steep price for the likes of Kulemin, but when you consider Kulemin's potential, chemistry with Malkin and the impact he could have on the Pens chances of winning a Stanley Cup, he is worth the price/risk.
If Nonis chooses to add players at the deadline he will likely have to consider trading away some of his young assets. Despite his struggles with concussion symptoms, Jake Gardiner would attract plenty of interest. Gardiner has failed to crack the Maple Leafs lineup for much of the season due to his lingering concussion issues and his struggles in his own end, which needs improvement.
Other prospects that would get some interest from rival general managers include, Joe Colborne (C), Carter Ashton (RW), Stuart Percy and, of course, Morgan Rielly (who is not going anywhere).
Nonis might also choose to look at potential offers for defensemen Cody Franson, Mark Fraser and Carl Gunnarsson. All three have been playing well (especially Franson and Fraser), all three will be restricted free agents this summer.
Another player Nonis will have to consider moving is Tyler Bozak, who is an unrestricted free agent this summer. Given his strong play this season and the lack of depth at the centre position on the Maple Leafs' roster Nonis would love to hold onto Bozak. That said, if Nonis gets the idea that Bozak will not resign with the Maple Leafs he will have to consider moving the talented centre or risk getting nothing in return for his valuable asset.
Bozak would be the perfect addition for any contending club looking to add scoring depth and/or a player that can often dominate in the face off circle the way Bozak does on most nights.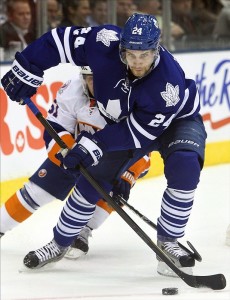 Defensemen John-Michael Liles and Mike Komisarek and forwards Clarke MacArthur and David Steckel could also be on the move. Don't expect a big return for any of these players, with Liles and MacArthur likely bringing the best return of the foursome.
Liles could be a nice pickup for a team in need of defensive depth and leadership, while MacArthur (who will be a UFA this summer) could be an appealing player for a playoff team in need of secondary scoring/forward depth. Both players could bring in a third round pick or a mid-tier prospect if Nonis is lucky.
Steckel is a good faceoff man and brings a measure of physical play to the table. As a depth forward Steckel could be valuable to a playoff team. Meanwhile, Komisarek (who has a no-trade clause and a hefty contract) will likely need a small miracle to happen if an NHL team is to trade for him. Odds are, Komisarek stays put with the Leafs.
Known as an honest, opinionated and trusted writer, Mark Ritter brings a unique view on the Maple Leafs and the NHL in general. Mark has been writing about hockey for almost ten years and is known for bringing an honest view on the Maple Leafs. You can view more of Mark's work at www.theslapshot.com
Please follow Mark on Twitter: @theslapshot