Once Tim Murray uttered his carefully chosen words at the 2015 NHL Entry Draft, "Buffalo selects Jack Eichel," the excitement and anticipation were rampant for the second overall draft pick.
Eichel, a Hobey Baker Award winner at Boston University, was the next big fish after the Edmonton Oilers chose Connor McDavid. Like most players not named Evander Kane on the Sabres, Eichel is having a rough start to the 2017-18 season, with just one goal in his last nine games.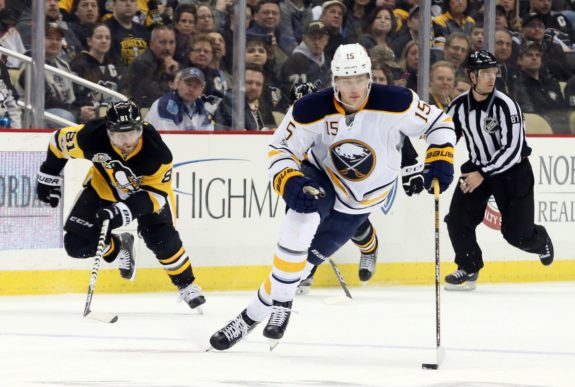 Right now, though, it's Eichel's former Terrier linemate, Evan Rodrigues, that's adding some much-needed offense to the Sabres.
Adding Offense
Since being called up on Dec. 4, Rodrigues has been dynamic. He's scored two goals and an assist in four games. Both of his markers came in an overtime loss to the Blues. Two days later, he added an assist in an overtime loss to the Chicago Blackhawks.
Evan Rodrigues now has 3 points in 3 games played – 2G, 1A – including this goal that tied it up late. #Sabres pic.twitter.com/a4CC2H96l2

— Buffalo Sabres (@BuffaloSabres) December 11, 2017
In four games, he already has more goals than Zemgus Girgensons (one goal in 26 games), Johan Larsson (one goal in 31 games), and Matt Moulson (no goals in 14 games).
While he's centered the Sabres third line, between Scott Wilson and Sam Reinhart, and played between Evander Kane and Sam Reinhart, Rodrigues' speed is better suited on Eichel's left wing. He's one of a few players that can keep up with Eichel's wheels. For 'Exhibit A', just look back at the year they spent together in college.
Chemistry at B.U.
Rodrigues, an assistant captain at B.U., finished his senior season playing beside Eichel. He tallied 61 points (21 goals and 40 assists) in 41 games, ranking him second in NCAA scoring behind Eichel, a freshman, who finished with 71 points (26 goals and 45 assists) in 40 games. The two combined for a whopping 132 points in their 41 games.
In their only year playing together, the Terriers finished atop the Hockey East Conference with a record of 14-5-3 and 28-8-5 overall. In the postseason, they defeated Yale, Minnesota-Duluth, and North Dakota to make it to the national championship game, before losing to Providence, 4-3.
E-Rod finished his Terrier career with 41 goals and 79 assists for 121 points in 146 games. He was named a Hockey East Second Team All-Star in his sophomore and senior seasons. The Sabres soon signed the 21-year-old undrafted free agent to a two-year, entry-level contract.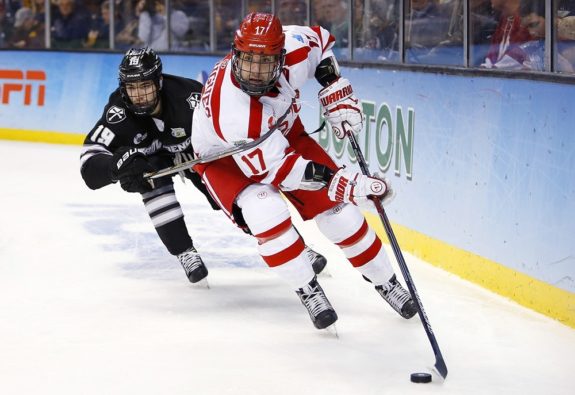 Injury Setback
Rodrigues was gunning for the Sabres opening-night roster and would have likely made the team out of training camp. Rochester Americans coach Chris Taylor thought E-Rod was impressive during the preseason.
Those plans fell apart when he suffered a broken bone in his hand in the third preseason game on Sept. 22 against the Toronto Maple Leafs.
"I tried to go wide on the first defenseman and he kind of poked it, (the puck) went through my skates and I went to go look for it down at my feet. At the last second, I saw the guy coming and tried to brace myself," he said. "It's just one of those unlucky plays. I got up and didn't really feel any pain until I got back up and started [feeling] it on the backcheck. I don't know how it happened exactly. I watched it once or twice and put it in the rearview mirror."
Once healthy, he jumped into the Rochester Amerks lineup and immediately made an impact. His first game was on Nov. 17 against Hartford. In eight games, playing mostly with Alex Nylander and Nick Baptiste, he lit the lamp five times and added five assists.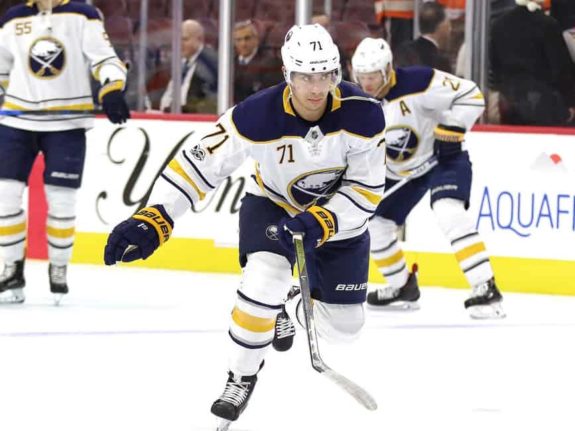 According to Sabres general manager Jason Botterill, the Amerks success is an important cog in the franchise's system. Rodrigues said there's a real chemistry and camaraderie developing in Rochester that's contributing to their place in the standings. "This is probably the first locker room I've been in where guys really enjoy coming to the rink and spending time with each other," he said.
Where Rodrigues Fits In
Rodrigues is a low-risk deal for the Sabres. He has tremendous upside, by virtue of his powerful acceleration and speed as well as his versatility as a center or his usual slot at left wing. His defensive zone play is inconsistent and needs work.
"He's a dynamic player. He can penalty kill, he can go on the power play, he plays wing, he plays center, so he's a huge asset for our hockey team. He has some experience too, so it's good for everybody and it pushes the other guys in our lineup to be better," said Amerks coach Chris Taylor.
Admittedly, E-Rod's 'Corsi For' at even strength is terrible… 34.5%. However, this stat is almost expected since the Sabres are outshot and out-attempted regularly. Further contributing to this is the fact that nearly three-quarters of his starts are in the Sabres' end.
Turning Pro
Rodrigues played his entire first year in Rochester, putting up 30 points (nine goals, 21 assists) in 72 games. In 2016-17, it took him just 48 games to put up the same number of points in Rochester, earning him some time with the Sabres. He played 30 games in the NHL, potting four goals and two assists.
E-Rod signed a new two-year extension, a $1.3 million deal in July 2017. It carries a two-way salary designation in the first season and a one-way designation in the second. It pays $650,000 at the NHL level each year. He'll be a restricted free agent once the deal expires.
Give E-Rod & Eichel a Shot
When Botterill placed Moulson on waivers and plucked Scott Wilson from the Penguins, it was an early indication that there's a new sense of accountability with this franchise.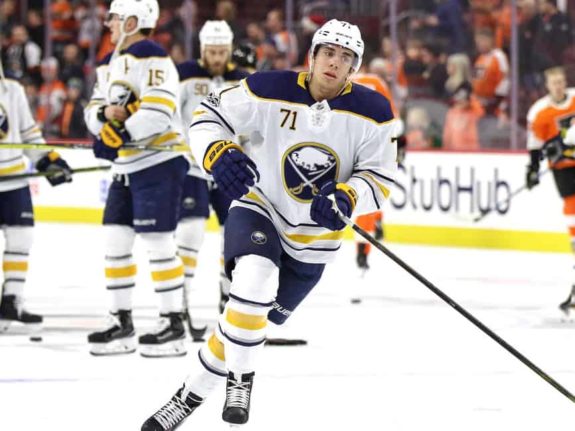 Obviously, success at one level doesn't automatically translate to another. But, with goals at a premium for the Sabres, why not put E-Rod and Jack together? If they can recapture even half of the magic they produced in Boston, it'll be worthwhile.