With the NHL Draft quickly approaching, it's worth taking a look at the prospects already drafted by NHL franchises, as all the recent buzz has focused on yet-to-be drafted stars Connor McDavid and Jack Eichel. In Part 1, I examined the top prospects for every NHL franchise in the Atlantic Division. In this article, the top prospects for every team in the NHL's Metropolitan Division will be discussed, as Part 2 of a 4-part series detailing the top prospect for every NHL team.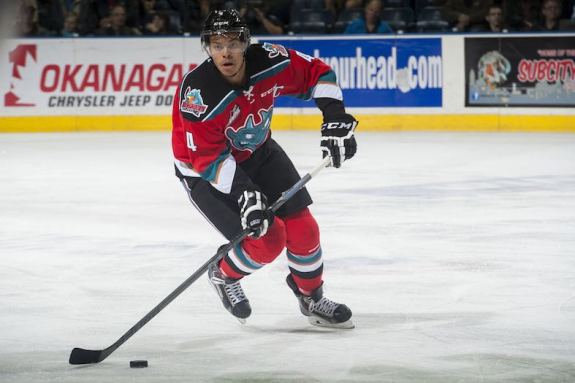 As with the first part, the players on this list have to meet NHL rookie requirements.
Carolina Hurricanes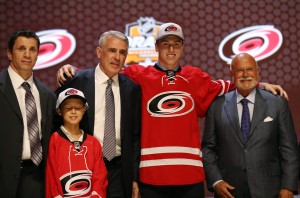 With no Stanley Cup playoff appearances since 2009, Carolina does not have a farm system as strong as their recent struggles would suggest. Most of their great young players, such as Jeff Skinner and Elias Lindholm, are already contributing to the NHL team.
The Hurricanes' top prospect is their top pick from the 2014 Draft, defenseman Haydn Fleury. After putting up 46 points and a +15 rating in 2013-2014, Fleury regressed a bit this season, as he put up just 6 goals and 28 points. However, he is still the best defense prospect Carolina possesses due to his great combination of size, skating ability, and skill that Carolina is sorely lacking on their NHL blueline (outside of All-Star Justin Faulk).
Columbus Blue Jackets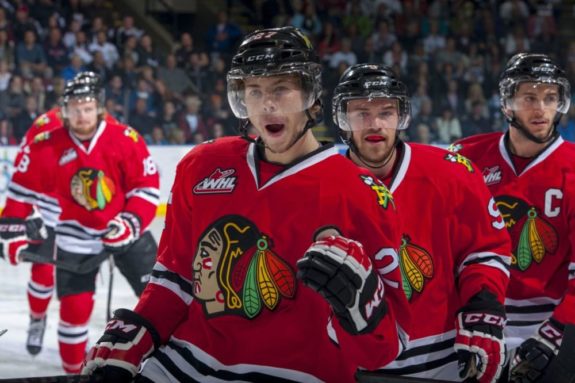 An unheralded 3rd-round pick in 2013, Oliver Bjorkstrand has developed into one of the most prolific goal-scorers in the entire CHL, let alone the WHL where he is a member of the Portland Winterhawks. Columbus looks to have gotten a steal with the 89th pick of the 2013 Draft, as all Bjorkstrand has done since being drafted is score goals. After potting 50 goals in 69 games last year, he exploded with 63 goals in just 59 games, as part of a banner year where he also potted 4 goals in 5 games for his native Denmark at the World Junior Championships.
With great young talent like Ryan Johansen, Alex Wennberg, and Marko Dano already making impacts with the Blue Jackets, Columbus looks to have another great young scorer on the way with Oliver Bjorkstrand.
New Jersey Devils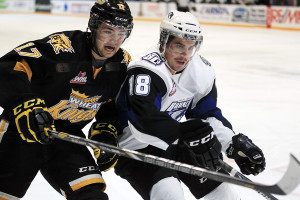 While the Devils have some great young talent already making an impact on their NHL blueline, their prospect pool is a little shallow in terms of high-impact youngsters. While Reid Boucher looks to be their only potential top-6 forward yet to crack the regular NHL roster, his previous NHL experience excludes him from this list.
Instead, New Jersey's top prospect is John Quenneville, the Devils' first round pick in 2014 and the cousin of current Blackhawks head coach Joel Quenneville. After putting up mediocre regular-season numbers with Brandon of the WHL, Quenneville put up a solid 19 points in 19 playoff games, helping lead the Wheat Kings to the WHL final and almost knocking off the heavily favoured Kelowna Rockets. While he doesn't project to be a top scorer in the NHL, Quenneville is a gritty two-way centre that can make an impact as a secondary scorer and on the penalty kill.
New York Islanders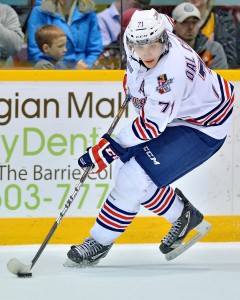 One of the best homegrown teams in the NHL with 14 drafted players currently on the roster, and they have a strong prospect pool with several impact prospects making their way to the parent club. While young blueliners such as Griffin Reinhart and Ryan Pulock made an impact in the AHL last season with the Bridgeport Sound Tigers, the team's top prospect is winger Michael Dal Colle from Oshawa of the OHL.
A big body at 6'2″, 185 pounds, Dal Colle brings a level of skill and power that the Islanders have been sorely missing alongside current team leaders John Tavares and Kyle Okposo. Dal Colle was an assistant captain and the leading scorer for the Memorial Cup-winning Oshawa squad, putting up 93 points in the regular season and 25 more in the OHL playoffs. While blueliners such as Reinhart or Pulock also look to be strong candidates to make an impact with the Islanders, Dal Colle's enticing combination of speed, size, and skill would fill a massive need for the Islanders at forward.
New York Rangers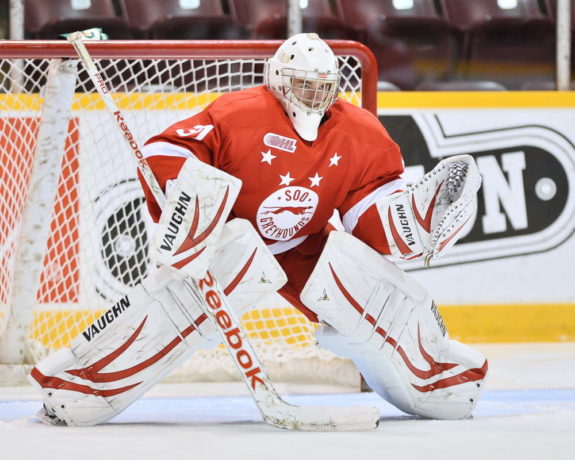 The New York Rangers have traded away young talent such as Anthony Duclair or first round picks in back-to-back seasons recently in an attempt to make a run at the Stanley Cup, but they are not bereft of talent. Young talent like Pavel Buchnevich, Cristoval "Boo" Nieves, and Brady Skjei all look poised to make contributions to the Rangers in the near future, but the Rangers best prospect is 2014 2nd rounder Brandon Halverson.
The starting goalie for the Sault St. Marie Greyhounds of the OHL, Halverson has blossomed into one of the top goaltending prospects in the NHL. Starting 50 of 68 games this season, Halverson led the Greyhounds to the best record in the OHL's Western Conference while putting up 40 wins to go along with a .913 save percentage. Halverson was also voted the Western Conference's best puck-handling goalie for the second consecutive year, allowing Halverson to act as a 3rd defender at some times. All-in-all, with Henrik Lundqvist entering his age-33 season, having a great young goaltender like Halverson as their goalie of the future is a great situation to have.
Philadelphia Flyers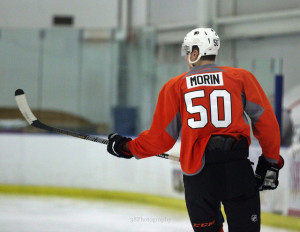 Since Chris Pronger was forced out of the NHL with an injury, the Flyers have been searching for top-flight NHL defensemen. This has been on full display in recent years, as they have used many high picks on promising young blueliners, and as a result, have quite the crop of potential NHL defenseman in their system.
Leading this group is 2013 11th overall pick Samuel Morin, a towering and physically imposing 6'7″ defender from the QMJHL. After showing promising signs of a developing offensive game in previous seasons, Morin exploded to put up 32 points in 38 games (he missed several games due to participating for Canada at the World Junior Championships). Morin's lethal combination of defensive acumen, physicality, and offensive upside make him Philadelphia's prospect with the best chance of becoming an elite defender, something they have been sorely lacking recently.
Pittsburgh Penguins
Another team that has mortgaged its future a bit for help right now, the Penguins' prospect pool is in a bit better shape than that of the Rangers'. Promising youngsters such as Olli Maatta, Derrick Pouliot, and AHL Goalie of the Year Matt Murray look to be on their way to making an impact in Pittsburgh soon. However, the best prospect in the Penguins' system is forward Kasperi Kapanen.
Kapanen, the son of longtime NHLer Sami Kapanen, has made huge strides since being tabbed with the 22nd overall pick in 2014. He got his first AHL action this season after tallying 21 points in 41 games in the Liiga, Finland's top professional league. While he might not be an elite scorer in the NHL, his responsible two-way game and offensive creativity could give Sidney Crosby or Evgeni Malkin the highly skilled winger they have been so desperately seeking.
Washington Capitals
The Capitals, who looked poised to make a deep playoff run this season before running into the powerhouse New York Rangers and Henrik Lundqvist, have all the young talent necessary to continue being a force in the Metropolitan Division for years to come. Talented forwards like Evgeny Kuznetsov, Andre Burakovsky, and Jakub Vrana have the skills to take the reigns if Alex Ovechkin or Nicklas Backstrom ever slow down from their currently torrid scoring rates.
However, Washington's best prospect is Kelowna Rockets captain and 2013 2nd round pick Madison Bowey. All Bowey did this season was lead Kelowna to the best record in the WHL, a WHL championship, and capture a gold medal with Canada at the World Junior Championships. Bowey is an offensive and physical force, putting up 60 points in 58 games and adding 19 points in 19 playoff games. His big 6'2″, 210 pound frame gives him a well-rounded game that would look great playing alongside current Capitals stalwarts John Carlson and Matt Niskanen.
Joseph Aleong is an At-Large writer for THW from Toronto, Ontario. He is a graduate of Brock University in St. Catharines, ON. Follow him on Twitter @josephaleong11