Evgeni Malkin has four points over his last two games, giving him 58 points on the season. He's now eight points behind Connor McDavid for the league lead and only six points behind his superstar counterpart, Sidney Crosby.
Why isn't anyone talking about him these days? How has he seemingly gone unnoticed in 2016-17?
Malkin has been overshadowed by the abundance of storylines which follow the Pittsburgh Penguins. Marc-Andre Fleury's time in Pittsburgh is likely coming to an end very soon, Crosby has arguably played the best hockey of his career at 29-years old and recently surpassed the 1,000 point mark, and Pittsburgh's youth — most notably Conor Sheary — has been able to build on their emergence witnessed last season.
Through all of these storylines, Malkin continues to produce. Similar to the B-2 bomber, otherwise known as the Stealth Bomber, Geno is simply a small blip on the radar but he's proving that he should still be much, much more than that.
Time to Take Notice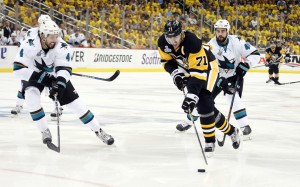 Malkin isn't just producing on the score sheet, he's dominating all aspects of the game. He carries the reputation of an east-west offensive juggernaut, which he is, but he doesn't get the credit he deserves as a two-way center. That trait in particular — the ability to backcheck so effectively — is nearly unparalleled by other players in his class.
He's also bringing a necessary edge to his game, evident when the Penguins faced the Winnipeg Jets at PPG Paints Arena on Thursday night. With the Jets playing the role of physical bullies, Malkin answered with a big hit on Jets' captain Blake Wheeler. Was the hit high, and potentially suspension worthy? Yes. However, it was a response to two questionable hits laid on Penguins' earlier in the contest and a message that you can't continue pushing this team around.
And none of this should be surprising for anyone reading this article.
Maybe at this point, it's easy to take a player like Malkin for granted in a city so blessed throughout it's storied history. No team has seen the number of generational talents don their colors as the Penguins have. However, the lack of discussion around Malkin's performance this season is baffling, especially when you consider his recent snub for the NHL's top 100 players of all time.
On a historic night that saw Crosby notch point numbers 1,000, 1,001 and 1,002, Malkin also shined. It's time we start talking about number 71 again. Plays like this aren't possible without him.
Back on Track
There was a point last season, prior to Mike Sullivan's hire, in which Malkin — along with Marc-Andre Fleury — carried the Penguins and kept them afloat. Not only was he the best player in Pittsburgh during that stretch, he was the best player in the NHL. Unfortunately, he was derailed by an injury that would force him to miss the remaining two months of 2015-16.
And he really wasn't himself throughout the ensuing postseason, en route to a Stanley Cup Championship.
However, Malkin is once again hitting on all cylinders and has done so all season. His 1.18 points per game is second to only Crosby, and despite missing seven games to injury he's in a four-way tie for fifth in NHL scoring. With Malkin on the ice, Pittsburgh is controlling over 53-percent of even strength shot attempts and nearly 62-percent of goals scored, according to stats.hockeyanalysis.com. He isn't just playing well, he's playing at a world class level.
Just as he should be.
The Penguins may be the best possibility to repeat as Stanley Cup Champions since Detroit nearly pulled it off in 2008 and 2009. If they do — barring any serious injuries — Malkin is going to be a major reason why. One could argue that he looks more motivated and more focused than at any other point in his career. It's tough to trump his performance in the 2009 playoffs, especially when the Penguins swept the Carolina Hurricanes, but he's certainly making a case for it right now.
Maybe we'll even see him take over a series like he did during that run…
Right now, everyone should be celebrating the fact that Crosby — at 29-years old — hit the 1,000 point plateau in his 757th NHL game. But let's not forget that Malkin, who has played a role in Crosby's point totals more than any other individual, is scoring at a similar pace right now and looks poised to assault opponents down the stretch. When these two superstars are performing at this level, there isn't a team in the league that's more fun to watch.
And if they keep playing the way they are, we'll likely be watching them into mid-June.