Doug Weight is proving to be many things since becoming interim head coach of the New York Islanders on Jan. 17.
A terrific communicator with his players.
A passionate, invested leader.
A smart hockey man, who is evolving from a terrific player in the National Hockey League to a pretty darned good coach.
An early success, as shown by his team's 9-3-2 record since Weight replaced Jack Capuano behind the bench.
And, strictly from a hockey reporter's point of view, an excellent post game quote, honest and many times very funny.
All of that was on display Thursday night at the Barclays Center when the Islanders rebounded from their worst loss under Weight –Tuesday's 7-1 shellacking up in Toronto — to rally past their biggest rival, the New York Rangers, 4-2.
The victory lifted the Isles to within one point of the eighth-place Maple Leafs in the tight Eastern Conference, heading into a weekend home-and-home set with the New Jersey Devils.
Some notes from Thursday night:
Damn Good Hockey Team
Having been an assistant coach under Capuano, not to mention the team's assistant general manager, Weight intimately knows and understands the current roster, most of which consists of players who contributed to back to back 100-point regular seasons and playoff appearances the past two years.
So, when he says Thursday, "We're a damned good hockey team" and "We were a really good team tonight", that resonates with the players in the dressing room, not to mention with the fans.
Weight truly believes in this group of New York Islanders; and his confidence in the players breeds confidence throughout the room and leads to confidence on the ice.
"(Contagious) is certainly a good word for it," stated Weight. "That's what I try and talk about with them. Let that next line feed off that first shift; and let that guy next to you feed off your energy, your positiveness, your grit."
Know your Players
Weight has a real good and unique understanding of his players.
To wit, before the Rangers game Weight gave a written message to defenseman Scott Mayfield, who had been a healthy scratch for seven straight, but was back in the lineup Thursday.
The note said simply, "Play mean and confident."
Mayfield did just that in just under 16 minutes of ice time.
"He was awesome," Weight said of Mayfield, sixth, seventh or even eighth on the depth chart depending on who's healthy on the blue line and who isn't.
Simple gesture, big result.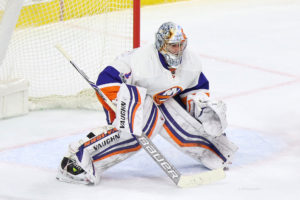 Weight's description of No. 1 goaltender Thomas Greiss after his 25-save effort Thursday also is intriguing, and shows the depth of understanding between coach and player.
"He's a real cool cat," Weight said of Greiss. "He works, he's pleasant, but he's got that special nice guy, but eye of the tiger. I wonder how he'd be as a forward or a (defenseman). I bet he'd be a mean son of a gun; but the nicest guy after. He didn't just drop into being a number one goalie. He's a No. 1 and he wants it, wants to be great, even though he comes across as matter of fact."
The Emotional Leader
John Tavares, who has 12 points (1-11-12) in his last 11 games for Weight, by the way, is the Islanders best player and unquestioned leader. As JT goes, so go the Islanders.
However, Weight's passion, which he balances with a softer, funnier side, is good for this team, too.
Weight tore into the officiating crew a couple of times during Thursday's victory. He particularly fumed over Jimmy Vesey's power play goal in the third period when Rick Nash was not called for interfering with Greiss.
To his credit, realizing how his actions affect the players, Weight pulled himself together, and the Islanders maintained their composure, not to mention a one-goal lead. No simple feat.
"The point is, you can be emotional, you can state your case, you can't be disrespectful, you have to treat (the officials) well," offered Weight. "But it's OK to be emotional. If you are, you are. I'm not going to hold back; but you have to get back, get focused, because what can happen is that you can lose the bench..and then everything starts to run wild."
"Agree to disagree. You get by it. I've been married twenty years!"
Let's be Realistic
Weight does not seem at all afraid to be honest with his team, openly discussing the challenge ahead.
The Islanders dug themselves a major hole in the season's first half, and only now, 15-6-4 since. Dec. 20, are they sniffing at a playoff spot.
The thing is, the Islanders need to keep winning, and winning a lot, to edge out Toronto, Boston, Florida, and Philadelphia for the second wild card.
That means playing do-or-die playoff hockey just to get in the playoffs.
And he's not afraid to say so.
"Sometimes you are in February, and it's the dog days, but that can't be it for us," explained Weight. "We've got to have an April/May mentality; and it's got to be every shift."
"Crappy Road Record"
After Sunday's home game against the Devils, there is a season-high, and season-defining, nine-game road trip for the Islanders from Feb 21-March 11.
That the Islanders are only 7-12-4 on the road this season, tied with three others for the fewest road wins in the NHL, does not bode well for their playoff push
When a reporter stammered his way through asking a question about what lies ahead, Weight cut right to the chase.
"It's a side way of saying we have a lot of road games ahead and we have a crappy road record," replied Weight. "I'm saying it. We've got to be better on the road. We have to delve into it as coaches and challenge the players. I'm going to do some different things on the road. I think it's needed, it's warranted."
The Isles have been better of late away from Barclays, wining three of their last seven on the road, but with stops in Montreal, Chicago, Columbus and Detroit–not to mention a three-game swing through Western Canada–this trip shapes up to be a beast.