Follow Lukas on Twitter @LukasHardonk for more Leafs coverage.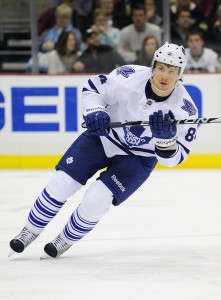 Free agency is arguably the biggest part of building a team in any league. When it comes to the NHL, we often see one summer with an unbelievable crop of free agents, followed up by a summer with a few top-line guys and a bunch of bottom-six players, similar to what we saw in 2011.
In a league with a salary cap that often becomes a massive challenge for general managers, free agency can be the most tricky facet of an offseason.
As far as the Toronto Maple Leafs are concerned, free agency in terms of their own players shouldn't be too big of a problem during the summer of 2012. Between restricted and unrestricted only nine guys are set to become free agents and three of those nine (not including Jonas Gustavsson) aren't considered to be big contributors.
The following summer could turn out to be a nasty one for Toronto, though. While the same amount of players are currently scheduled to become free agents, five of them are the second, third, fourth, fifth and sixth-highest paid players on the team.
Let's take a look at some of those 18 players and get a feel for what the Leafs will have to deal with over the next two years, barring any trades or buyouts.
Mikhail Grabovski – UFA – 2012 (Cap hit: $2.9m)

Grabovski makes up one-third of what is currently the Leafs' second line. He has struggled to contribute lately, as have his linemates, but even if this season turns out to be a poor one for the 27-year-old, Grabovski will still likely ask for a decent amount of cash.
There is no reason to believe that his season will be a poor one for Grabovski, though; he has scored 10 points in 16 games to go along with a plus-4 rating. His five goals may make it seem as though he won't be able to reach 30 this season, but let's keep in mind that he only notched one goal in his first 13 games last season and went on to score 28 more.
Nikolai Kulemin – RFA – 2012 (Cap hit: $2.35m)

Kulemin is very similar to Grabovski in terms of production. They have been linemates for almost a full year now and Kulemin scored just one more goal and one less point that Grabovski last season.
Kulemin, 25, had a breakout year in 2010-2011 with 30 goals and 57 points. He is off to a slow start this season with two goals in his first 16 games, but we have seen signs of life from Kulemin when it comes to scoring chances.
If Kulemin reaches the 25+ goal mark again this season, there is no doubt he will be looking for money north of $3 million.
John-Michael Liles – UFA – 2012 (Cap hit: $4.2m)

One of the great things about the trade that saw Liles come to Toronto was his contract. Even with a cap hit of $4.2 million and a modified no-trade clause, Liles' contract still worked somewhat in the Leafs' favour based solely on the fact that this season is the final one of the four-year deal.
If the Leafs do decide that they want Liles back, negotiating a new contract with the Indianapolis, Indiana native will be very tough because of his current salary. Many people would tell you that Liles isn't worth $4.2 million, which is conceivable if you look at his recent statistics. He does have 10 points in 16 games this season, but it's hard to believe that he will be able to keep that up over a full 82-game schedule.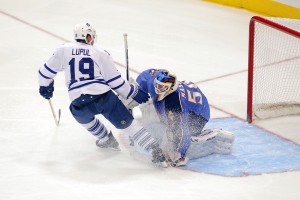 Joffrey Lupul – UFA – 2013 (Cap hit: $4.25m)

When Lupul came to Toronto, it was thought that his career may have been all but over. However, he managed to prove the naysayers wrong and scored 18 points in 28 games.
After a hot finish to last season, Lupul hasn't dropped off one bit. His eight goals are 11th in the league and his 18 points are ninth. He also owns a plus-7 rating and a shooting percentage of 17.
There shouldn't be any doubt in anybody's mind that Lupul will be looking for a raise next summer, and he is almost sure to get it if he scores 55+ points this season.
Clarke MacArthur – UFA – 2013 (Cap hit: $3.25m)

MacArthur put up career-high numbers last season in goals (21), assists (41) and points (62). He has missed three games this season, but after some time out of the lineup and a slow start, he has been able to score six goals and eight points.
The 26-year-old did receive a raise this past summer, which bumped his salary up to $3.25 million per year, but a two-year contract means that he will be forced to sign a new one in the near future. If MacArthur is able to repeat his success from last season in coming seasons, look for him to make $3.5 million or more on his next contract.
Colby Armstrong – UFA – 2013 (Cap hit: $3m)

Armstrong has been rattled with injuries during his time in Toronto. In fact, he is currently out of the lineup with an injury that he sustained on October 19 against the Winnipeg Jets.
With Armstrong in the lineup, the Leafs have proven to be a better team. His grit and mentality always seem to rub off on his teammates, making for an improved squad. Armstrong is also able to contribute on the score sheet when called upon, as shown by his 23 points last season.
Salary cap info via CapGeek.com
Left off of this list were Cody Franson (RFA, 2012), Jonas Gustavsson (UFA, 2012), Tim Connolly (UFA, 2013), Matthew Lombardi (UFA, 2013), Tyler Bozak (UFA, 2013), David Steckel (UFA, 2013), Philippe Dupuis (UFA, 2012), Matt Frattin (RFA, 2012), Joey Crabb (UFA, 2012), Jay Rosehill (RFA, 2012), Ben Scrivens (RFA, 2012), Colton Orr (UFA, 2013) and Carl Gunnarsson (RFA, 2013).
Twitter: @LukasHardonk | Email: lukas.hardonk@gmail.com | Lukas' archive
For every Leafs article on THW, follow @THW_MapleLeafs on Twitter.