The Caps were able to break their two-game mini-funk, winning 3-1 in New Jersey Friday night over the Devils, but couldn't keep it up as they lost 3-2 via shootout back at home after giving up another two-goal lead.
Neither game between the two teams this weekend was a beauty, and, usually the case with the Devils, was very physical and focused in the neutral zone. In fact, the fans, especially the visiting fans at Verizon Center were more entertaining.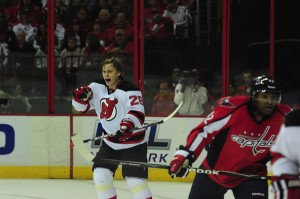 To be fair, it was the second of a back-to-back and the ice at Verizon Center was difficult to work with, considering there was a Foo Fighters concert Friday evening and a Georgetown game that took place earlier in the afternoon. It seemed to cause a lot of bouncing pucks and errant passes, and a lot of frustration for Alex Ovechkin.
Ovechkin is second on the team in points with fourteen, half of them goals and all on the road. Only ahead of him is regular linemate Nicklas Backstrom. He's having a  much better start than he had last season, and is, of course, leading the team in shots with 50. However, the Caps' captain believes he can have more of an offensive presence.
"My job is to score goals, not make hits," said Ovechkin. "The second period I had probably three chances to score, but I didn't do the right thing." It might be why Ovechkin chronically suffers from having most of his shots blocked, tonight totaling ten shots but only two of them actually on net.
Instead, Ovechkin has been hitting a lot more and playing a more physical game. In Saturday's game against the Devils, he had 11 hits.
Bruce Boudreau elaborated on Ovi's frustration. "I think when he's frustrated, you can see it on his face," said Bruce Boudreau. "When you want to take your frustration out on something he hits. It's a talent that he has and it's one of the things that makes him who he is — he's a scorer that is a power forward and is physical."
It's not all on Ovechkin, though. The team as a whole is not happy with another blown two-goal lead.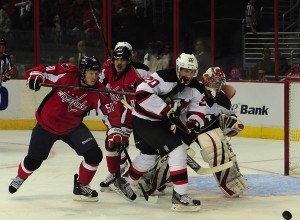 It's disappointing to have this outcome," said Brooks Laich, who played on defense tonight as John Erskine was a late scratch and Mike Green was injured again in his return Friday night. "Teams are good and a two-goal lead is not safe. You have to push for that third one, try to get that third one and I think if you can get that one, then you are in control of the game."
Boudreau was not too upset about the loss, as it did come with one point, but again noted that the team lost a two-goal lead. "It's a double-edged sword," said Boudreau. "Will you take a point? Yes. When you have a 2-0 lead, will you take a point? No. The goal that they scored were mistakes on our part. If we wouldn't make those mistakes, it probably would have been a 2-0 game."
While it is all a bit frustrating, there still should be little to worry about for the long term. The Capitals have time to fix their efficiency with a lead and build a more consistent killer-instinct.
Notes: Roman Hamrlik left the game before the third period after getting awkwardly hit on a cross-check. Boudreau said he is day-to-day.