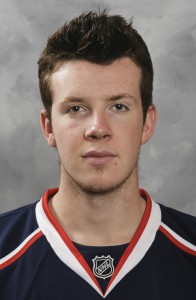 How does one go from a  mid-round selection in the Bantam draft to a top-5 pick in the NHL draft?  If you are Ryan Johansen of the Columbus Blue Jackets it's through a combination of hard work, a growth spurt, determination, having great parents, and learning early on that you aren't cut out to be a defenseman.  One of the few bright spots in the 3-11-1 start to the season for the Columbus Blue Jackets has been the play of rookie forward Ryan Johansen.  The fourth overall selection in the 2010 NHL draft started slowly, failing to put up points in his first four games.  It seemed almost a certainty that he would be sent back to the Portland Winterhawks of the WHL to continue growing as a player and to get stronger physically.  With the team struggling and in need of a spark, Head Coach Scott Arniel moved Johansen up to the second line and something clicked immediately.  In his next seven games Johansen discovered his scoring touch, putting up 4-2-6 +3 and has looked very good doing so.  Three of his goals proved to be game-winners, the only game-winning goals the team has managed to score so far this season.  Johansen has looked so good in fact that the team kept him past the nine game limit for junior players, meaning his professional contract kicked in.  The Blue Jackets could still send him back to Portland if they choose, but it would be a waste of a year on Johansen's entry-level contract so it seems doubtful they will choose to do so.  I sat down with Johansen to talk about the season so far and his road to the NHL.
Ryan Johansen goes 4th in the NHL Entry Draft
Ryan Johansen was selected fourth overall in the NHL draft, but his road there was not an easy one.  After moving away from the Vancouver area at a young age and not getting much exposure with scouts, Ryan wasn't taken until the seventh round of the Bantam draft and was unsure of his future.  He was tempted by an offer from Northeastern University in Boston, Massachusetts but ultimately chose to go the Canadian junior route.  Ryan leaned on his parents Randy and Rosalind for advice when deciding which path to take.  Going to Portland and the WHL meant giving up any chance at playing at Northeastern.  "It was back and forth everyday between (staying in) Penticton and the WHL," Ryan said.  "I could risk ruining my career and not being able to get an education.  The biggest thing for me that made our final decision was that I wanted to play in the NHL and we thought the best way for me to get there was Portland.  I think I made the right decision, but it was still a very, very tough choice."  Johansen also leaned on his father for support when things weren't going well early in his career.  "He's always there for me, it really goes a long way when you're going through the ups and downs," Johansen said.  "I remember back in Penticton when times were tough for me and I wasn't getting much ice time I'd say dad what do I need to do to get back on the ice? I practice hard and do good things on the ice.  He would always be positive about it and not let me get down.  That helped me stay optimistic and motivated me to get up and go to practice."  Johansen's dad also played hockey growing up but not at a high level.  "My dad was a big playmaker when he played," Johansen said, "so he always wanted me to get assists instead of goals.  He wanted me to be a defenseman too but I started getting beat one-on-one too many times so I got frustrated and I moved to forward."
Johansen Excels at the World Junior Championships
Johansen grew five inches (from 5′ 9″ to 6′ 2″) while in Portland and excelled on the ice (134GP 65-96-161), which quickly shot him up NHL draft boards.  After a very strong 2009-10 season he was rated as a likely top 40 selection, and the more scouts saw him the more they liked.  Blessed with excellent speed, a nose for the net, and now an NHL frame (6′ 3″ 212 lbs right now) Blue Jackets General Manager Scott Howson was happy to select Johansen where they did.  After his first professional training camp, Ryan was sent back to Portland to get stronger and fill out his frame.  Soon after he was named to Team Canada for the World Junior Championships to be held in Buffalo, New York.  The team was filled with rising stars and prospects, and Johansen was a standout scoring 3-6-9 in seven games and being named to the tournament all-star team.  Ryan said that representing his country was "Unbelievable, an absolutely tremendous experience."  Team Canada took home a disappointing silver medal, losing the final game of the tournament 5-3 to Team Russia.  "It was tough falling short," Ryan said,  "but it was the best hockey experience of my life.  The way the fans supported us and the way we were treated by Hockey Canada was amazing."  After returning to Portland, Johansen's WHL season resumed and he put up an impressive 123 points in 83 games including the playoffs.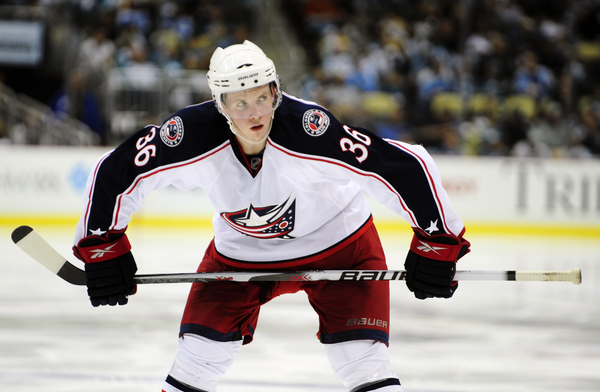 This season has been a challenge for the Blue Jackets, their re-tooled roster was supposed to take them to the playoffs for just the second time in franchise history.  Instead the team is in dead last in the NHL and has been shelled recently to the tune of 5-1, 6-3 and 9-2.  "Every game we're doing some good things but then we're doing some bad things," Johansen said, "It's been about playing a full sixty minutes of our game.  There have been too many breakdowns and we haven't been good enough."  Their most recent game, a 2-1 win over the struggling Winnipeg Jets Saturday night could possibly get the team back on the right track.  Both of Columbus' goals were scored by Johansen.  It might be too late to salvage this season, but one thing is certain, Ryan Johansen will be a large part of the Blue Jackets organization moving forward.