Follow Lukas on Twitter @LukasHardonk for more Leafs coverage.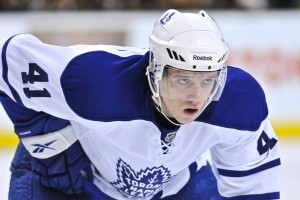 Saturday night's game against the Ottawa Senators resulted in another loss for the Toronto Maple Leafs. After a hot start that saw the Buds go 9-3-1 in their first 13 games, Toronto has now lost three of its last four.
One of the main reasons why Toronto hasn't been able to pull out victories lately has been its struggles when it comes to finding the back of the net.
Over the last four games, the Maple Leafs have seen limited production from some of their top point-getters. Most notably, the Mikhail Grabovski line, which also consists of Clarke MacArthur and Nikolai Kulemin, has taken a steep drop lately.
The trio of Grabovski, MacArthur and Kulemin has combined for no points and a minus-14 rating over its last three contests. In comparison, the Leafs' top-line of Phil Kessel, Joffrey Lupul and Tyler Bozak (who is filling in for Tim Connolly) has notched a combined four goals and nine points over the same four games.
Even if we exclude the past four games, this season has not been a great one for Grabovski, MacArthur and Kulemin.
Grabovski has been the best of the three with 10 points, MacArthur comes in at a close second with eight, while Kulemin is having a very rough campaign thus far with just six points.
It is obvious that something needs to be done with that line. However, it is tough to break them up because that could mean changing around the Lupul-Bozak-Kessel trio. Some say that it is time to bench one of the three players for a game, which could work; you would have to think that Kulemin would be the one to take the fall.
But maybe rather than benching one of the three, one could just be demoted to the bottom-six for a few games. This would allow the first line to remain intact, and it could also help one of the third or fourth line guys get going.
Yes, that's right, help one of them get going. It's not often you hear that about bottom-six players, since they are mainly meant to grind it out and provide energy─at least on a Brian Burke team.
The Leafs' bottom-six guys haven't produced very much either, though, and that's a problem. Obviously they aren't expected to put up a ton of points, but a goal here and there is still something that every team looks for out of its third and fourth lines.
Joey Crabb hasn't scored in his last four games after picking up two goals in as many contests; Philippe Dupuis, who has played in 15 games this season, has yet to record a point; Matt Frattin has just one assist in 14 games and can't seem to finish around the net; Matthew Lombardi is minus-8 this season and has just one point in his last eight games; David Steckel doesn't have a point and is minus-3 in his last nine.
We know what all of these men are capable of doing. Like any player, they all have their own style on the ice and they all know how to contribute offensively when needed.
Over their last four games, the Maple Leafs have scored just five goals and one shootout goal. Four of the Leafs' last five goals have come from forwards, and Kessel has been in on three of those four. He has also been on the ice for all five of the goals, even John-Michael Liles' first period marker against the St. Louis Blues on Thursday.
It's great that Kessel has been able to continue to put points on the board, but at what point should people become extremely concerned that the Leafs have only been able to score with him on the ice lately?
Well, that time should be now. Whether the Leafs decide to bench a player, demote someone or anything else, something must be done before they begin a long slide down the Eastern Conference standings.
Twitter: @LukasHardonk | Email: lukas.hardonk@gmail.com | Lukas' archive
For every Leafs article on THW, follow @THW_MapleLeafs on Twitter.