COLUMBUS, Ohio — The Columbus Blue Jackets have swapped defensemen with St. Louis, sending Kris Russell to the Blues in exchange for Nikita Nikitin. The trade was announced on Friday by Vice President of Hockey Operations and General Manager Scott Howson.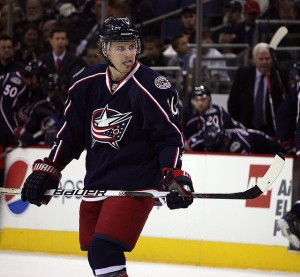 When a team is sitting 30th in the National Hockey League, having won just two games out of 15, changes are to be expected. In Columbus' case, this latest move is the second of the week by Scott Howson and may be followed by several more in the near future.
After forward Mark Letestu arrived for a fourth round pick earlier this week from the Pittsburgh Penguins, a friend and teammate in Kris Russell packed his bags shortly thereafter.
Joining the Blue Jackets is Nikitin, a 6'3 215 pound defenseman that will play more of a physical game but has other tools that will certainly be useful immediately for the Jackets.
"He's a big-body defensemen, a defending defensemen," Head Coach Scott Arniel told reporters. "He has a big shot. We'll get him in here and see what he's all about. This was more about changing our look on the back end. Our scouts think he can play a well-rounded game."
Through 48 career games in the NHL, Nikitin has one goal and eight assists along with 14 penalty minutes. In seven games this season with the Blues he has no points.
Kris Russell had played 288 games in his NHL career, all with the Blue Jackets. He had 2 goals and an assist through 12 games this season.
"Kris brings dynamic speed and will add a new dimension to the left side of our defense," Blues General Manager Doug Armstrong said.
As for the rest of the Blue Jackets and their thoughts on Russell's departure?
"He was a good player and a well-liked guy," said Blue Jackets rugged winger Jared Boll.  "Everybody liked him. It was real tough to see him go, but that's what happens when you're losing games like we are."
One can only hope that these minor moves can improve things in the interim while the Blue Jackets continue to search for the right answers.
Blue Jackets Notebook
~ Jeff Carter anyone? The center skated a full practice yesterday and will return to the lineup tonight according to Aaron Portzline of the Columbus Dispatch.
Follow me on Twitter @DarrenCoslov