With the Vegas Golden Knights selecting their expansion team Wednesday at the NHL Awards Ceremony, many players are destined to wear a different uniform by the end of the night. With side deals in place to ensure certain players are protected in addition to teams' original lists, however, there will be more than 30 players changing allegiances. Those side deals will be listed here as they are reported throughout the day leading up to the actual Expansion Draft.
Important to note is that reported deals could look different once they are officially announced – this article will continue to be updated throughout the day to ensure the most accurate information is disclosed.
Wild to Send Erik Haula and Alex Tuch to Golden Knights
One of the first reported deals of the day came from Michael Russo of Star Tribune. The deal reported would ensure that the Golden Knights take forward Erik Haula as opposed to taking a player like Matt Dumba, Eric Staal or Marco Scandella. In return for leaving those three players to remain with the Wild, however, Minnesota is sending one of their top prospects in Alex Tuch to the Golden Knights. Additionally, the Wild are receiving a conditional third-round pick from the Golden Knights. Russo is also reporting that Haula has signed a three-year extension with the Golden Knights that comes with a $2.75 million cap hit.
SOURCES: #mnwild's Erik Haula signs with Vegas Golden Knights, Alex Tuch likely bound for Vegas by day's end https://t.co/Hxtho3c70x

— Michael Russo (@RussoHockey) June 21, 2017
The 26-year-old Haula has played in four NHL seasons, scoring 42 goal and 89 points in 266 games. A pending restricted free agent, Haula is still a valuable pick up for the Golden Knights despite the fact that they won't be taking one of the Wild's top three available players. With Tuch, the Golden Knights are getting the 18th overall selection from the 2014 NHL Entry Draft. With 32 goals and 62 points in 77 games at Boston College, Tuch proved to be a solid, big-bodied forward who figured to be part of the Wild's future for years to come. Plans change due to the Expansion process though, and the Wild ultimately valued the players that they left unprotected higher than Haula and Tuch. In 57 games in the AHL last year, Tuch's first professional season, he scored 18 goals and 37 points while going pointless in six NHL games.
Panthers Sending Marchessault and Smith to Golden Knights
While this deal may not be confirmed, it's still an interesting one worth mentioning if TSN Insider Bob McKenzie is referencing it on Twitter. The Panthers could look to send both Jonathan Marchessault and Reilly Smith to the Golden Knights in a deal. This deal also included a fourth-round draft pick being sent to the Panthers.
It was suggested to me FLA's deal with VGK MAY actually be for Vegas to end up acquiring both Marchessault and Rielly Smith (also exposed).

— Bob McKenzie (@TSNBobMcKenzie) June 21, 2017
Many were surprised when Marchessault was left off the Panthers' protected list. Coming off of a season where he scored 30 goals and 51 points in 75 games at just 26 years old, it was definitely a curious move. When considering the fact that prior to joining the Panthers are having a breakout season, Marchessault had scored a combined eight goal and 20 points in 49 games, it could be that the Panthers don't necessarily few the Cap-Rouge, Quebec-native as worthy of a huge contract extension next summer.
Though undersized, Marchessault proved this past season that he's dynamic enough to make things happen offensively. If the Golden Knights do get the 5-foot-9 forward, they'll be getting him with one year remaining on a deal with a $750,000 cap hit – good value for a player with a 30 goal season under his belt.
Curious Case of Reilly Smith
Also 26 years old is Smith. While he hasn't scored 30 goals in a season, he's still managed to score two goals twice in his five seasons in the NHL. It's an interesting split for Smith, however, as he seems to take a step back every other year while shining in between.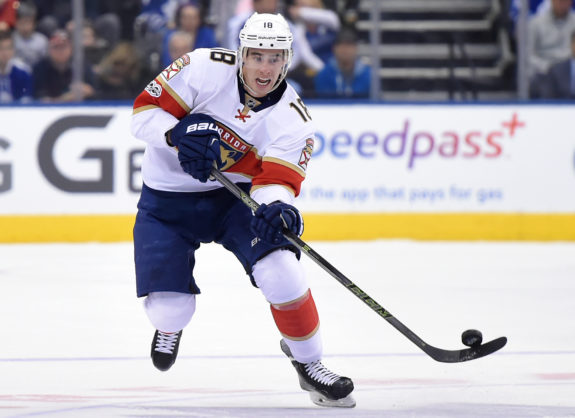 In the 2013-14 season, Smith scored 20 goals and 51 points in 82 games, breaking out in a big way with his new club in Boston. In his second season with the team, however, he scored just 13 goals and 40 points in 81 games. The following year, his first in Florida, Smith scored a career-high 25 goals and 50 points in 82 games before falling back to earth in his second year with 15 goals and 37 points in 80 games. Fortunately for the Golden Knights, Smith could enter his first season with Vegas on an up-swing year, if the rumor from McKenzie is true.
Grabovski, Berube and First-Round Pick to the Golden Knights
According to Newsday Sports, the Golden Knights will be acquiring the first-round pick of the New York Islanders as well as forward Mikhail Grabovski, Jake Bischoff and a 2019 second-round pick in exchange for taking goaltender Jean-Francois Berube. This would be huge for the Islanders for a variety of reasons. For starters, the team left players like Calvin De Haan, Thomas Hickey, Brock Nelson, Ryan Strome, Cal Clutterbuck and Casey Cizikas, Jaroslav Halak, among others, unprotected.
Update: #Isles likely trading Mikhail Grabovski to Vegas along with first-round pick in expansion deal, sources say: https://t.co/zFG33x9z3L pic.twitter.com/v0RKohoLk4

— Newsday Sports (@NewsdaySports) June 20, 2017
The second reason, which is just as impactful as the first, is the fact that Grabovski hasn't played a hockey game since suffering a concussion in the 2015-16 season. With just 18 goals, 34 points and 109 games since joining the Islanders in 2014-15, Grabovski hasn't been worth his $5-million cap hit. Still under contract for one more season, getting that salary off the books could be imperative for the Islanders who are looking to get an additional piece to help captain John Tavares while also locking up Tavares to a long-term contract with his current deal expiring next July.
Marc-Andre Fleury to the Golden Knights With Draft Pick
In one of the most highly-discussed moves of the Expansion Draft process, it would appear that the Pittsburgh Penguins are sending a 2020 second-round draft pick to the Golden Knights to ensure that Vegas selects Marc-Andre Fleury, rather than one of their other unprotected players like Nick Bonino, Carl Hagelin, Tom Kuhnhackl, Chris Kunitz, Bryan Rust, Ian Cole, Trevor Daley or Derrick Pouliot, among others.
Next up, PIT. Get sense this may have been first of all deals done with VGK. PIT sends draft pick to VGK to ensure new home for M-A Fleury.

— Bob McKenzie (@TSNBobMcKenzie) June 21, 2017
The draft pick in question wasn't reported by McKenzie, but as the details emerge, they will be disclosed in this article.
Fleury has spent his entire career with the Penguins, playing in 707 games and compiling a 384-220-70 record with a 2.58 goals against average and a .912 save percentage. A three-time Stanley Cup Champion in Pittsburgh, Fleury will be bringing a major championship pedigree to the Golden Knights as the Penguins hand the reigns over to Matt Murray full time in their own crease.
Garrison to the Golden Knights
The official details of the trade include Nikita Gusev, a 2017 second-round pick and a 2018 fourth-round pick being sent to the Golden Knights.  As McKenzie reports, this deal is in place to unload the salary of Garrison. Additionally, this deal would leave both Slater Koekkoek and Jake Dotchin with the Lightning – two young and invaluable defensive pieces moving forward for Tampa Bay.
Finally, TB. "Hearing" VGK may take Garrison contract from TB. No details beyond that; not yet sure on incentive or anything firm, TBH.

— Bob McKenzie (@TSNBobMcKenzie) June 21, 2017
Garrison comes with a cap hit of $4.6 million for another year. removing that salary off of their books will be huge for the Lightning this offseason as they look to re-sign Tyler Johnson, Ondrej Palat and Andrej Sustr.In 530 NHL games, Garrison has scored 48 goals and 158 points in 530 games. He isn't the player he once was, and with the Lightning re-working their depth chart to include Victor Hedman, Dotchin, Sustr, Braydon Coburn, Anton Stralman and Luke Witkowski with Koekkoek and potentially Mikhail Sergachev on the way, the Lightning no longer needed Garrison at such a significant cap hit.
Clayton Stoner and Shea Theodore to the Golden Knights
Moving on to the Anaheim Ducks, McKenzie is reporting that the Golden Knights could be receiving prospect Shea Theodore in exchange for leaving both Josh Manson and Sami Vatanen alone in the Expansion Draft. Instead, they would be selecting defender Clayton Stoner.
Let's start with ANA. The belief is VGK will claim Clayton Stoner, pass on Manson/Vatanen and, in return for all that, get Shea Theodore.

— Bob McKenzie (@TSNBobMcKenzie) June 21, 2017
This deal makes a lot of sense for both sides. For starters, the Ducks are protecting two of their top-four defenders who they are very high on in Vatanen and Manson. Though they're losing Stoner, another valuable blueliner on their team, they're also saving his $3.25 million cap hit. Losing the 21-year-old Theodore isn't ideal but the Ducks clearly value Vatanen and Manson more.
For the Golden Knights, this is an opportunity to get two solid blueliners for the price of one. By not taking Manson or Vatanen, Vegas is getting two valuable pieces who could either be used in their lineup or traded in subsequent moves following the Expansion Draft.
A purely defensive-defender, the 6-foot-4, 216-pound Stoner has scored just seven goals and 48 points in 360 career games. He's been an invaluable shutdown player for the Ducks, however, and is coming on an affordable and expiring contract that could realistically be flipped for value by the Golden Knights. In the case of Theodore, the 6-foot-2, 195-pound blueliner fits the role of a mobile defender with tremendous offensive instincts. Scoring two goals and nine points in 34 games last season while playing behind the likes of Cam Fowler, Hampus Lindholm and Vatanen. He could be a big-time player in Vegas for years to come, or he could be flipped for a solid return.
Cody Eakin to the Golden Knights
As reported by Jim Toth, Dallas Stars' forward Cody Eakin is set to join the Vegas Golden Knights. The report didn't come with details other than the fact that Eakin would be a Golden Knight, which could mean that Vegas is either taking Eakin in the Expansion Draft, or that some sort of deal is in the works that will include Eakin being sent to the Golden Knights.
Source tells me #Winnipeg's & now former #Stars forward Cody Eakin is a Las Vegas #GoldenKnights #NHLExpansionDraft #NHL

— Jim Toth (@JimTothSports) June 21, 2017
In 379 career games, the 26-year-old Eakin has scored 65 goals and 154 points. He had a down year in 2016-17 with just three goals and 12 points in 60 games, breaking the streak of three consecutive 15-plus goal seasons that Eakin had dating back to the 2013-14 season. The Stars list of exposed players included Eakin, Adam Cracknell, Ales Hemsky, Jiri Hudler, Curtis McKenzie, Patrick Sharp, Dan Hamhuis, Jamie Oleksiak as well as goaltenders Kari Lehtonen, Antti Niemi and Justin Peters. It's unclear right now if the Stars made a deal to convince the Golden Knights to take Eakin and leave the above-mentioned players and more alone, or if the team simply didn't value the remaining available players higher than Eakin.
Sabres Send Sixth-Round Pick to Golden Knights
After selecting William Carrier from the Buffalo Sabres, the Golden Knights also confirmed that they received a sixth-round pick from the Buffalo Sabres.
Brickley and a Fifth-Round Pick to the Golden Knights
The Carolina Hurricanes have sent the Vegas Golden Knights a fifth-round pick in 2017 to take Connor Brickley.
Blue Jackets Send Clarkson, 2017 First-Round Pick and 2018 Second-Round Pick
The Columbus Blue Jackets have sent David Clarkson, a 2017 first-round pick and 2018 second-round pick to the Golden Knights.
Winnipeg Jets Swap First-Round Draft Picks With Golden Knights
The Golden Knights have acquired a 2017 first-round pick and a 2019 third-round pick in exchange for the first-round pick that the Golden Knights acquired from the Columbus Blue Jackets.