The 2017 NHL Draft is set to take place on June 23-24. The Edmonton Oilers will make their first of eight selections starting at 22nd overall. Edmonton has picks in every round except the second. That pick was sent to the Boston Bruins as compensation for signing Peter Chiarelli as general manager. Since joining the Oilers in 2015, Chiarelli and the scouting staff are doing their best to improve the organization's long-standing draft woes.
Outside of Connor McDavid, the Oilers have added Caleb Jones, Ethan Bear, Ziyat Paigin, Jesse Puljujarvi, Tyler Benson and Dylan Wells. All of them project to one day become decent NHL players. It's not a bad track record, especially to acquire all those players in just two years. That said, Chiarelli will look to add to a prospects cupboard that has also become quite bare.
Edmonton Oilers

2017 Draft Picks

 

Round
Pick

1

22

3

82 (From St. Louis)

3

84

4

115

5

126 (From Vancouver)

5

146

6

177

7

208
The recent graduations of several players to the main club is the biggest reason for Edmonton's farm system drying up. Another reason is the failure to draft anything substantial outside the first round which has been a long-term issue with the franchise. Of all those picks between 2011-2014, only Anton Slepyshev and Jujhar Khaira are competing for regular minutes in Edmonton.
If the Oilers are going to build upon the success of their last two years at the draft, they'll have their work cut out for them. This year's draft is a crapshoot at best. Outside of Nolan Patrick and Nico Hischier, all the draft prognosticators have entirely different projections of where players might go. A guy who's ranked fifth on one list might be 15th on someone else's.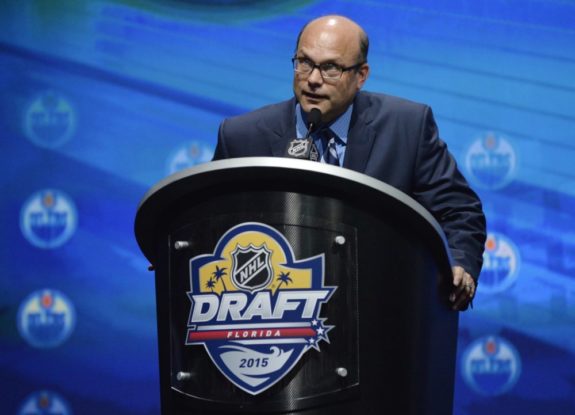 Organizational Overview: Goalies, Defense
Goaltending: Edmonton is quietly putting together some solid goaltending prospects that look like they have NHL futures ahead of them. Dylan Wells, last year's fifth-round pick, seems like he has the potential to be a future starter. The Oilers also added college free agents Shane Starrett and Nick Ellis over the last two seasons. The trio has given some solid depth behind leading goaltending prospect Laurent Brossoit who was promoted to the backup job in 2016-17.
It doesn't hurt to get a netminder in this year's draft considering this is regarded as a relatively deep class for goalies, but it's not a priority. Expect the Oilers to use one of their mid-range picks on a netminder to keep the pipeline full.
GOALTENDING & DEFENSE PROSPECTS (LESS THAN 40 NHL GP)

Goaltenders
Left Defense
Right Defense

Laurent Brossoit

Griffin Reinhart

Ethan Bear

Nick Ellis

Jordan Oesterle

Ryan Mantha

Shane Starrett

Dillon Simpson

Caleb Jones

Dylan Wells

David Musil

Ziyat Paigin

Eetu Laurikainen

Ben Betker

Filip Berglund

Markus Niemelainen

William Lagesson

John Marino

Matthew Cairns

Vincent Desharnais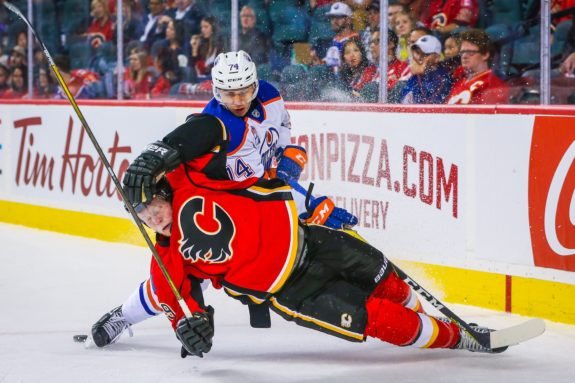 Defense: Edmonton picked up four defencemen last year, after grabbing Caleb Jones and Ethan Bear in 2015. Ryan Mantha, an undrafted free agent, also joins the likes Dillon Simpson, Filip Berglund, Markus Niemelainen, Ziyat Paigin, William Lagesson and Matthew Cairns as some of the more promising defensive prospects in the system.
Snagging a defenseman early isn't a pressing need, especially seeing where the organization's biggest need is (see below). If the Oilers can use at least two of their picks on blueliners, they'll be able to manage if they end up losing Griffin Reinhart (expansion draft) or Jordan Oesterle (free agency) this summer.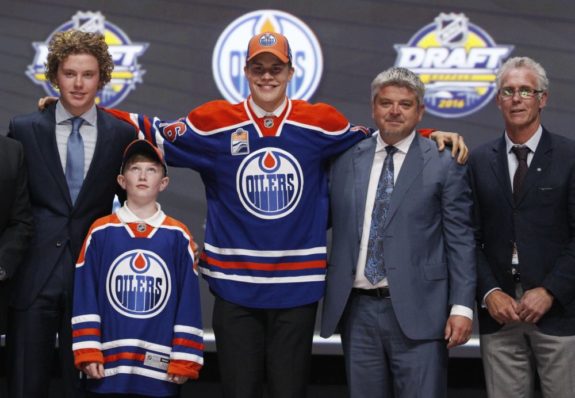 Organizational Overview: Forwards
Forwards: The Oilers biggest need is at forward mostly due to the graduation of several prospects to the main club. Outside of Jesse Puljujarvi and Tyler Benson, Edmonton's hard pressed for scoring. The Oilers AHL affiliate, the Bakersfield Condors, had one of the most anemic offenses in the entire minor league as well. If that's any indication of what the future holds, the Oilers will need to find some more scoring forwards through the draft.
FORWARD PROSPECTS (LESS THAN 40 NHL GP)

Left Wing
Center
Right Wing

Jujhar Khaira

Joe Gambardella

Patrick Russell

Joey LaLeggia

Greg Chase

Aidan Muir

Braden Christoffer

Kyle Platzer

Henrik Samuelsson

Zach Pochiro

Aapeli Rasanen

Tyler Benson

Tyler Vesel

Graham McPhee

Bogdan Yakimov
Expect Edmonton to use their 22nd overall pick on a forward. TSN's Craig Button had the Oilers taking a diminutive point producer, Kailer Yamamoto, in his mock draft. Yamamoto is arguably one of the smallest players in his draft and generously listed at 5'9″ and 160 pounds. Other players available around that pick include:
POTENTIAL PICKS AT 22ND OVERALL

Player
Club
GP
G
PTS
Scouting Report

LW Isaac Ratcliffe

Guelph

67

28

54

At  6'6″ and 195 pounds, could be a top six power forward

LW Kristian Vesalainen

Frolunda

26

1

6

Big power forward, potential top six forward

C Lias Andersson

HV71

42

9

19

Undersized two-way forward, untapped offensive potential

C Robert Thomas

London

66

16

66

Two-way forward, underrated offensive abilities

RW Kole Lind

Kelowna

70

30

87

Lanky goal scorer, plays a high tempo skill game

RW Kailer Yamamoto

Spokane

65

42

99

Offensively gifted, diminutive point producer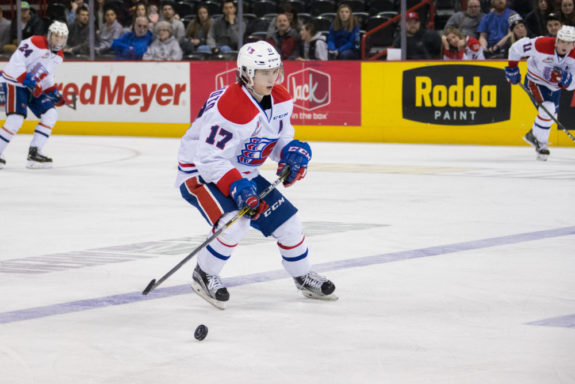 Trade Possibilities
Jordan Eberle's name has been in the rumor mill since the playoffs finished. The New York Islanders seem to be the team most commonly linked to Eberle with a possible return being either Travis Hamonic or Ryan Strome. Both Islander players, like Eberle himself, are coming off down years. It's likely that the Oilers pull the trigger on an Eberle trade this weekend.
It'd be a near miracle if the Oilers found a suitor to take the contracts of Benoit Pouliot or Mark Fayne off their hands. Edmonton just doesn't have the right combination of picks or assets to pull off this kind of trade.
Las Vegas is the latest team to express interest in pending unrestricted free agent Kris Russell. The Calgary Flames and Toronto Maple Leafs are also potential suitors, and it's believed the cost might be $16 million over four years. It's a steep price but ultimately might be the price Edmonton has to pay to keep Russell. If Vegas is really keen on Russell, the Oilers could end up trading his rights.
Lastly in recent years Edmonton's shown they're not against trading down and acquiring more picks. If there's an opportunity for the Oilers to get a player they want further down the list, expect Chiarelli to wheel a few picks.
The 2017 NHL Draft kicks off at 5 p.m. (MT) on June 23. For all our draft coverage keep checking in with THW for prospect profiles, trades, and mock drafts which you can find in our draft guide.